By now, fans of The View expect to hear about feuds and dust-ups between the show's present and former co-hosts. If Rosie O'Donnell isn't chiding Elisabeth Hasselbeck or comparing the show to the Trump administration, Jenny McCarthy is recounting nightmarish run-ins with Barbara Walters.
While some of the stories played out on the air, we've heard many more via Ramin Setoodeh's Ladies Who Punch. In that book, you could learn exactly how Hasselbeck got her walking papers. (For View fans, it's a must-read.)
But the bigger takeaway from Ladies Who Punch readers might be the fragility of the egos in play. View co-hosts seem prone to overreaction and confrontation in a way that probably outdoes the average TV show.
In that respect, the on- and off-air issues of Meghan McCain are part of a tradition. However, the conservative View co-host brings a millennial twist to the drama: social media scrutiny. According to The Daily Beast, McCain has gotten very worked up about Twitter activity by people on the show.
McCain reportedly watches accounts of Sunny Hostin and others at 'The View.'
In his fascinating Daily Beast article on the potential departure of McCain from the show, Lloyd Grove reported that McCain and her "team" took notice of Sunny Hostin's following Eli Valley in recent months.
Valley, a political cartoonist, had skewered McCain in March following her attack on Rep. Ilhan Omar.
The fact that McCain, an extremely online person, had noticed Hostin's follow wasn't remarkable in itself. (Twitter users regularly get notifications about who's begun following whom.) However, the inclusion in the Daily Beast report signifies that it was enough of an issue to mention it.
McCain, who seems quite prickly about social posts, may simply be the type of person who reads too much into a "like" or "follow." (For example, she quickly "blocked" Valley on Twitter.)
But McCain hasn't left it there. When a View makeup artist "liked" a post that portrayed McCain in a negative light, she reportedly asked for her job.
McCain reportedly wanted a makeup artist fired over a Twitter 'like.'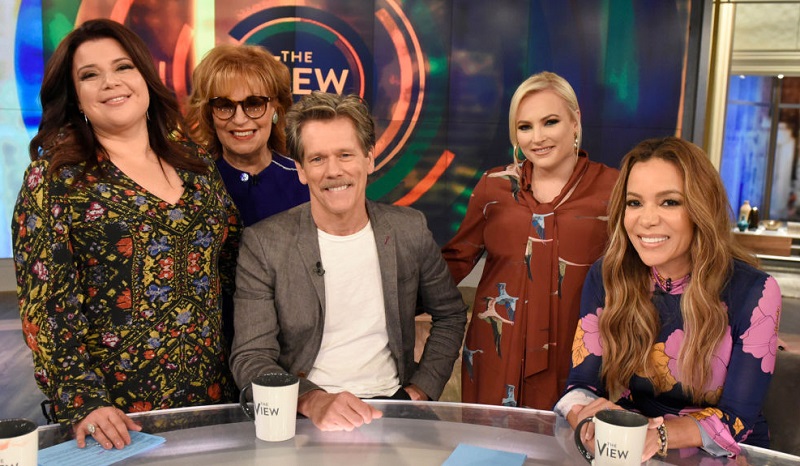 The Daily Beast heard from several sources saying McCain requested a veteran View makeup artist be fired because she "liked" a Twitter video criticizing McCain. It's a remarkable revelation for several reasons, beginning with the co-host's policing of multiple social accounts.
McCain tries to guard and shape her reputation on Twitter and other sites to a degree many would consider unhealthy. If the reports about her trying to have someone fired are true, McCain would be taking this fixation to a different level of negativity.
Even for The View, that's a lot of drama for a co-host who never had a career in Hollywood. Yet it seems the show's producers are enamored with McCain's family name and can deal with it. (Executives from ABC and The View went on the record saying they support McCain and hope she returns.)
Since ratings are good and the gossip could be considered publicity, The View's producers seem content to maintain the status quo — whether they think McCain is "good TV" or not.
Also see: Why Sunny Hostin Won't 'Be Dragged Into the Mud' With Meghan McCain
Source: Read Full Article