As much as we want to hang out with our gnomies forever, it's time to say goodbye to Netflix's On My Block. The series became a surprise hit for the streamer, and with so much on the line for this fourth and final season, we're not sure we want to to leave Freeridge just yet.
Luckily for us, Netflix has some tricks up its sleeve, and it sounds like things are just getting started. But what does this mean for our favorite crew? And does this mean we're not saying goodbye to On My Block after all?
Here's what we know about why On My Block isn't coming back for a season 5, and what the plan is instead.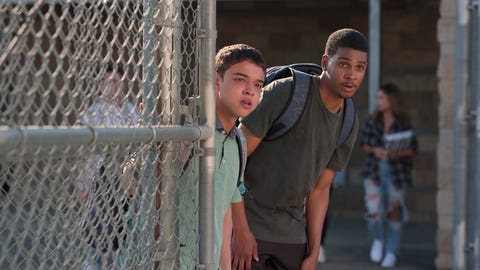 Is season 4 really the last season for On My Block?
All good things must come to an end, including this gem of a series. Netflix has officially confirmed On My Block will be ending with season 4 and they're keeping that promise.
The cast members have been sharing goodbye messages on social media as fans tune in to watch the final episodes.
That's All Folks ✌🏽
YOU, THE FANS, made this show just as much as the cast and everyone behind the scenes. Thank you for the love, the laughs and the all memories. Our lives have been forever changed, and we're eternally grateful.#OnMyBlock @netflix @contodonetflix @OnMyBlock pic.twitter.com/OACdkkoeJW
Thank you for this amazing journey we've all been apart of.I gained a new family and I owe it to you guys.We wouldn't be in these positions without y'all support of the show and for that we love you https://t.co/9iMvXdMH7j Season 4 of On My Block on Netflix now! pic.twitter.com/EREmQNtTvC
Does this mean we're saying to the On My Block universe for good?
While we might not see our favorite crew anymore, that doesn't mean we're leaving Freeridge for good. Netflix previously announced an On My Block sequel series, Freeridge, and it looks like we got our first peek at it during the series finale when a group of newbies were looking into the backyard during the show's final moments.
The sequel show will follow a new Core Four who live in town, and according to Netflix's press release, this will be a more female-driven show.
"The stories of Freeridge continue in this On My Block spinoff following a new crew of friends who may or may not have unleashed a deadly curse kicking off an unforgettable adventure," the streamer revealed.
There's no word on an official release date or casting, but we're crossing our fingers that it means we'll see cameos from the OGs at some point in the future!
Source: Read Full Article