Veronica Mars is returning to television after 12 years with all new episodes airing in July thanks to Hulu. The reboot has some wondering, "Should I watch the original first?" We have the answer ahead.
Should you watch the original 'Veronica Mars' first?

The short answer to this question is yes.
Watching the complete series — Veronica Mars Seasons 1-3 — will give viewers valuable knowledge about the show's main character, Veronica Mars (Kristen Bell) and the rest of the characters on the show including her father, Keith Mars (Enrico Colantoni), mother, Lianne Mars (Corinne Bohrer), best friend, Wallace Fennel (Percy Daggs III), and love interest, Logan Echolls (Jason Dohring) among others.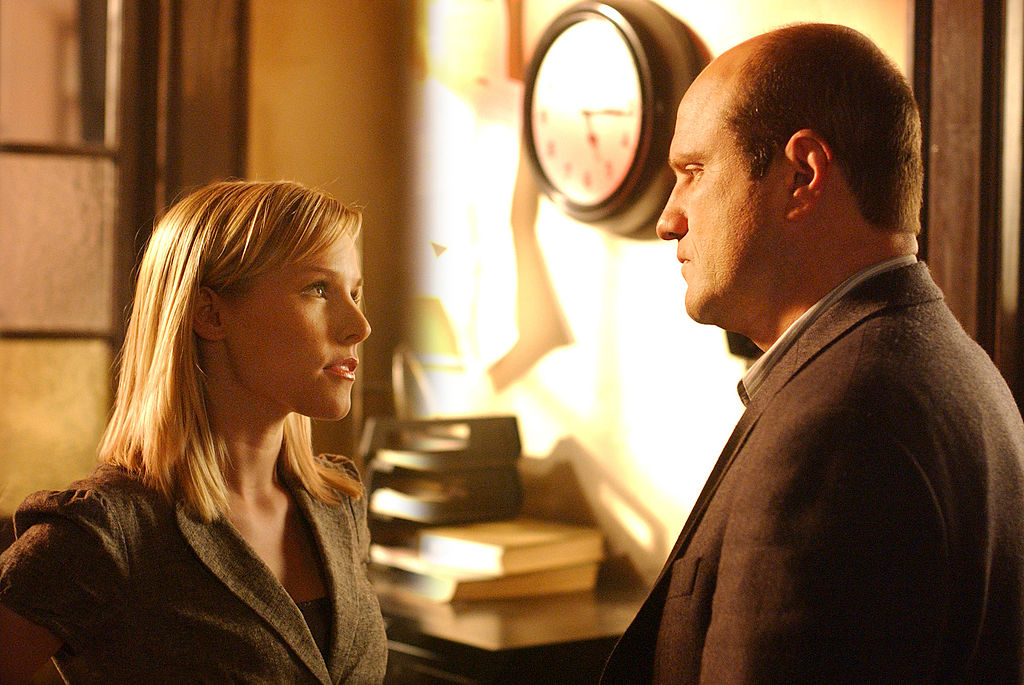 Veronica is a teenager who assists her dad with his private investigation business. When she's not dealing with mean, rich "Oh-Niners" at school, she's trying to solve the murder of her best friend, Lilly Kane (Amanda Seyfried).
Watching the pilot episode alone will answer questions viewers would otherwise have if they were to watch the reboot before the original.
Viewers learn in the pilot episode why the show's fans are called Marshmallows and just how good Veronica is at her after-school job with her trusty dog and taser gun by her side.
Each season has one major crime Mars is attempting to solve in 20 plus episodes while each individual episode typically has a smaller crime for the teenager to solve.
For those looking for a new TV show to binge-watch this summer, make Veronica Mars that show. Bell's portrayal of a teenage girl who has a particularly tough high school experience is compelling.
Plus, the early 2000s styling and technology — flip phones and overhead projectors — will leave viewers nostalgic in no time. And there are so many appearances by actors who went on to become stars in their own right.
What about the 'Veronica Mars' movie?

Wait, there's a Veronica Mars movie? That's right. When The CW canceled Veronica Mars in 2007, fans were crushed because the show's characters didn't get a proper send-off. In the years after the show's cancelation, it developed a substantial cult following.
Eventually, a Kickstarter made by Rob Thomas, the creator of Veronica Mars, raised more than $5 million for a feature film. The film hit theaters in 2014, leaving fans clamoring for even more from Veronica Mars.
We feel it's more important to watch the original TV show (all three seasons) rather than the film. While the movie shows Veronica Mars as a young professional years after high school, the original series provides substantial background information and storylines that will undoubtedly be helpful when watching the show when it returns to Hulu.
When will 'Veronica Mars' premiere on Hulu?
Hulu recently announced Seasons 1-3 of Veronica Mars will be available to stream on July 1, 2019. New episodes will hit the site on July 26, 2019, leaving longtime and new Marshmallows plenty of time to rewatch the series or watch it for the first time.
A trailer of the reboot's been released and the show's been getting fans excited about the release of new episodes on social media with interviews from the cast and pictures from old episodes.
The major takeaway is that Veronica Mars is a TV series worth watching, ideally, in chronological order. Happy binge-watching!
Source: Read Full Article