No two marriages are alike. But even though it's impossible to compare one relationship to another, there are certain things that celebrities do differently than everyone else. Even Food Network star Ree Drummond has a few surprising quirks in her rock-solid marriage to Ladd Drummond, whom she calls her "Marlboro Man."
Ree and Ladd have a surprisingly sweet relationship. The couple has been married since 1996 and have four children together. These two have had their rough spots like everyone else, they still seem just as much in love as ever.
Even though Ree calls their love a "magical, powerfulfeeling" and gives her "butterflies and hiney tingles," there are some verystrange aspects of their union.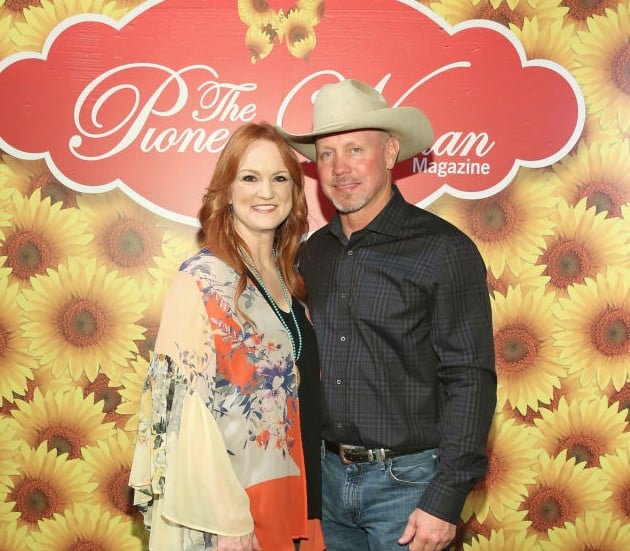 Ladd made 'The Pioneer Woman' wait to hear from him
They say the way to someone's heart is by playing hard to get, but Ladd took that well-known adage to the extreme when he waited a really long time to call Ree after they met at a bar.
Ree described being instantly attracted to the "tall, strongand mysterious" man in cowboy boots and jeans at the bar. But after giving himher digits, he ghosted his future wife for a surprising amount of time, as NickiSwift reported.
"Nor did he call that day, or week, or month.Throughout that time, I allowed myself to remember his eyes, his biceps, hisquiet manner. Disappointment would wash over me," Ree explained.
Ladd did call Ree eventually. And by eventually, we meanfour whole months later.
Ree Drummond was obsessed with looking good for Ladd
These newlyweds didn't have much time to get to know each other. Within what felt like moments after their wedding day, Ree and Ladd were already expecting their first child. "Now that I'm painfully aware of just how fertile I am, I laugh when I remember how 'surprised' we were when the test came up positive," Ree mused on her blog.
But even though Ree was becoming a mom, that didn't mean she stopped taking care of her appearance. She continued getting pedicures and dressing nicely for her new husband throughout her first pregnancy and supposedly "primped like crazy" before going to the hospital to give birth to daughter Alex.
She refused to let Ladd see her bodily functions
Giving birth is a very natural yet sometimes disgustingprocess. And even though Ree wanted her beloved husband involved, she wasn't willingto let him see her look anything less than stunning. Which explains all theprimping before leaving for the hospital.
"Even during labor, I attempted to remain theever-fresh and vibrant new wife, going so far as ordering my husband to staynorth of my shoulders during the birth," Ree wrote on her blog. She alsobecame terrified when it came time to push because she didn't want to fart infront of Ladd.
"Then I'd just have to divorce him and start fresh withsomeone else. And I'm not kidding," she wrote.
Years later, Ladd wound up seeing it all anyway. When their son Todd was born via emergency C-section, Ree insisted that Ladd refrain from looking at what was going on. Imagine her surprise when her husband admitted afterwards, "I saw your guts." 
They support each other no matter what
Ree and Ladd have a unique life for Pawhuska, Oklahoma. Eventhough living on their sprawling ranch is what made Ree famous in the firstplace, technically she's the breadwinner of the family while Ladd takes more ofa supporting role.
When thekids were younger, Ladd took over tasks such as shuttling kids around andtaking care of the house while Ree was busy with work. They might appeal to amore traditional crowd, but their life is anything but. "They've alwaysbeen a team," Ree's mom told The New Yorker in aninterview. "And this, coming from a Western ranch culture in which themen have traditionally been the kings."
Plus, Ree recognized the benefit of self-care even before itbecame a popular concept. She said the pre-birth primping was for Ladd, but maybeit was a little bit for herself, too. It's just one more reason to love ThePioneer Woman.
Source: Read Full Article