After the cancellation news break out, show creator Jeff Rake takes to Twitter to start #savemanifest trend with some cast members expressing their disappointment in NBC's decision.
AceShowbiz -"Manifest" cast and crew are as disappointed as fans after NBC decides not to renew the series for a fourth season. After the cancellation news broke out on Tuesday, June 15, show creator Jeff Rake took to Twitter to start #savemanifest trend.
"My dear Manifesters, I'm devastated by NBC's decision to cancel us. That we've been shut down in the middle is a gut punch to say the least," Rake wrote on the blue bird app. Despite that, Rake was determined to "find a new home. You the fans deserve an ending to your story. Thanks for the love shown to me, cast, and crew. #savemanifest."
The writers for the supernatural drama also responded to Rake's tweet. "Amen! Let's find a new home! #manifest #savemanifest," so the account wrote.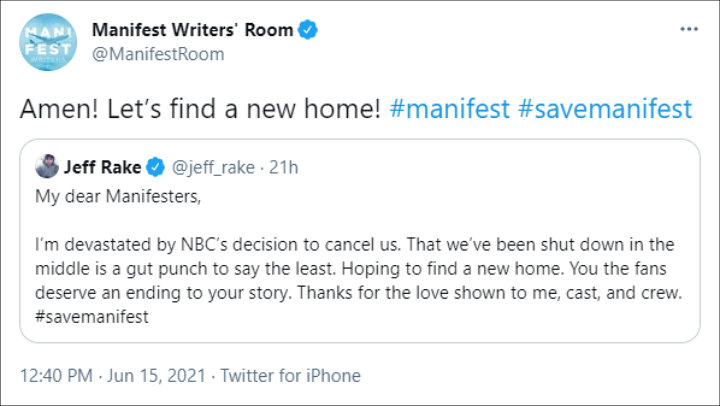 'Manifest' crew were devastated over the cancellation.
Some cast members of the series also expressed disappointment following the cancellation. Olive Stone depicter Luna Blaise tweeted, "in my feels tonight from all the love and support. #savemanifest." Parveen Kaur, meanwhile, said, "I have some thoughts but in the meantime… #SaveManifest."
Also reacting to NBC pulling the plug on "Manifest" after 3 seasons is Garrett Wareing, who plays TJ Morrison on the show. "Beyond happy to have been part of the Manifam – this show wouldn't be complete without you guys and I'm so honored to have been part of this flight with y'all. Thank you for loving TJ with all you got…. means more than you know! #Manifest @NBCManifest #TJisinEgypt," so he wrote.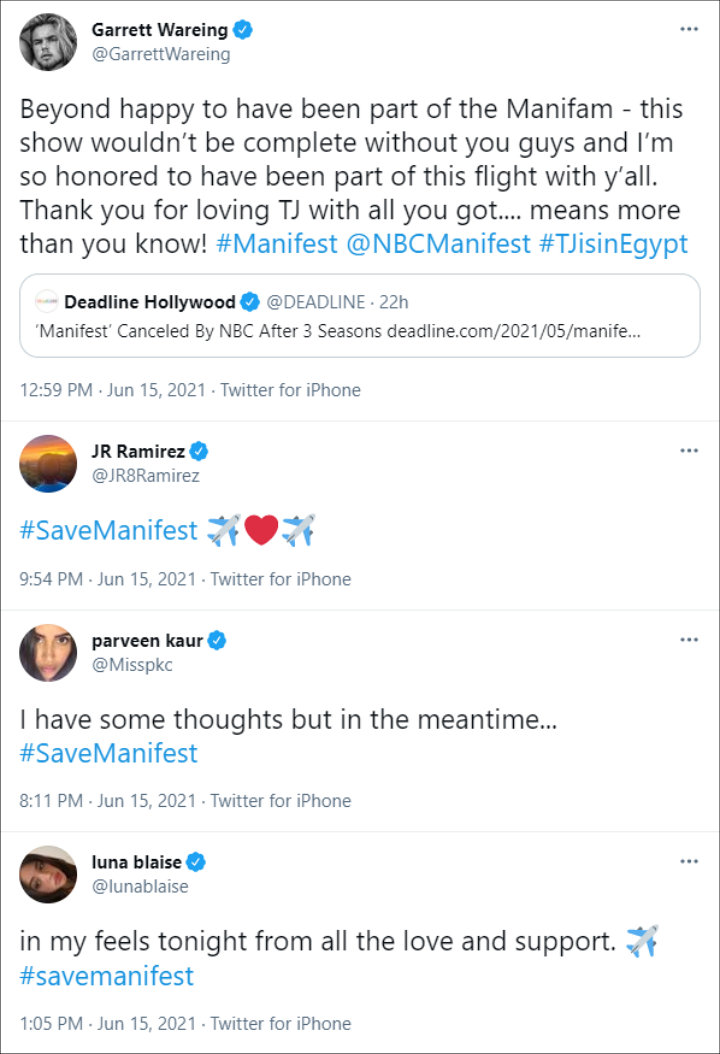 Cast members also expressed disappointment.
It is highly likely for Netflix to pick up the series, which was sold to NBC with a six-season plan. The streaming giant debuted the first two seasons "Manifest" last week, making the show shoot up to No. 3 in the United States. However, Deadline notes that there have been no formal conversations regarding the matter as of now.
"Manifest" centers on Montego Air Flight 828, which landed safely after a turbulent but routine flight. While the crew and passengers were relieved, they realize that in the span of those few hours, the world had aged five years.
Source: Read Full Article