Plus, he gives us his real opinions on Nikki and Maria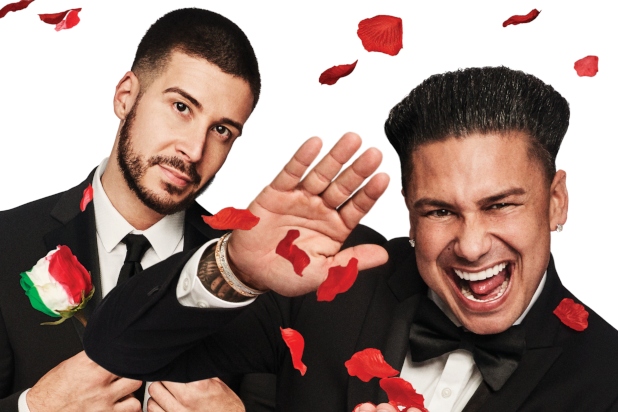 (Warning: Spoilers follow about the season finale of MTV's "Double Shot at Love with DJ Pauly D and Vinny").
DJ Pauly D and Vinny's "Double Shot at Love" is over — and they insist the romance was real.
Now that the reality dating show's season finale has aired, TheWrap caught up with Vinny Guadagnino on what went into his decision between his final two ladies — Elle and Alysse — and what he has to say about some of the show's most-talked-about personalities, Nikki and Maria.
"I was pleasantly surprised that I did end up really clicking with a couple people in there that were really my type, and I did have a genuine connection with them," Vinny said. "I accomplished the best case that the show would bring me personally."
But before we get into the spoilery-details, let's address the question on everyone's mind from last week — how hard was it saying goodbye to Maria?
"With Maria, I'll say there were a lot of things that weren't really shown on the show. She was really scared of being hurt on national TV because supposedly on her last show she was hurt," he said, referring to her previous appearance on Season 7 of MTV's "Are You The One."
He added: "I didn't wanna be that guy that hurt her again. … I didn't want Maria to be standing up there on the last episode and then I pick Alysse, or pick Elle, and send her home, you know what I'm saying?  So I kind of just bit the bullet on that one. I didn't wanna drag her along," he said.
"Maria was a fan favorite of the audience. Everyone loved Maria. And I tweeted this — just because she's compatible with the audience doesn't mean she's necessarily compatible with me. We had a couple of great moments where we talked about funny things on a friendly basis, but that's not all it is when it comes to having a relationship," he added.
So alas, we must officially accept that Maria and Vinny shall never be.
In the end, it all came down to the final four. Elle and Alysse for Vinny; Nikki and Deryn for Pauly.
So who did Vinny end up with in the end?
"You can't not like Alysse — she's a sweetheart," Vinny said of his chosen lady. "She's quiet, she's chill, she's cool. She's not extra, she's not rude. So I could see why my mom liked her."
The two had a lot in common.
"She's quiet and shy when the cameras were on. So you're not gonna see that outspoken side of her. I can relate to that because I'm the same exact way on 'Jersey Shore,'" he said. "Behind the scenes, she wasn't like that. Whenever you're in the club and music came on, she was awesome. She's a professional dancer."
"Seeing someone being able to dance or rap music when Biggie comes on — she had swag," he said. "Every time we hung out she would just jump in my lap. We'd just already be in that status where we're comfortable in each other's physical space. All of that combined together was why I chose her."
It was no shocker that Vinny picked Alysse — his mom was clearly impressed by her cooking skills, and we all know that Pauly and Vinny are mama's boys.
Vinny also had a thing or two to say about his best friend's final decision.
In the end, Pauly decided to continue "flying solo," and in a shocking turn of events, he called cabs for both Deryn AND Nikki.
Although Nikki was the show's token villain, she did make it to the final cab ceremony, and Vinny said there's something to be said for that.
"I think Pauly made the right choice," Vinny said. "But at the same time, I will defend her and say she was there for a competition. She wasn't there to make friends with all the other girls. She made a choice — I'm either gonna be here for Pauly and completely Pauly and get the other girls mad at me, or I'm gonna make friends and be on a TV show."
"I'm glad that Pauly could figure that out on his own, that she was too much for him. But at the same time, she wasn't doing anything really wrong by being there all for Pauly," he said.
No matter what, one thing is for sure — Pauly D and Vinny will always have each other.
Source: Read Full Article