Looks like there's trouble in paradise for BB21's last-standing showmance. Now that Bella, Nick, Jack, and Analyse are all out of the Big Brother house, Jackson and Holly are the only remaining couple…but they might not last much longer. The two got in a massive lovers' quarrel, and it was messy as hell.
Here's how it went down. First, Holly refused to tell Christie and Tommy something she told Jackson in private. Then, Jackson tried to get her to say the "three words," but Holly said no.
Why Holly and Jackson are fighting (2/2)#BB21 #BBLF pic.twitter.com/zePni6mRa4
When Jackson woke up in the morning, Holly claims he ignored her by not saying "good morning" and getting ready without acknowledging her. This led her to call Jackson a "f*cking asshole," which set him off.
Irate that Holly called him out, Jackson said he's been "nothing but supportive." He also complained that she was making him look bad to his family and friends back home, the other houseguests, and America.
#BB21
Holly and Jackson fight. Clip #1
11:30 pm (Cams 1/2) pic.twitter.com/h0VYFFAlQI
Holly apologized for her comment, saying it came from built-up frustration, but Jackson wasn't having it.
"I'm not about to be embarrassed on national television when everything I do is for you," he said. "I'm not gonna sit there and get disrespected." The fight went on for a while (you can watch the whole thing here if you have 36 minutes to spare).
BB fans got to watch everything go down on the live feeds, and they're pretty pissed at Jackson. The way he spoke to Holly wasn't cool, and a lot of fans are saying he was straight-up gaslighting her.
jackson acts like holly calling him an asshole is this violent attack on his character that will effect the perception of him by all of america, and then he proceeds to gaslight and manipulate her into thinking she's in the wrong. this is not a healthy relationship #bb21
If anyone is wondering what an abusive relationship looks like, just check out this Holly/Jackson breakup/makeup. He's gaslighting her, not letting her speak, playing the victim when HE hurt HER, berates the shit out of her while she sobs, and then cuddles her. Sickening.#bb21
Jackson is a narcissistic, sociopathic, gaslighting, douche bag. I don't care for Holly Beth 24, Wyoming but she doesn't deserve to be treated like trash on National television. #bb21
People on the live feed chat are saying this is all Holly's fault. Wtf.
Holly is allowed to have emotions the moment she expressed them Jackson snapped and turned it around on her to make her feel guilty for having feelings. That's the definition of gaslighting. #BB21
Yikes, yikes, and, uh…yikes! Most people seem to agree that Jackson's in the wrong on this one. Still, the fight didn't keep the couple apart for too long. Jackson and Holly appear to be lovey-dovey once again, whether fans like it or not.
Jackson popped Holly's pimples🤢
Holly- Are you still attracted to me?
Jackson- I've seen you at your best and your worst and I'm still attracted to you
I'm so done with them I'd rather watch Christie chew#BB21 #BBLF pic.twitter.com/PUkc8forrT
We'll see what happens after the show, but for now, this showmance is still going strong.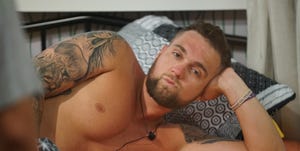 Source: Read Full Article