The Duggar family is not like most American families. Michelle and Jim Bob Duggar raised their children very differently than most families were raised. The kids grew up in a very religious household, and, to the Duggars, the roles of men and women are far different from the way modern society sees them.
One Counting On fan with a personal connection to the family once explained that the men look for something very specific when they're getting ready to marry.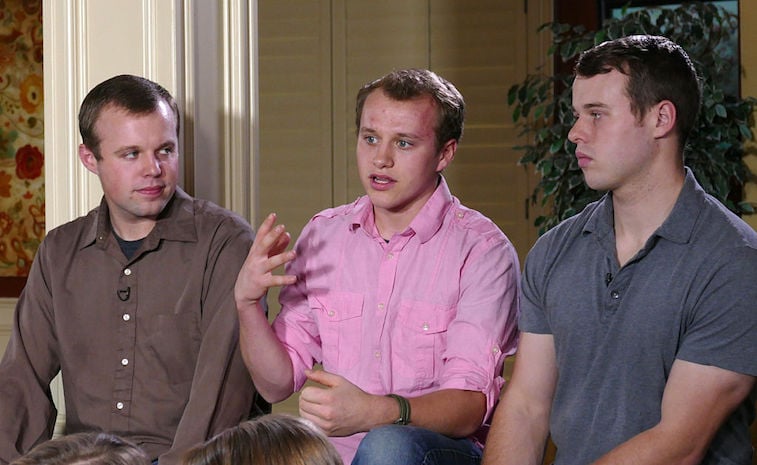 The Duggars tend to marry young
Michelle and Jim Bob were only 17 and 19 respectively whenthey wed, and their children have been following in their footsteps. The twowelcomed 19 kids together, and now, fans have watched many of the kids grow upand marry, too. And most of them don'twait very long to tie the knot.
The majority of the Duggar children have wed either in their late teens or early 20s. And they have all married people who share the same values that they do. Plus, the kids start having children of their own almost right away, so Michelle and Jim Bob are now grandparents to 15 grandchildren.
Several Duggar sons have married women younger than them
Interestingly, most of the Duggars have waited until their early 20s to wed (with the exception of Joy Duggar, who married Austin Forsyth when she was 19). However, the boys haven't married women their age. For the most part, all of the Duggar sons who have wed have married someone younger, with the exception of Josh Duggar and Ben Seewald.
John David is more than two years older than his wife, Abbie, but the two married well into their 20s. However, Joe Duggar is four years older than Kendra, and she was only 19 when they wed. And Josiah Duggar is three years older than Lauren, who was only 18 when they wed. Jeremy Vuolo is more than six years older than Jinger Duggar.
One source said the men specifically look for submissive women when courting
Someone who claims to have dated a friend of the Duggarssuggested that the sons marrying younger women might not have been an accident."[I] dated a friend of the Duggars and can confirm, that is exactly what manyof the guys are looking for, a doormat," the user posted to Reddit.
The source's words come in response to the Duggar slamming Jeremy Vuolo for claiming he liked Jinger's "meek" nature. It seems the Duggar men prefer to marry women who they think will be submissive in their marriage. With that said, it makes sense that the men might go for women who are younger and have less world experience.
The men's wives are arguably the most submissive family members
With the exception of John's wife, Abbie, many of the Duggarmen's wives appear to be the most submissive members of the family. Anna Duggardidn't divorce her husband despite his past of cheating and sexual abuse;Kendra hasalready had two kids in barely two years; Lauren seems to be on the samepath as Kendra since she was so young when she wed.
In contrast, Jessa and Ben seem to have a fairly equal relationship, and Joy and Austin also seem to be more of a team — as do Jill and Derick. It appears that the Duggar men have married women who intentionally don't want as much of a say in the family matters, though that can't technically be proven.
Source: Read Full Article