MC Lyte is a single woman and learning to push through amid a drawn out divorce. The iconic rapper was happy to announce her nuptials a few years ago, but it didn't last. As it turns out, Lyte stayed in the marriage longer than she says she probably should have but she felt pressure to keep the union intact.
She says she felt compelled to make her marriage work
Lyte hasn't been very forthcoming about her personal life throughout her over 30-year career. But during her recent co-hosting gig on the Fox daytime talk show The Real, the hosts began discussing grieving the loss of relationships. Lyte took it as a moment to speak about her own divorce.
"I'm actually still going through it," she said. "When the press got a hold of it, I think people thought we were [divorced]. I had just filed and so we're still going through it right now."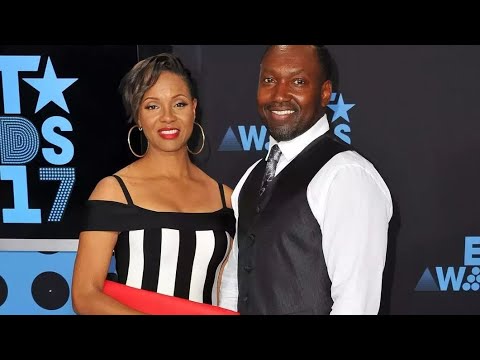 Though she began to realize during the marriage that she wasn't happy in the marriage, she felt pressure to keep her marriage together for multiple reasons. "I think in the very beginning I was very distraught," she explained. "I feel like there are phases whenever a relationship is ending whether you're married or not. It's that first phase of, 'Oh my God, I've got to make this work for us.' Then it's like, 'Oh my God I've got to make this work for everybody else involved.'"
Eventually, she says she got to a place where her happiness and mental stability was more important. Furthermore, she also wanted the best for her ex, despite his reluctance to let go. Staying in it, she realized things would get toxic.
"You get to a point where you're like, this isn't working. It doesn't matter. What really matters is that we end up in a happy place," she continued. "It's hard in the beginning but you realize to have happiness doesn't mean you have to remain together and it doesn't mean that you are a failure because the marriage failed. It's all ego. You just have to be able to let go."
MC Lyte's marriage came as a surprise to many
Lyte's marriage was shocking for many of her fans. As it turns out, the "Ruffneck" raper met John Wyche, a Marine Corp veteran and entrepreneur, on Match.com. After they finally met, he realized Lyte was his longtime crush. They bonded over their shared Christian faith. The two became engaged in 2017. They married in Montego Bay, Jamaica.
Lyte announced the nuptials in an Instagram post. "What can I say, except thank you Lord!!" she captioned the post. "It's been a long time, this single life, and I thank you all for your prayers and kind words of hope. God has sent me true love. For all of you waiting on LOVE — don't give up — keep God first and he will see that you meet your match."
She told ESSENCE in an interview after their wedding: "It was a fairy tale," the bride says. "I got my king. I would advise women that have their paper straight and not the man to start to pay attention to that."
The wedding was attended by several celebrity friends, including Kelly Price, Lil Mama, and Coco Clemons of SWV. Unfortunately, the fairytale didn't last.
She filed for divorce in 2020 after three years of marriage. Lyte reportedly cited irreconcilable differences as the reason for the split.
Source: Read Full Article