Fans considered YNW Melly to be the next big talent out of Florida because of his contagious voice and honest lyrics about his troubled life. He also collaborated with some of the biggest names in hip hop, including Kanye West and Kodak Black. However, YNW Melly's successful music career could end already. He is currently in jail, facing double murder charges in connection with the deaths of his longtime friends. Who is YNW Melly, and how did he get famous?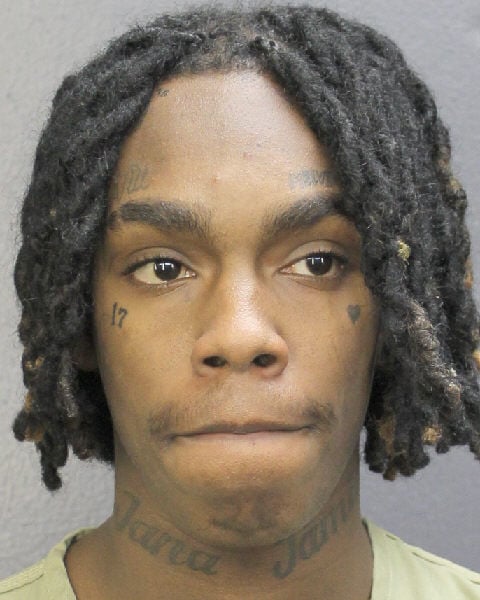 YNW Melly's troubled background

Jamell Maurice Demons was born May 1, 1999, in Gifford, Florida to a 14-year-old single mother. His mother and grandmother raised him, and they struggled with a life of poverty. Demons always loved music, and he admired Chris Brown and Michael Jackson. He also became fascinated with guns in 4th grade after finding his uncle's revolver. He says he took the weapon with him everywhere, including school.
Demons was convicted of discharging a firearm in public and three counts of aggravated assault because he shot at a group of students by Vero Beach High School at 15-years-old. Demons never revealed the motive behind the shooting, and he served almost a year in prison for the charges.
YNW Melly's music potential cut short

While Demons served time for the shooting, he wrote the first song he gained public attention from, "Murder On My Mind." Demons said no one knew he could rap before the song, but shared the song with another inmate. He then went on to release the song on Soundcloud and YouTube in 2017. The song ended up going viral mostly due to the "haunting" lyrics that chronicles a fictitious murder.
Demons also began going by YNW Melly in 2016; alongside his longtime friends Anthony "YNW Sakchaser" Williams, Chris "YNW Juvy" Thomas Jr., and Cortlen "YNW Bortlen" Henry. The YNW stands for "Young N***** World" or "Young New Wave."
Following the success of "Murder On My Mind," Demons obtained a manager. He also began collaborating with established rappers including Kanye West, Kodak Black, Tee Grizzley, and Lil B.
In 2018, he performed for several sold-out shows and dropped music videos for "Melly the Menace" and "Virtual (Blue Balenciagas)." Both singles currently have over 22 million YouTube views. He was also arrested alongside YNW Bortlen for possession of fewer than 20 grams of marijuana and possession of a weapon by a convicted felon. However, Florida prosecutors reduced the charges to misdemeanors, and Demons and Henry bailed themselves out. However, officials arrested them again in January 2019 for missing a mandatory court date.
In August 2018, Melly dropped his first full-length album, I Am You, which included "Murder On My Mind" and "Virtual (Blue Balanciagas)." A month later, YNW Sakchaser and YNW Juvy were shot to death in Fort Lauderdale. Demons publicly mourned the death of his friends on social media and released a documentary in December 2018, where they were featured heavily.
In January 2019, Demons released his sophomore project, We All Shine including the Kanye West-assisted, "Mixed Personalities." Both of his albums streamed very well, and people thought Demons would land a spot in the coveted 2019 XXL Freshman Class. Since March 2019, Demons has accumulated over 200 million streams on Spotify.
However, in February 2019, Demons and YNW Bortlen turned themselves in ontwo counts of first-degree murder in connection with their friends' shootings.
YNW Melly's pending double murder trial

Public court documents show the evidence prosecutors have that supports their charges. Investigators concluded, using autopsy reports, that Demons shot his friends from inside the car, and then staged the scene to appear like a drive-by shooting. Officials also arrested YNW Bortlen on charges related to helping Demons cover up the murders. Florida has filed the necessary paperwork to pursue the death penalty for Demons if found guilty.
Even though Demons remains behind bars without the possibility of bail, his music continues to stream well. "Murder On My Mind" reached number one on U.S. Apple Music in February 2019 and certified double platinum in March. He also recently appeared in the new single, "Pull Up" by Lil Keed featuring Lil Uzi Vert, released in May 2019.
Source: Read Full Article