From about 1997 to 2003, boy bands ruled the radio, MTV's "Total Request Live," and youth culture in general. Numerous groups, always consisting of a handful of conventionally attractive guys in their late teens and early twenties, sweetly sang ballads of love and hip-hop-inspired bops about girls they liked, and then all dressed the same and performed tightly-choreographed dance moves in wildly popular accompanying videos. Coming straight out of Cincinnati, 98 Degrees was considered one of the biggest boy bands around at the turn of the Millennium. While they were never the most popular teen dream combo (that would have to be NSYNC or the Backstreet Boys), plenty of bedroom walls and locker doors were decorated with photos of musical hunks Nick Lachey, Drew Lachey, Jeff Timmons, and Justin Jeffre. The group scored lots of hits, too, from romantic tunes like "I Do (Cherish You)" and "Because of You" to mid-tempo bangers like "The Hardest Thing" and "Give Me Just One Night (Una Noche)."
The heyday of 98 Degrees is a good two decades in the past now, but its members are still kicking around Hollywood and the music industry. Here's what happened to the guys from that particular boy band.
Nick Lachey's romantic life grabbed headlines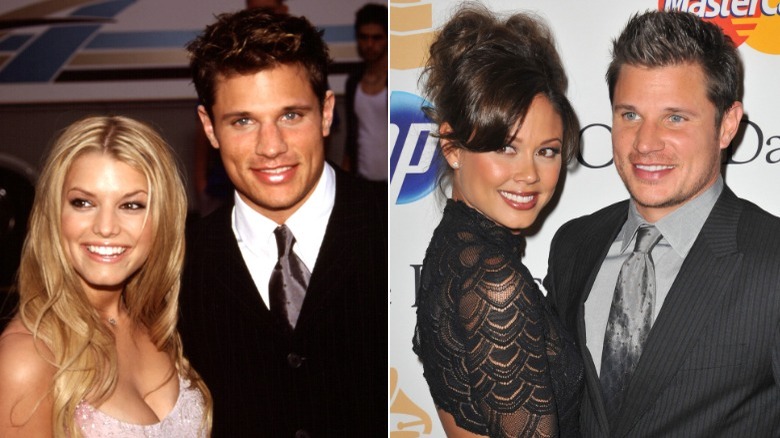 Nick Lachey was the lead singer and breakout star of 98 Degrees, and tabloids and teen magazines alike reported every detail of his dating life, which tended toward long-term relationships with other celebrities. 
When Lachey got together with pop diva Jessica Simpson, they formed a bubblegum power couple, and the prom king and queen of "TRL" went on to star on "Newlyweds" for three years, a comic reality show depicting the early years of their marriage (they wed in 2002). "Newlyweds" often seemed to consist of Simpson saying ill-informed things (such as her notorious inability to tell if the Chicken of the Sea brand of tuna was chicken or fish), and a grumbling, exasperated Lachey angrily correcting her.
Perhaps not-so-surprisingly, Lachey and Simpson announced their impending divorce in November 2005. Lachey moved on to his happily-ever-after relatively quickly, however. The video for his breakup ballad, "What's Left of Me," depicts the dissolution of a relationship and co-starred actor and TV personality Vanessa Minnillo. She'd later tell Billboard that the shoot for the 2006 clip marked "the beginning of [their] relationship." By that summer, Lachey and Minnillo were dating. Five years later, after a brief breakup, they got married. And on Christmas Eve 2016, Vanessa Lachey gave birth to the couple's third child, Phoenix Robert Lachey, joining older siblings Camden and Brooklyn.
This 98 Degrees star has also had a moderately successful solo career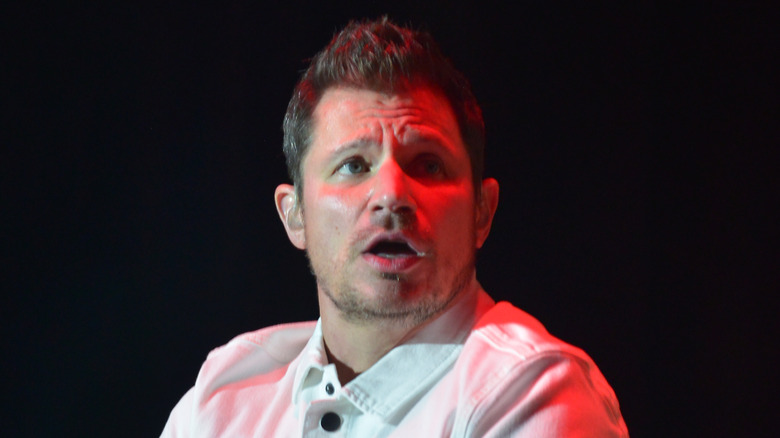 As the front-and-center lead singer on most 98 Degrees songs, it's only logical that Nick Lachey pursued a high-profile career on his own as the boy band era wound down. In 2003, shortly after marrying Jessica Simpson, Lachey released his first solo single, "Shut Up," to promote the album, "SoulO." After "Newlyweds" premiered, he trotted out the love ballad, "This I Swear." While his pop star career was put on hold while he focused on reality TV and marriage, the end of both brought a resurgence in music for Lachey — in 2006, he released two songs seemingly about his split: "What's Left of Me" and "I Can't Hate You Anymore." Only the former resonated with music buyers, however, becoming Lachey's only Top 40 hit to date when it peaked at No. 6 on Billboard's Hot 100. The album from whence it came, also called "What's Left of Me," performed even better, peaking at No. 2 on the Billboard 200 chart. 
Lachey's hey-day in the music scene may have slowed down, but he's since branched out to other genres. In 2013, Lachey came out with the children's album, "A Father's Lullaby" (in association with toymaker Fisher-Price) and also recorded a covers album called "Soundtrack of My Life" a year later, released on his own label, Little Nicky Records. "I knew I wanted to do a cover album but wanted to go for a different concept," he told People. "Soundtracks just felt like a cool angle on doing a cover record."
Nick Lachey is on TV a lot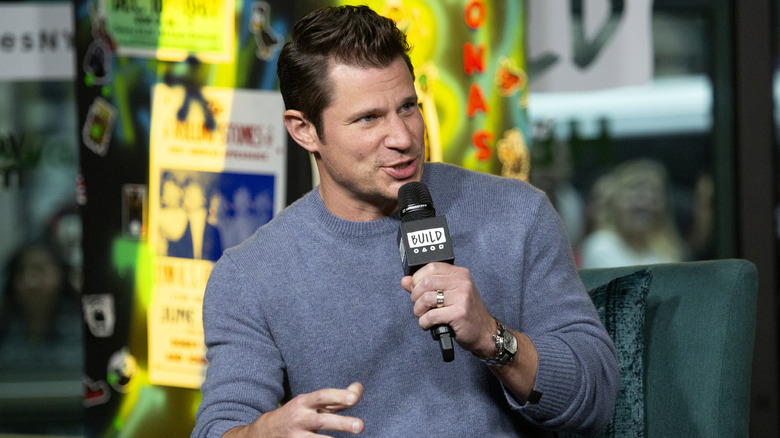 The boy band and "TRL" era resulted in a lot of pop music-based television, which in turn needed people to host and appear on it. Enter Nick Lachey, reality TV host and reality TV competitor extraordinaire. Telegenic and possessing a good voice, there's scarcely a musically-oriented competition show over the last decade and change on which Lachey didn't appear. He was the special celebrity guest-singer on the first episode of "I Can See Your Voice," finished in ninth place in the 25th season of "Dancing With the Stars," and in May 2021, he won the fifth season of "The Masked Singer," successfully keeping his identity hidden in a "Piglet" costume for months. 
Lachey is also an in-demand host, emceeing "America's Most Musical Family," "Love is Blind," "The Sing-Off," and the Miss USA Pageant, among his highest-profile gigs. He'll even do a little acting, too, appearing in the flesh on a 2011 episode of "Hawaii Five-O" and lending his voice to TV cartoons "Harvey Girls Forever!" and "Star vs. the Forces of Evil."
For his continued success in the realms of music and TV, this Lachey brother has amassed an impressive fortune of $25 million.
Drew Lachey hit the Broadway stage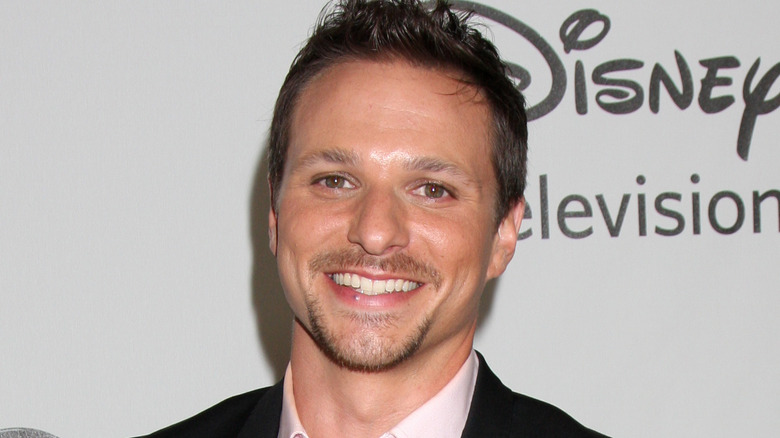 Being in a boy band involves a lot of singing and dancing, and their members were song-and-dance-men of yore, updated for the late-20th century. After the craze died down a few years later, many ex-boy-band members found a ready and willing home for their skills in the place where the ability to sing and dance at the same time was both appreciated and lucrative: Broadway. Drew Lachey, a singer in 98 Degrees (and the younger brother of lead singer Nick Lachey) headed to the Great White Way in 2004 and starred in two back-to-back smash hit musicals. His debut was a six-month stint as geeky filmmaker Mark Cohen in the long-running production of "Rent." Three years later, he appeared on Broadway again, taking on the roles of Patsy, Mayor, and Guard 2 in "Spamalot," the musical adaptation of "Monty Python and the Holy Grail."
In between those stage stints, and with his dancing skills suitably improved and polished, Drew Lachey appeared on the second season of ABC's "Dancing With the Stars" — however, he fared much better than brother Nick during his stint on the show. In February 2006, with partner Cheryl Burke, he won the whole thing. "I'm the luckiest man in the world right now," the singer-dancer said at the time (via People). Perhaps developing a taste for competitive reality television, Drew returned to the genre in 2019 with an appearance on "American Ninja Warrior."
While his fortune is less than older brother Nick's, Drew Lachey has an estimated $4 million to his name, per Celebrity Net Worth.
The younger Lachey brother got married, had some kids, and started a camp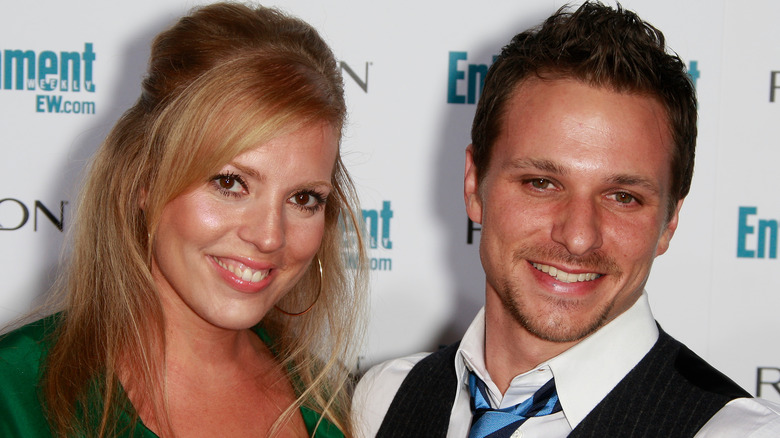 When Drew Lachey won "Dancing With the Stars" in 2006, according to People, his wife — the former Lea Dellecave – was pregnant with the couple's first child. She'd give birth to daughter Isabella, and four years later, son Hudson made four. Soon after the 98 Degrees alum's major reality show triumph, the family moved out of Los Angeles and back to their hometown of Cincinnati.
"The decision to move back to Cincinnati — and away from the industry that I work in and a lot of our friends — was by far one of the best decisions we ever made in our lives," Drew Lachey later told WonderWall (via People). "If we're able to give our daughter and our son even five more minutes of innocence, then the move was all worth it."
The married pair have been together for a long time: Drew and Lew Lachey both attended the School for the Creative and Performing Arts in Cincinnati, according to Deseret News, and they met in the fifth grade and became a couple not long after. In 2000, they married — when he was still at the height of his 98 Degrees success, and she was working as a stage dancer and choreographer for the boy band. In addition to raising their family, both Drew and Lea Lachey founded and serve on the faculty of Lachey Arts, a performance camp for kids.
Jeff Timmons has been married with children more than once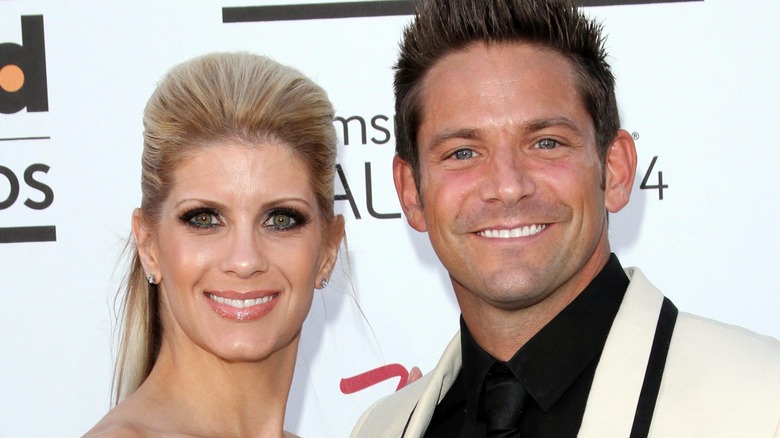 Jeff Timmons went from being surrounded by guys roughly his own age in 98 Degrees to being a family man, right in the orbit of a large, blended family consisting of his own kids, his wife's kids from a previous relationship, and the kids they've had together. Timmons' eldest daughter, Alyssa, who made her modeling debut at age 18 at 2017 New York Fashion Week, arrived in 1999 to Timmons and his first wife, Trisha Sperry. When Timmons and Sperry split up, he received joint custody of Alyssa and their son, Jeffrey Timmons, Jr. 
"I admit I didn't really know what I was doing in my first marriage," the singer later told The New Paper. "With Amanda it's totally different," he added, referring to his second wife, whom he married in 2010 and who brought two kids from her prior marriage into the family. Turns out it was another boy band that brought the couple together. 
"I actually met my wife at a New Kids on the Block event," Timmons explained to OK! magazine. "Jordan Knight had this thing called 'Jordan Idol,' he called me up when I was in LA and asked if I would co-host the event." The future Amanda Timmons, a "New Kids fanatic" who was in the area to do criminal research for a pharmaceutical company, was dragged there by friends, and the 98 Degrees singer met her before the show and talked her up.
98 Degrees' Jeff Timmons also did some solo stuff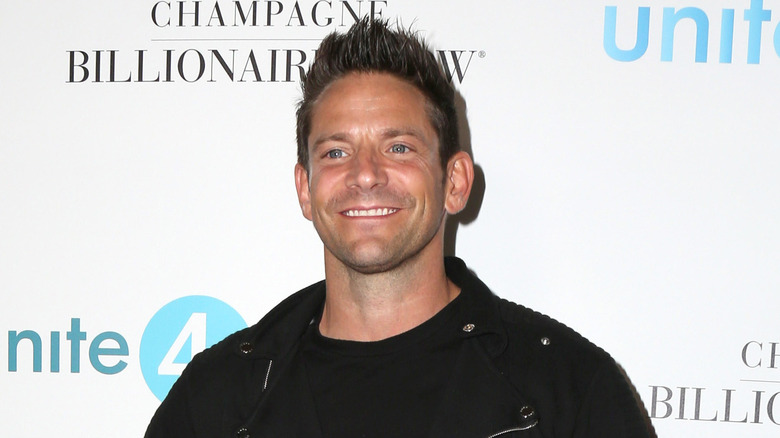 After 98 Degrees was no longer the commercial force it once was, Jeff Timmons took the solo route, releasing what would be his one and only full-length album in 2004, "Whisper That Way," on the independent label, SLG Records. He'd follow that up 15 years later with a single called "When You Fall." Timmons would quietly keep making pop music for other people, singing backup for fellow ex-boy-bander Jordan Knight of New Kids on the Block, and writing a song for vocalist Joshua R. Mosley that appeared on the soundtrack of the 2018 kids' movie, "Bernie the Dolphin." 
On the opposite side of the entertainment spectrum, Timmons played a supporting role in the 2016 zombie western, "Dead 7," written by and starring Nick Carter of the Backstreet Boys (as well as featuring other fellow boy-band singers, BSB's A.J. McLean and Howie Dorough and NSYNC's Joey Fatone and Chris Kirkpatrick). Tentatively giving acting in faith-based projects a try, Timmons has a couple of yet-to-be-released projects in the works, at the time of this writing, including an episode of an inspirational drama series called "Welcome to Hope" and playing a pastor in the 2021 made-for-TV movie, "Baking Up Love."
"I'm not traditionally known as an actor," Timmons told "Good Day Central Illinois" with a laugh in June 2021 (via CIProud.com). "Hopefully people give me a break when they watch this, because I'm with some great actors."
Jeff Timmons gave exotic dancing a shot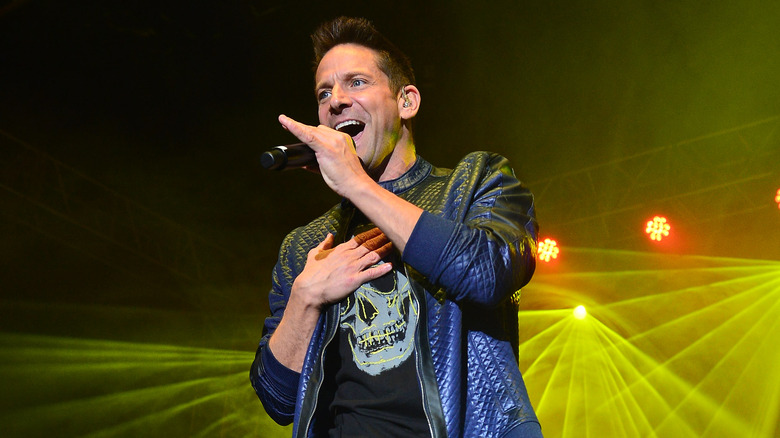 Drew Lachey isn't the only performer best known for his time in 98 Degrees who hit the stage for a live theatrical performance. In May and June 2011, Jeff Timmons appeared on a Las Vegas stage as a member of the famously scantily clad, dirty dancing, all-male troupe Chippendales, according to Entertainment Weekly. Pseudo-stripping and provocatively grinding in the style of "Magic Mike" turned out to suit the ex-boy-bander quite well. In the wake of his Chippendales shows, Timmons formed a new and competitive sexy-guy dance presentation called "Men of the Strip." 
"I thought with the boy band element peppered in-between, it would be a big success," Timmons, who's earned an estimated $5 million for his multi-faceted efforts in showbiz over the years, told E!. "We broke box office records in Vegas and I thought, 'What if we do this more mainstream, step up the production, hype it up a lot more, utilize our resources, and draw attention to this sexy taboo brand?'" He oversaw casting calls, auditioned hundreds of male dancers, and eventually took the show on the road, which was filmed for a 2014 E! documentary also called "Men of the Strip." As Timmons described the flick, "It's like 'Magic Mike' with elements of 'Sex and the City.'"
Justin Jeffre got into Cincinnati politics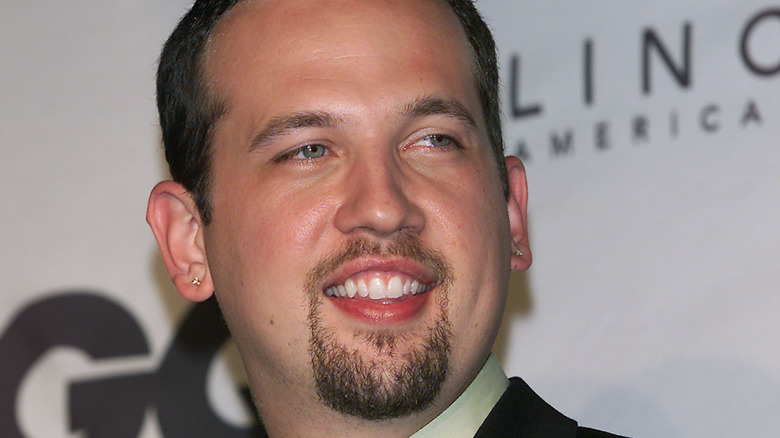 98 Degrees proudly hailed from Cincinnati, and by 2005, the members were splitting off into their four separate ways. Nick Lachey was busy with MTV's reality series "Newlyweds," while bandmate Justin Jeffre went in a completely different direction. On April 1, 2005, according to MTV News, the then-32-year-old singer announced his candidacy for mayor of his hometown at the city's School for Creative and Performing Arts, which Jeffre attended in his youth. He was accompanied and introduced by Lachey. 
Boasting the campaign slogan, "Be the Change," Jeffre's campaign platform included stakes like building an arts district in downtown Cincinnati and improving education and the community's relationship with the police department. However, a little more than five months later, Cincinnati voters went to the polls for the mayoral primary election, and Jeffre captured just 708 votes — or, two percent of all ballots cast.
While his gambit to become the most powerful elected official in Cincinnati didn't work out, Jeffre stayed in the city and became a community advocate and public figure. In 2011, he was arrested on a trespassing charge during a local Occupy protest, according to The Hollywood Reporter. He later explained to the Cincinnati Enquirer (via THR), "I spent the night in jail, and it was not fun. But it was the place to be if you are standing up for free speech." Jeffre, who has $2 million to his name, also founded the Cincinnati chapter of Public Hygiene Lets Us Stay Human (PHLUSH), an organization that pushes municipalities to build more public restrooms.
Jonathan Lippman left 98 Degrees to start another boy band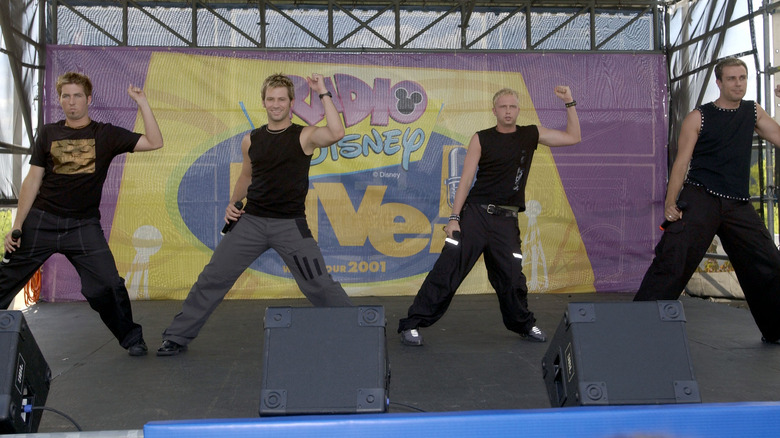 Top 40 radio and the "TRL" countdown was lousy with boy bands in the very late '90s and very early 2000s, but the one thing that set 98 Degrees apart from its equally dreamy and sweet-singing competition was that, unlike five-member acts like the Backstreet Boys and NSYNC, they had just four guys. But they were originally a five-piece. 
According to AllMusic, Jonathan Lippman was an original member of 98 Degrees, but he left right before the group broke out big. He had some acting work he was contracted to do, but he also wanted to pursue music that was a little less secular. So, in addition to appearing on the TV adaptation of the "Sweet Valley High" books, Lippman formed his own four-member, Christian-pop boy band called True Vibe. "I was a new Christian … I didn't want to be shot out into that world. I just wanted to have more wisdom and to grow in my faith a little more," Lippmann told The Blade in 2001. Luckily, he had no regrets and added of 98 Degrees' success, "It was neat for me to see the group I formed on Jay Leno, or to see them on the charts, or to go to the stores and see them on the cover of teen magazines. Those guys have been my friends since, like, fifth grade."
In 2001 and 2002, True Vibe released two records, "True Vibe" and "See the Light," the former of which peaked at No. 178 on the Billboard 200 chart.
Source: Read Full Article