Travis Scott has been the topic of much discussion all over social media and on the news after a tragedy that took place at the Astroworld music festival. Scott, born Jacques Bermon Webster II, is a singer, rapper, songwriter, and producer who has been nominated for eight Grammys. He is also the creator and host of the wildly popular Astroworld Festival held in Houston, Texas, since 2018. The 2021 festival sold 100,000 tickets for the event, and a wild and fun time was planned. The artists were ready and the fans were fired up. Horrifically, nine people have died so far after the crowd surged toward the stage, crushing those in the front. And now, a bizarre "demon theory" involving Travis Scott has emerged via TikTok.
Nine people have died so far in the Astroworld tragedy
Travis Scott's Astroworld Festival 2021 was scheduled to be a two-day event at NRG Park in Houston, Texas. Nov. 5, 2021, was to be the first day — but that day proved to be the only day.
It is estimated that upwards of 50,000 people were in attendance when Scott took the stage just after 9 p.m.(CT). That's when a huge crowd surge occurred. For some unknown reason, the crowd started to surge forward toward the stage, causing those in the front to be crushed by the influx of people. It was so compressed, that those in the front were unable to breathe, move, or escape.
Eight people between the ages of 14 and 27 died that night, and over 300 people were injured. Twenty of the injured concertgoers had to be hospitalized. A ninth person died in a hospital less than a week after the incident, according to ABC News.
Unfortunately, Scott is no stranger to fans getting injured at his events. One event, in particular, left a fan paralyzed. In April 2017. Kyle Green attended a Scott concert in Manhattan when she was pushed off the balcony and broke several bones and vertebrae in the fall. He was removed by show staff without the use of a cervical collar, backboard, or any other safety precautions. He was improperly carried away by event staff and became paralyzed. 
Scott has also been arrested twice on charges of inciting a riot and disorderly conduct. In 2015 and 2017, Scott was arrested after encouraging concertgoers to ignore security measures and rush the stage. Scott pleaded guilty in both cases to charges of inciting a riot and disorderly conduct. 
Conspiracy theories have popped up about what happened during Travis Scott's performance at Astroworld — including a "demon theory" on TikTok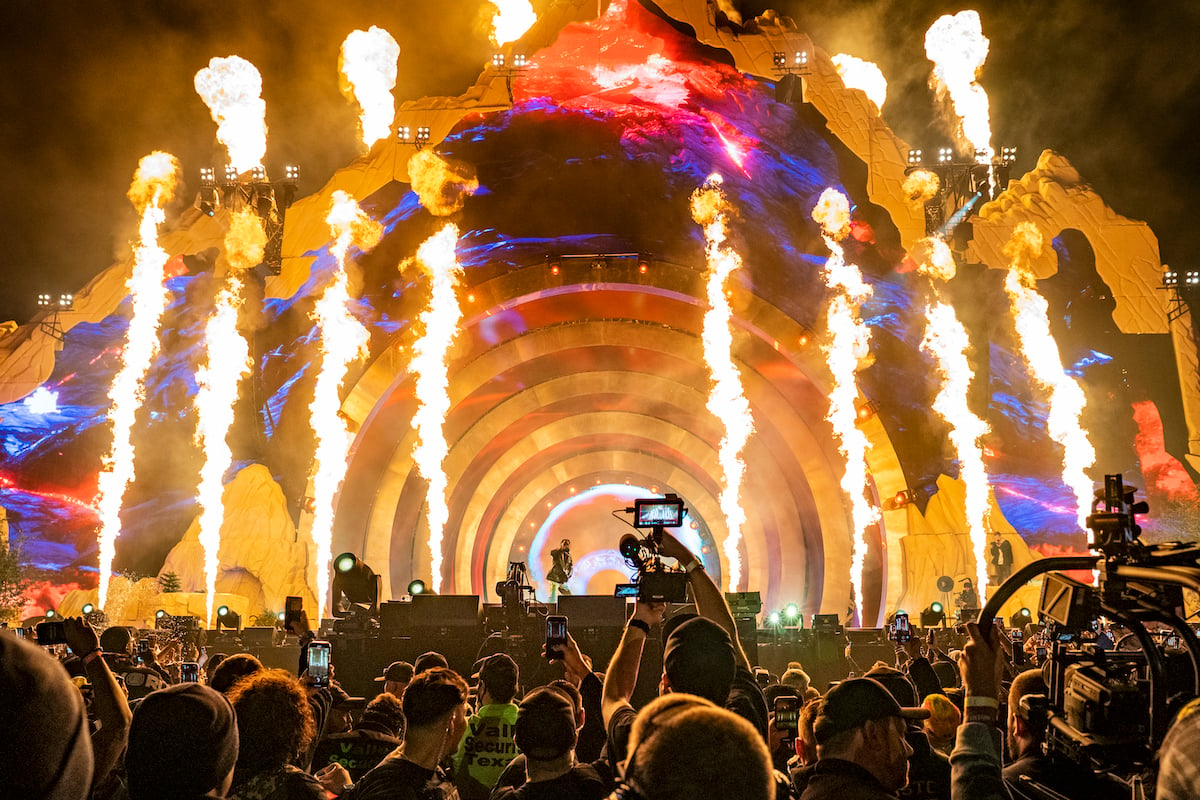 It is completely natural for people to seek out answers after tragedy hits. Recently, people want to know why nine Travis Scott fans were killed on the first night of the Astroworld Festival. There have been questions asked about what exactly happened in the crowd that surged when Scott came on stage. Other questions are being asked about the very culture that surrounds Scott's events, especially the mosh pits.
Rolling Stone reports that some inquisitive minds want to know if there is someone, more notorious and sinister, behind the events of Nov. 5: Satan.
Videos on TikTok about the bizarre theories surrounding Astroworld have gained millions of views despite TikTok saying these videos violate community standards. Some content creators point at the stage as being the shape of an upside-down cross that leads to a "portal to Hell." There was also an arch-shaped set onstage, accompanied by an animation of a dove on fire.
Some point out Scott's shirt that depicts human-shaped figures that walk through a door and come out with horns. These observations lead some theorists to say that Scott was leaving fans to Hell through his performance. There were eight pyrotechnic flames on the stage and to some people, they demonically represent the eight people who died. (This was before the ninth victim died.)
Conspiracy theories have a tendency to grow during times of uncertainty and upheaval. The Astroworld Festival tragedy is no different.
Lawsuits are already piling up
Scott will be dealing with the tragedy of his music festival for quite some time to come. He has been named as the defendant in no less than 19 lawsuits so far. Some of these lawsuits also name Live Nation, the concert promoter, and fellow performer, Drake, who is accused of also being involved in inciting the crowds. Scott and Live Nation are cooperating with the investigation. 
Scott released a statement after the event that said, "I'm absolutely devastated by what took place last night. My prayers go out to the families and all those impacted by what happened at Astroworld Festival." He also said he will cover the funeral expenses of the victims. 
Source: Read Full Article