There are plenty of examples of male artists using a personal experience like a heartbreak to write a smash hit. When Justin Timberlake released "Cry Me A River" in 2002, a song widely believed to be about Britney Spears, he was praised for having one of the best songs of the year, even landing on Rolling Stone's 500 Greatest Hits of All Time. Writing about relationship woes is nothing new, but when male musicians like Timberlake, Ed Sheeran, and Bruno Mars sing about it, the microscopes and pitchforks don't necessarily come out in full force.
But then there are female artists like Taylor Swift who have received a fair amount of attention for doing the same exact thing — and that attention isn't always so positive. What's more, she's ended up in positions where she's had to stand up to interviewers to address sexist comments made about her and women in general. But when she's faced with a sexist situation? Taylor Swift responds in perfect T. Swift fashion. 
The time a radio show host asked Taylor Swift about settling down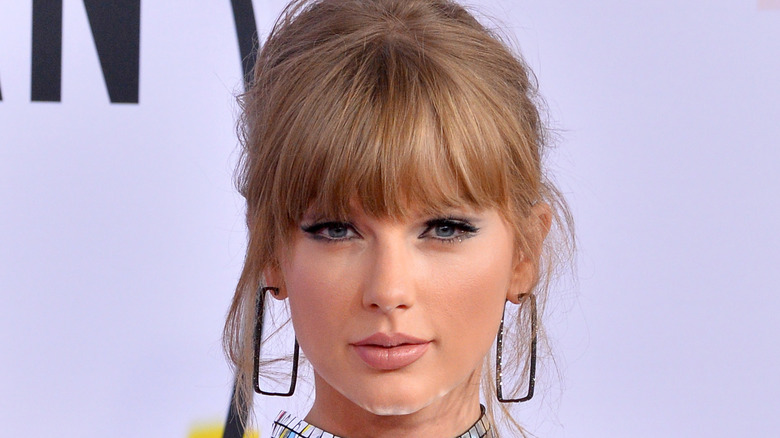 Taylor Swift has long been known to keep her fans playing detective when it comes to which ex-boyfriend her songs are about, and she's also become an expert in keeping her current love life out of the public eye and out of ruthless tabloids. 
Rumor has it Swift and British actor Joe Alwyn began dating in 2016, and they seemed to confirm that they were a couple in 2018 when they posted identical Instagram photos posing next to the same cactus one day apart. Since then, Swift has promoted Alwyn's period piece "The Favourite" on Instagram, and Alwyn was briefly seen in Swift's Netflix documentary "Miss Americana" where she opened up about falling in love, per Daily Mail. And, in 2021, Swift got the chance to thank Alwyn when she won the Grammy for Album of the Year for "Folklore," touchingly stating, "[He] is the first person that I play every single song that I write, and I had the best time writing songs with you in quarantine."
While it appeared that the couple was slowly opening up about their relationship to the public, Swift took the opportunity to shut down a German radio host who asked her if she had any plans to settle down and have children, per The Whisp. According to the outlet, Swift replied, "I really doubt men get asked the same question when they turn 30. I'm not going to answer that question."
Taylor Swift addressed the criticism surrounding the songs about her exes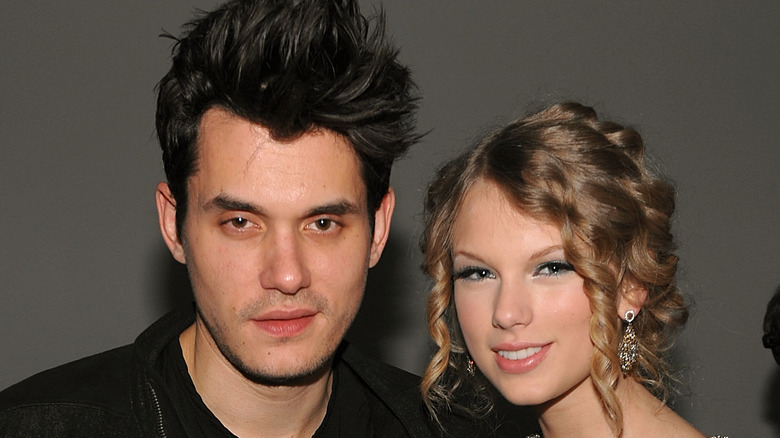 Taylor Swift is not one to shy away from writing a song about an ex-lover. That said, as she noted on Australian radio show "Jules, Merrick & Sophie," she will "never name names." Even so, that hasn't stopped fans from assuming there are certain tracks about famous figures like John Mayer and Jake Gyllenhaal. What's more, Swift has noticed that she has had to constantly defend her lyrics while her male counterparts seem to face less criticism for singing songs about their former flames.
Swift shared with the radio show that she has been unfairly judged for her lyrics, stating, "You're going to have people who are going to say, 'Oh, you know, like, she just writes songs about her ex-boyfriends.' And I think frankly that's a very sexist angle to take." She went on to point out that male artists like Ed Sheeran and Bruno Mars can dig into their own personal lives in their lyrics without getting hit with the same oversimplified assessment. 
In fact, one of her exes, Harry Styles, defended Swift for using her past as inspiration for her music. "I think about what it means to me to write a song about somebody else and for someone else to do that I think it's flattering, even if the song isn't flattering, you still spent time on it," he once said on "The Howard Stern Show." "Using Taylor as an example, she's a great songwriter."
Taylor Swift has had to defend her own songwriting abilities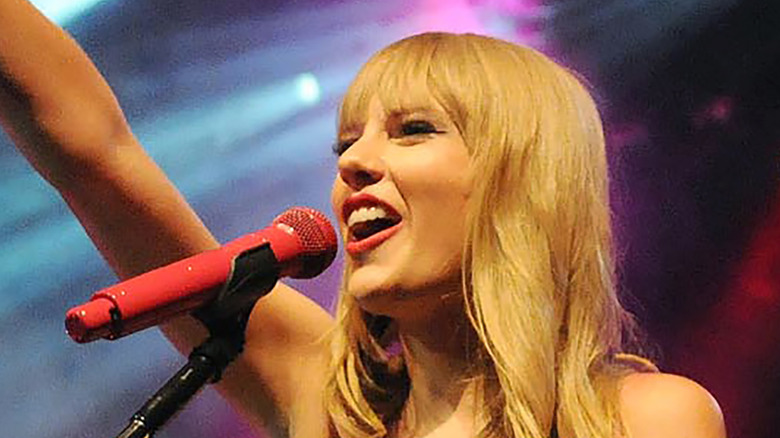 What's more, some detractors have wondered about how much of a hand Taylor Swift really has in her music. And as she told Billboard in 2014, if she were a man, that uncertainty wouldn't be as much of a thing.
"If someone has studied my catalog and still doesn't think I'm behind it, there's nothing I can do for that person," she said. "They may have to deal with their own sexist issues, because if I were a guy and you were to look at my catalog and my lyrics, you would not wonder if I was the person behind it." She went on to note that she doesn't "get offended when people don't fully understand" her level of involvement and has more or less learned to shake it off when someone assumes she does not play a big part in the writing process. But as any true Swifty knows, she's a songsmith through and through: "I wouldn't be a singer if I weren't a songwriter."
Speaking with Time that same year, she pointed out that there isn't much doubt surrounding the songwriting skills of male artists like Ed Sheeran. She learned over time that critics began "questioning the validity of a female songwriter" which she found "discouraging." Swift added that "females have to work so much harder to prove that they do their own things" and included Nicki Minaj as an example.  
No, Taylor Swift's songs aren't 'boy-bashing'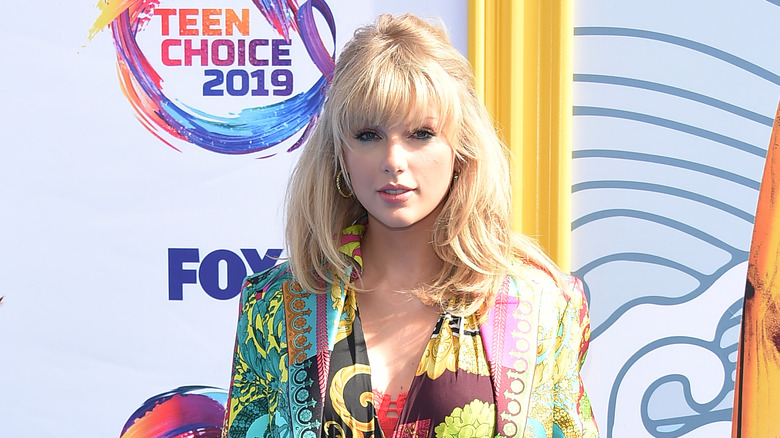 While Taylor Swift has made a point to not explicitly say who she's singing about in a given song, that hasn't stopped some critics from, as she said in The Telegraph in 2015, accusing her of writing "boy-bashing" lyrics. Tired of people stating that she only writes negative music about her ex-boyfriends, she shared, "There was a bit of a reputation for having a lot of boy-bashing songs. Which is a sexist way of saying heartbreak songs. To trivialize someone who's heartbroken is really cruel."
At the end of the day, Swift is a storyteller who is sharing her own story. As she explained in Vanity Fair, "For a female to write about her feelings, and then portrayed as some clingy, insane, desperate girlfriend … that's taking it and turning it and twisting it into something that is frankly a little sexist." She went on to say that male stars like Joe Jonas and Harry Styles are described as "having fun" when one could argue that they're doing the very same thing that she's doing. Ah, yes. The all too familiar double standards strike again.
Taylor Swift brilliantly navigated a Grammys reporter's odd remark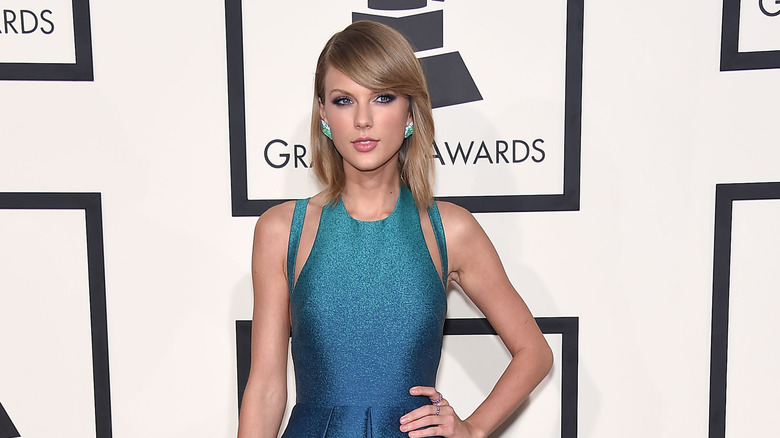 At the 58th Annual Grammy Awards, Taylor Swift received seven nominations, including Record of the Year and Album of the Year, and while the singer took home the latter, she also collected Best Pop Vocal Album for "1989" and Best Music Video for "Bad Blood." Before collecting those gramophone , Swift had to tackle a sexist remark made by a reporter on the red carpet.
When ET's Nancy O'Dell interviewed Swift ahead of the show, she asked the cameraman to pan down so that viewers could look at her stunning Elie Saab dress. However, it was her comment that made Swift and viewers alike flinch. "I just wanted to show the legs, 'cause as I was telling you ahead of time, you're going to walk home with more than maybe just a trophy tonight, I think lots of men," the reporter said. Amazingly, Swift kept her composure when answering O'Dell, and quipped, "I'm not going to walk home with any men tonight. I'm going to hang out with my friends, and then I go home to the cats." 
Hopefully, O'Dell looked back at her cringeworthy interview with Swift and learned from her gaffe. 
Taylor Swift didn't let a joke from a Netflix series slide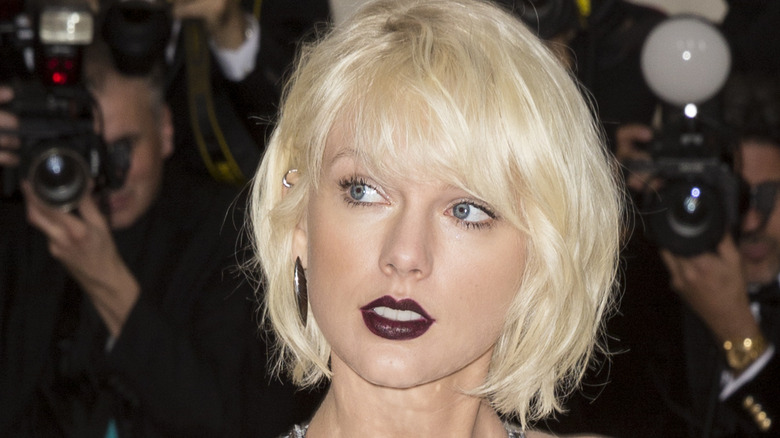 Netflix's "Ginny & Georgia" became an instant hit with viewers. The show's premise about a mother and her two kids who move away to an affluent neighborhood in Massachusetts for a fresh start is jam-packed with drama, romance, comedy, and crime, and has even been compared to the beloved series "Gilmore Girls."
That said, it sounds like Taylor Swift wouldn't call herself a "Ginny & Goergia" fan. The pop superstar tweeted to her over 80 million followers about a certain line in the series' script that struck a bad chord with her. According to E! News, in the 10th episode, during an argument between Ginny (Antonia Gentry) and her mother Georgia (Brianne Howey), the former says, "What do you care?  You go through men faster than Taylor Swift." Addressing the line, Swift tweeted, "Hey Ginny & Georgia, 2010 called and it wants its lazy, deeply sexist joke back. How about we stop degrading hard working women by defining this horse s*** as FuNny." Swift also called out Netflix where she had released her documentary, stating, "Also, @netflix after Miss Americana this outfit doesn't look cute on you. Happy Women's History Month I guess."
Days after Swift shared her thoughts on the sexist line, Gentry took to Instagram to thank viewers for supporting the show and reflected on her character, but did not touch on the controversy.
Taylor Swift regularly stands up for women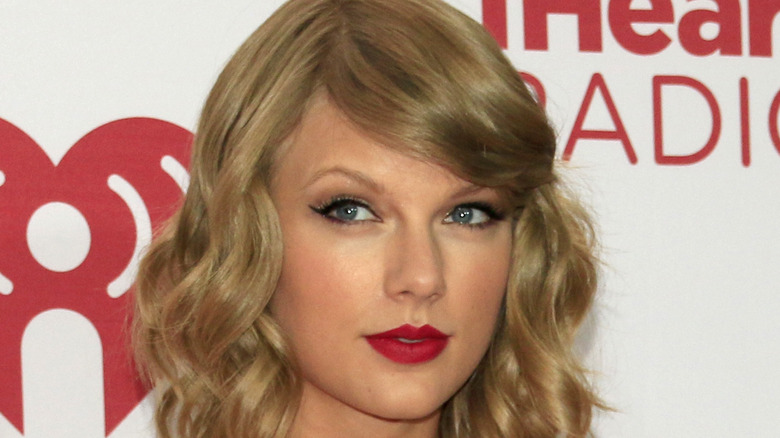 While the body positivity movement has made strides as far as the universal acceptance of women of all shapes and sizes goes, there's still a lot of work to be done — especially in Hollywood, where in a lot of ways, it is a superficial place. Conventionally attractive actors rule marquees, aging is almost like a sin, and Hollywood wouldn't dare cast a woman with wrinkles. Time after time, Taylor Swift has spoken out about the immense pressures women experience in the industry and elsewhere to look younger than they are, especially when men are rarely judged on their appearances. 
After turning 30, she shared with Elle, "I've learned that society is constantly sending very loud messages to women that exhibiting the physical signs of aging is the worst thing that can happen to us." Calling it "an impossible standard," she noted that women are made to feel as though they "aren't allowed to age." Even though, you know, aging is a totally natural part of being a human being.
Speaking with Time magazine, the "I Knew You Were Trouble" songstress also took a swipe at those who have pitted women who are "killing it" against each other. As she put it, other successful women should "challenge you and inspire you rather than threaten you and make you feel like you're immediately being compared to them." If anyone knows a thing or two about girls sticking together it's Swift. 
Her song The Man takes a swipe at sexism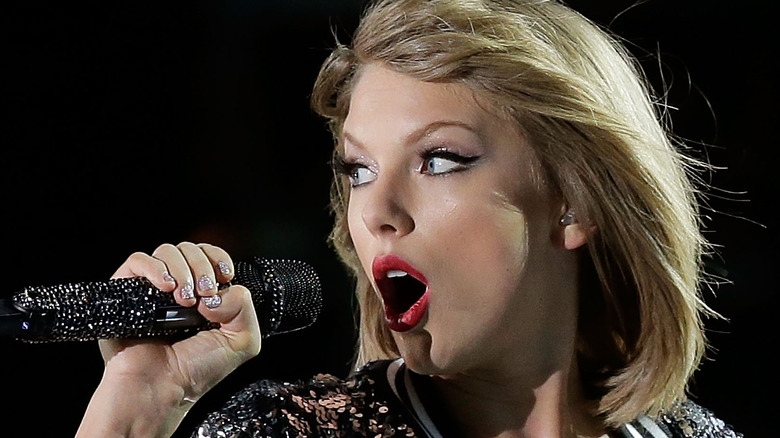 Sexism in the music industry has literally inspired Taylor Swift's work. In 2020, Swift took aim at the patriarchy when she released her song and music video for "The Man." The song depicts what life would be like if Swift was — you guessed it — a man, and it is a brilliant attack on the differences between men and women in similar roles. The chorus sums up the thesis: "I'm so sick of running as fast as I can / Wondering if I'd get there quicker if I was a man / And I'm so sick of them coming at me again / 'Cause if I was a man, then I'd be the man."
Sharing her thoughts on "The Man" and how it came to be, Swift told Billboard the song was inspired by the double standards women encounter in the music world, noting that "it's really about re-training your own brain to be less critical of women when we are not criticizing men for the same things." 
Forever a savvy artist, Swift ensured the song was "catchy" — and not just because she wanted to make sure it reached the top of the charts. The award-winning musician hoped "it would get stuck in people's heads, [so] they end up with a song about gender inequality stuck in their heads." We're still humming this track, so consider the mission accomplished and then some.
The more famous Taylor Swift became, the more sexist comments were thrown at her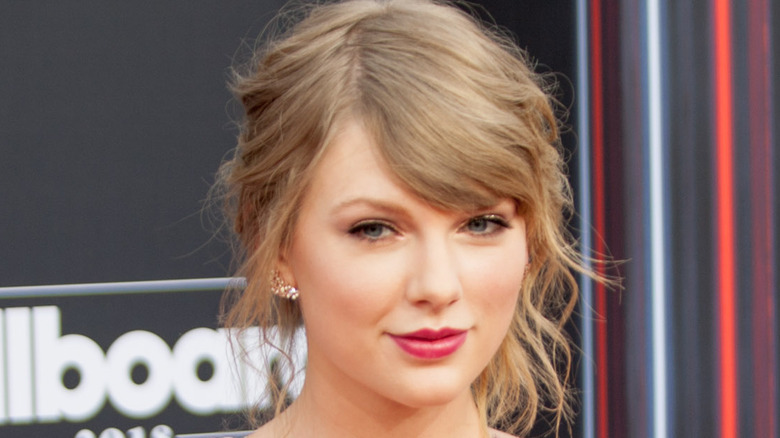 Taylor Swift might not have ever imagined her career would skyrocket as it has since she dropped her self-titled debut album when she was just 16, but she did notice that as she climbed up the ladder of success, she felt like she wasn't getting the credit she deserved. When talking to Vogue in 2019 about the sexism she encounters as a powerful female recording artist, she shared, "The second I became a woman, in people's perception, was when I started seeing it. As soon as I started playing stadiums — when I started to look like a woman — that wasn't cool anymore.'"
She went on to say that her skills as a songwriter don't always get the credit they deserve, pointing out that even as an acclaimed artist, her work is often reduced to the content of a few tracks. "People would act like [writing about past relationships] was a weapon I was using," she shared. "Like a cheap dirty trick." Of course, there are many people who revere and appreciate her artistry; as NPR noted in 2018, "her songwriting has been compared to that of artists like Dolly Parton and Mary Chapin Carpenter." But as her fame level ascends to new heights, the double standards are all the more glaring. 
"There's a different vocabulary for men and women in the music industry," she once said on "CBS Sunday Morning." "A man 'stands up for himself,' [whereas] a woman 'throws a temper tantrum.'"
Don't mess with Taylor Swift and her cats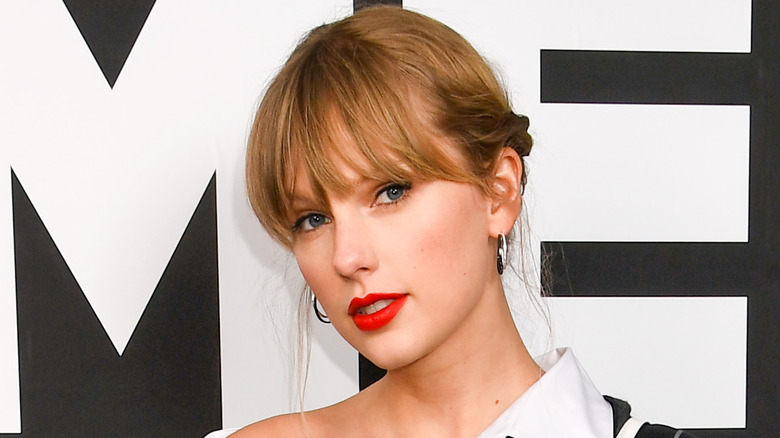 In 2014, Taylor Swift made an appearance on BBC One's "The Graham Norton Show" where she ended up calling out actor John Cleese for his sexist remarks — in the most T. Swift way, of course. While talking about Swift's cat Olivia Benson, Cleese insulted the physical appearance of the singer's feline companion and asked if Benson was a "proper cat" or if she was "damaged." And, if that wasn't enough, Cleese took a quick dig at all human women and Swift wouldn't have it.
When Cleese admitted that he preferred cats over dogs, he added, "They're unpredictable and cussed, like women." Well, that did not sit well with the songstress who quickly replied, "Oh, we don't want to do that." After Swift shut the Monty Python co-founder down with seven quick words, the audience erupted in applause. She stared him down as he burst into laughter, and his sexist joke looked a lot like egg on his face. 
Sexism comes in all sorts of forms, and clearly, Swift knows this all too well. And honestly, the jabs about who she chooses to write songs about, or the men she's been with, or just being a powerful woman in the music industry are getting a little old. 
Source: Read Full Article