The sudden cancellation of Friday's public ticket sales for 'Eras Tour' comes after Ticketmaster declared more than two million tickets were sold Tuesday, November 15.
AceShowbiz –Taylor Swift's fans are demanding explanations. Swifties are urging the pop star to "say something" after Ticketmaster abruptly canceled ticket sales for the singer's highly anticipated "Eras Tour".
On Thursday, November 17, Ticketmaster announced via Twitter that "due to extraordinarily high demands on ticketing systems and insufficient remaining ticket inventory to meet that demand," Friday's public ticket sales for the "Anti-Hero" hitmaker's "Eras Tour" has been canceled.
The sudden cancellation came after Ticketmaster said that more than two million tickets were sold Tuesday, November 15 for her upcoming tour, the most ever sold for an artist in a single day. It caused a near meltdown of its website.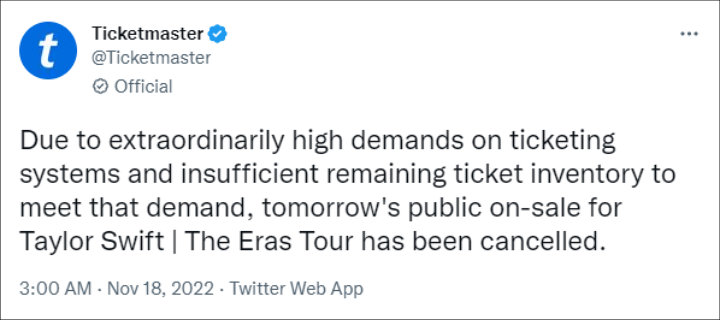 Ticketmaster announced Friday's public ticket sales for 'Eras Tour' is canceled.
Also on Thursday, Ticketmaster explained that a "record number of fans" wanted to buy tickets to Taylor's "Eras Tour", which begins next year. That prompted a massive slowdown in its platform and sparked outrage among millions of fans who couldn't purchase tickets.
Ticketmaster claimed that its "Verified Fans" system, a mechanism aimed at eliminating bots that gives presale codes to individuals, couldn't keep up with the intense demand. Roughly 3.5 million people signed up for the program to buy Taylor's tickets, its "largest registration in history." That unprecedented demand, combined with a "staggering number of bot attacks as well as fans who didn't have invite codes" drove "unprecedented traffic" to its site, Ticketmaster insisted, and, essentially, broke it.
"Never before has a Verified Fan on sale sparked so much attention – or uninvited volume," Ticketmaster explained. "This disrupted the predictability and reliability that is the hallmark of our Verified Fan platform."
On Tuesday morning, Ticketmaster told CNN Business that the website was "not down" and that "people are actively purchasing tickets." It added that "there has been historically unprecedented demand with millions showing up" to buy tickets for Taylor's tour.
A few minutes after Ticketmaster announced the cancellation of Friday's public ticket sales, Swifties began demanding the Grammy winner "say something." One furious person tweeted, "THIS TOUR IS CALLED THE 'TAYLOR SWIFT' ERAS TOUR. ITS UNDER HER NAME. SHE NEEDS TO SAY SOMETHING ABOUT THIS."
"Please say something this is devastating to the people who have loved and supported you for over a decade and came out of this with nothing @taylorswift13 please say anything," another demanded. A third disappointed fan shared a similar statement, "I'm so sad. please say something we are all hurting immensely and just wish we all could have had a fair chance at going to the eras tour @taylorswift13 @taylornation13."
According to Rolling Stone, "As of 11 A.M.. on Tuesday, the site [Ticketmaster] was experiencing major issues, with fans either completely logged out or in a queue 2,000-plus people strong that appeared frozen."
Seemingly weighing in on the issue, Taylor herself said that she's losing her "damn mind." However, instead of venting further about her frustration, she celebrated her 2023 Grammy nominations, which were announced on Tuesday, November 15. "but… All Too Well 10 is the song I'm the most proud of, out of anything I've written. The fact that it's nominated for Song of the Year at the Grammys, an award I've never won, that honors the songwriting… it's momentous and surreal."
More recently, Tennessee Attorney General Jonathan Skrmetti announced that his office is investigating Ticketmaster and Live Nation in the wake of the disastrous ticket sales. In a press conference on Wednesday, November 16, he said, "There are no allegations at this time about any misconduct, but as the Attorney General, it's my job to ensure that the consumer protection laws and antitrust laws in Tennessee are being honored."
Source: Read Full Article