Revealing the collab rejection was Tory, who also says that his dream collaboration is Taylor Swift during a question and answer session with his followers on Twitter.
AceShowbiz –Drake and The Weeknd are those among Tory Lanez's dream collaborations. According to the latter, Drizzy and Abel Makkonen Tesfaye "have been rejecting his collaboration requests "for years."
During a Q&A session on Twitter on Wednesday, August 31, Tory unveiled that he's been rejected multiple times by Drake and The Weeknd. When a fan asked if either the Canadian rappers will be featured on Tory's new album "Sorry 4 What", he replied, "Been sending them songs for years … but nah not a single one."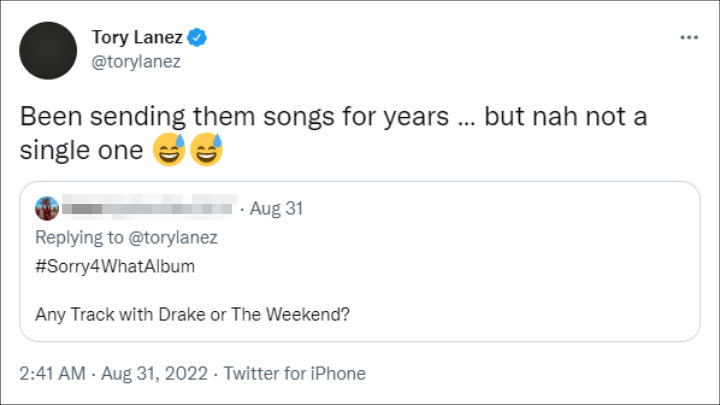 Tory Lanez revealed that his request for collab has been rejected by Drake and The Weeknd for years.
Many fans seemed unfazed by the news with one writing, "Honestly he don't need it … he is way more talented and has more artistry. He is him where the other 2 have just given into the mainstream." Another added, "They are intimidated by your talents."
Someone else, however, clowned Tory for confessing that his idols ignored him. "That's embarrassing," the troll wrote, "Who would ever admit that." In response, Tory clapped back, "Me cuz it's not embarrassing to me I'm an incredible artist." The "Say It" spitter continued to praise his idols as writing, "No loss they still great."
Elsewhere in his Q&A, Tory also divulged that his dream collab is Taylor Swift. He then told his followers that if he had to pick his favorite album, it would either be "Lost Cause" or "Daystar", the controversial project he released to partially respond to the criminal allegations of him shooting Megan Thee Stallion earlier in 2020.
Tory is still facing criminal charges for allegedly shooting the "Savage" raptress in the foot. In July, his lawyers asked the trial's start date of September 14 to be pushed back, citing "potential conflicts" due to an unrelated case involving the Houston femcee. It remains unclear whether the request will be granted, with the judge claiming it was too "premature" to delay the trial.
Source: Read Full Article