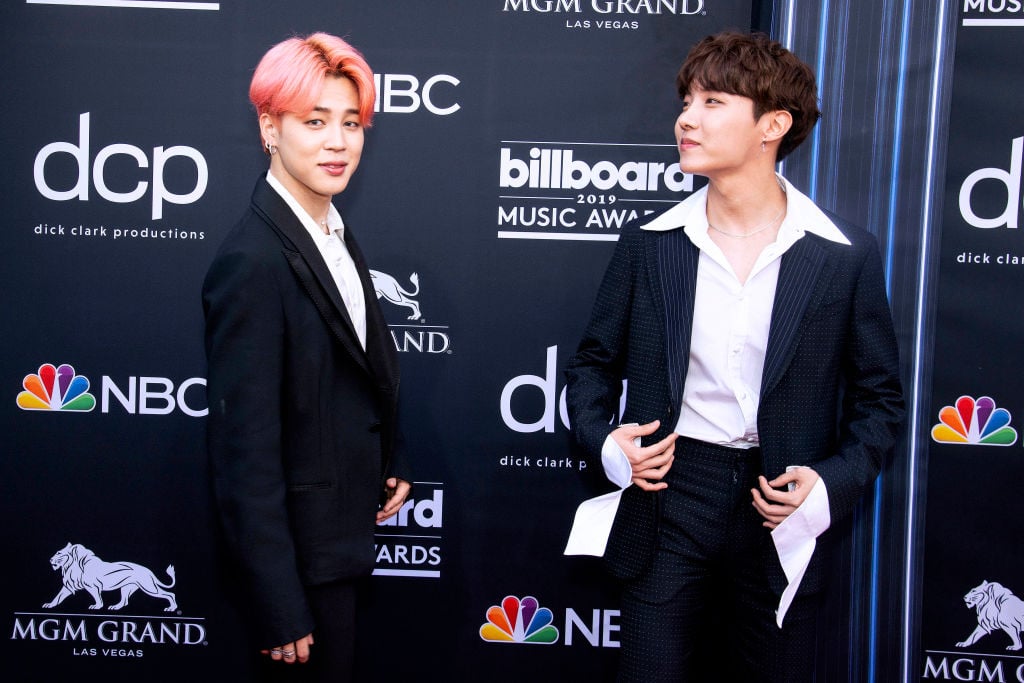 Just one day after BTS's month-long break ended, Big Hit Entertainment addressed false dating rumors about Jungkook. The company also promised to investigate the invasion of privacy against Jungkook and said it will take legal action if necessary. Fans were understandably upset at Jungkook's privacy being invaded, but Jungkook is not the only BTS member fans are concerned about. While BTS was on vacation, many fans expressed their concerns that Jimin was being stalked as well.
Photos and videos of Jimin in Paris were shared on social media
Fans became concerned about Jimin being followed while he vacationed in Paris. Although Big Hit Entertainment asked fans to give the members of BTS privacy while they vacationed, photos and videos of Jimin in Paris leaked online.
Someone posted photos of Jimin walking around Paris. Despite members of BTS ARMY asking social media accounts to delete the photos, the photos spread throughout Twitter. Videos of Jimin in a club and pub were also released.
BTS fans began to wonder if Jimin was targeted while on vacation. The other BTS members traveled during vacation in public places, but Jimin's location was leaked the most. To some BTS fans, this made it seem like Jimin had a stalker.
"Jimin was targeted, jin went to a k-world festa concert where there are cameras yet nothing of him. Joon has been POSTING pics of him everywhere and there are people in the background and no one is taking pics of him. Suga went home, hobi was in L A and no one found him anywhere…" a fan wrote in a Twitter thread.
People leaked Jimin's location in Hawaii and Russia
After the ordeal in Paris, BTS fans asked people to follow Big Hit Entertainment's wishes and give Jimin privacy while he traveled. However, videos and photos of Jimin vacationing in Maui were shared online after the singer left.
While Jimin vacationed in Russia with friends, a group of fans found him on the street and hounded him for autographs. Photos of Jimin walking through the streets with friends, eating, and waiting in the airport were also leaked online. This made even more BTS fans worry that Jimin has a stalker.
"how hard is it to the leave members alone during their vacation most specifically jimin first the paris situation, him being followed in hawaii and now he got mobbed by 40 people in russia who also collectively stalked him down? im honestly starting to believe he's being followed," a fan tweeted.
Another fan tweeted, "jimin is getting stalked & followed again while he's on a friends trip in russia…when will y'all ever give him the privacy he deserves as an ordinary human being? why can't u guys respect him as much as u respect the other members?"
BTS fans wonder if Jimin has a stalker
After fans found Jimin in Russia, ARMY began to wonder if Jimin has a stalker. It's common for K-pop idols and Korean public figures to have sasaeng fans who are fans that engage in obsessive or stalker behavior. Jungkook notably received a phone call from one while he hosted a VLIVE earlier in 2019. Some BTS fans began to wonder if Jimin is dealing with more sasaeng fans than other members of BTS.
"You guys I really hate to say this but I seriously feel like Jimin has a stalker. We don't even know what Hobi was doing in America but somehow know every move Jimin makes? I-," wrote a fan on Twitter.
Other fans felt that the whole thing was blown out of proportion because ARMY spent so much time tweeting about the situation trying to have the photos and videos of Jimin deleted.
"Honestly if people stopped making it into such a huge issue and raging every time Jimin is spotted, it WOULDN'T BE SUCH A BIG ISSUE… This whole '40 stalkers' thing isn't even true. It was more like 10-15 fans who wanted autographs. I do believe he has sasaeng stalkers bc of how his every move is documented, but it wasn't a sasaeng stampede in Russia the way people are describing it," one fan wrote in a Twitter thread.
Source: Read Full Article