The word "icon" tends to be thrown around a lot when referring to beloved stars — yet in the case of William Shatner, it barely scratches the surface. As his bio in The Canadian Encyclopedia detailed, Shatner first began acting professionally onstage in his native Canada before making a mark on Broadway in such productions as "The World of Suzie Wong" and "A Shot in the Dark." Broadway led to Hollywood, with Shatner making his film debut in 1958's "The Brothers Karamazov." 
Following a role in "Judgement at Nuremberg" and a memorable performance as a paranoid airline passenger on "The Twilight Zone," Shatner was cast in the role that would forever define him: Captain Kirk on "Star Trek," originating the role in the original 1960s series and then reprising Kirk throughout the ensuing decades in a series of big-budget movies.
Having celebrated his 90th birthday in March 2021, Shatner continues to exhibit the energy of someone 30 years his junior, launching new projects at a pace that belies his age. Despite having been in the public eye throughout a career spanning over seven decades, there's much that even his biggest fans can still learn about this multifaceted performer. Let's discover the untold truth of William Shatner. 
William Shatner's big break came from Christopher Plummer's kidney stones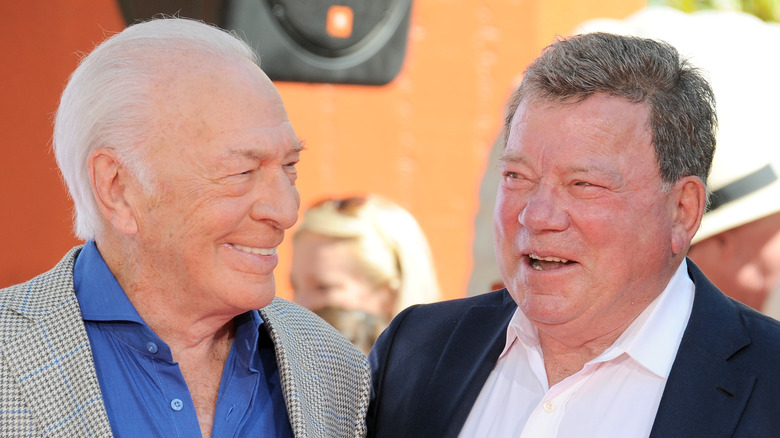 After graduating from Montreal's McGill University, William Shatner went on to spend three seasons in the company of Canada's acclaimed Stratford Festival. He acted in an array of Shakespeare plays from 1954 until 1956, such as "Measure for Measure," "The Taming of the Shrew," "Julius Caesar," "The Merchant of Venice," "The Merry Wives of Windsor," and "Oedipus Rex."
In the 1956 season, recalled a press release from the Stratford Festival, Shatner was the understudy to Christopher Plummer in the festival's production of "Henry V." Early in the production's run, the future "Sound of Music" star was hospitalized with kidney stones; with just three hours notice, Shatner stepped in — to rave reviews. Years later, Plummer wrote in his "In Spite of Myself" memoir, "I knew then that the SOB was going to be a 'star.'"
In 2013, The Canadian Press (via CTV News) reported on Shatner being honored with Stratford's legacy award. Recalling his years at Stratford as "a magical time," Shatner admitted that subbing for Plummer was actually a nerve-wracking experience. "I look back on that and I think I would never do that now. Are you kidding me?" he said.  
His music career came about because he 'went along with the joke'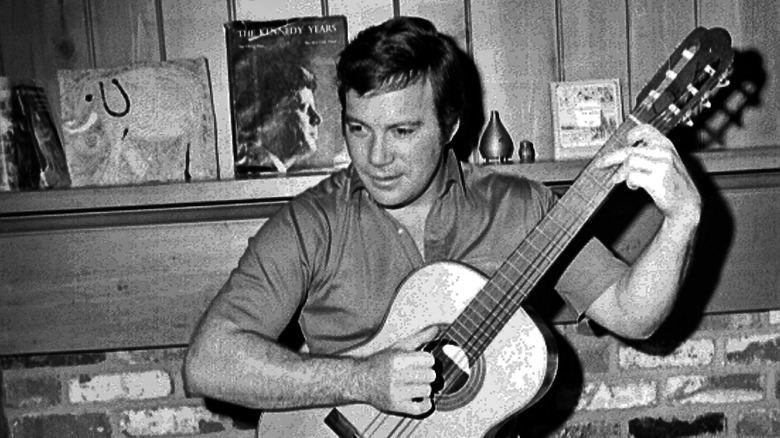 William Shatner amazed everyone when he conjured up a music career for himself, which peaked with his well-reviewed 2004 album, "Has Been." Shatner, however, certainly never had any aspirations to get onto the Billboard charts until the late 1980s, when some songs he'd recorded for his 1968 theatrical concept album, "The Transformed Man," wound up on a compilation of unintentionally awful celebrity music recordings: "Golden Throats." Shatner's bombastic talk-sing take on The Beatles' "Lucy in the Sky with Diamonds" and Bob Dylan's "Mr. Tambourine Man" proved to be standouts, and were widely played (and mercilessly mocked) by radio deejays. 
Asked by Newsweek how he felt after his Dylan cover had become "a camp classic," Shatner admitted it initially stung to be the butt of the joke. "I'll tell you the truth, the album 'The Transformed Man' is much more extensive than just 'Tambourine Man' and 'Lucy in the Sky With Diamonds,'" Shatner explained. "So yes, in the beginning it bothered me that people singled them out and poked fun at them. They didn't know what I was doing. But since these people only heard 'Tambourine Man,' I went along with the joke." 
William Shatner's a lifelong equestrian who received a surprising award in his divorce settlement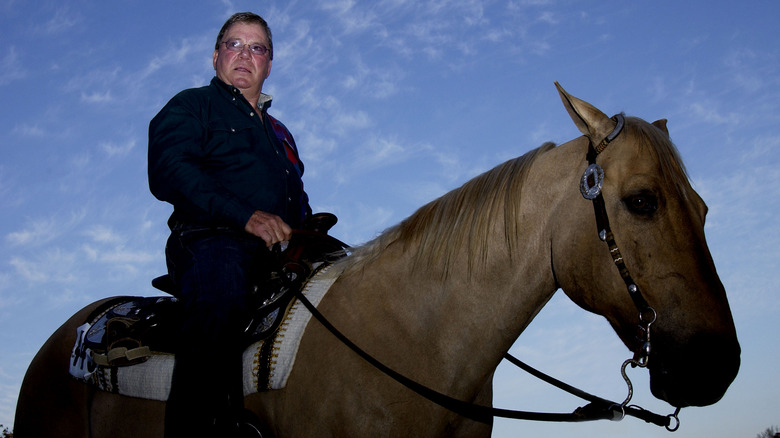 While acting may be William Shatner's job, it's not an understatement to point out that his true passion lies with horses. In a 2021 interview with The Guardian, the 90-year-old actor noted that he's "a competitive rider in an equine skill called reining," which he described as "very athletic and cowboyish." As Shatner told the Los Angeles Times, he first developed an interest in riding at 15, admitting he "would often daydream about having a ranch, with my own horses." That came to pass when Shatner's success allowed him the financial wherewithal to purchase the 360-acre Belle Reve ranch in Kentucky, where he's ridden and bred horses for decades. 
Lest there be any doubt about how seriously Shatner takes breeding thoroughbreds, TMZ reported that in his 2020 divorce settlement from his fourth wife, she received the Kentucky ranch — but he received "all horse semen."
Shatner detailed his love of horses in his 2017 book, "Spirit of the Horse." In an excerpt published by Equestrian Living, he wrote that "horses are a huge part of my life" and "have been for more than 30 years."
He addressed the tragic death of his third wife in a song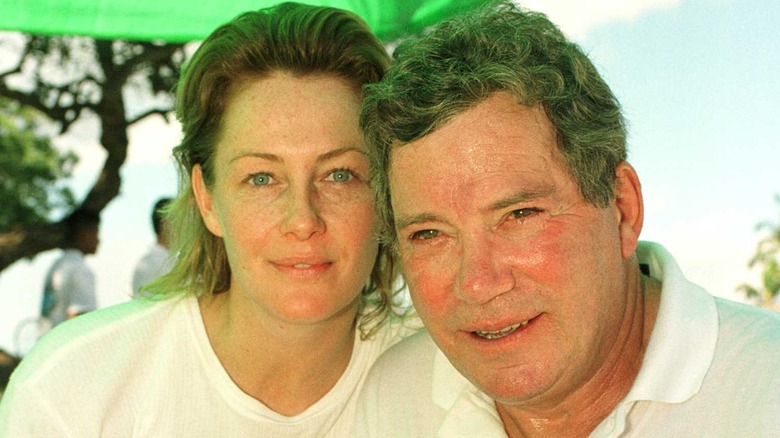 In 1999, William Shatner's third wife, Nerine Shatner, was found dead in the couple's pool, having apparently drowned. While Shatner was briefly a suspect, a subsequent autopsy, reported the Los Angeles Times, demonstrated she had been drinking heavily — her blood alcohol level was "three times the legal limit for driving" — and taking sleeping pills. "Doctors found bruises on her face and two cracked neck vertebrae that indicated she dived into the pool, banged her head on the bottom and lost consciousness," reported the Times.
Several years later, Shatner addressed his wife's accidental death in the spoken-word musical piece, "What Have You Done," on his 2004 album, "Has Been." As he told The Guardian, recording the track proved to be emotionally devastating. "I couldn't get through it. It took me several tries," he explained. Quoting the lyric, "I can see you've had some tragedies and it never goes away," Shatner said, "And with 'What Have You Done,' who is the question aimed at? Sometimes I think it's aimed at me. Why didn't I do more? During that period when we were together, we were so much in love and she was drinking, but I didn't understand addiction."
If you or anyone you know is struggling with addiction issues, help is available. Visit the Substance Abuse and Mental Health Services Administration website or contact SAMHSA's National Helpline at 1-800-662-HELP (4357).
William Shatner has never watched Star Trek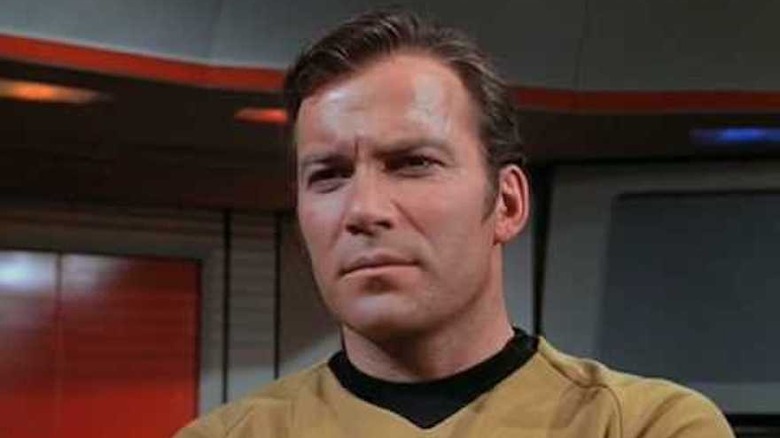 William Shatner has seen success with many roles, ranging from a Chicago cop in "T.J. Hooker" to his Emmy-winning turn as loopy lawyer Denny Crane on "Boston Legal." However, if there's one role for which he'll be indelibly identified, it's James Tiberius Kirk, captain of the starship Enterprise on TV's original "Star Trek" and several big-screen spinoffs. 
While playing Captain Kirk granted Shatner worldwide fame (not to mention the ability to command $80 for an autograph), he has never actually seen himself as Kirk in the original series, which ran from 1966 to 1969. "I have never watched 'Star Trek,'" Shatner confessed in a 2021 interview with People. "There are many episodes I don't know, there are some movies I don't know." 
Shatner did admit to watching one of the movies, "Star Trek V: The Final Frontier" — but only because he directed it. "I had to watch that one," he said, explaining that he tends to be very critical when viewing himself onscreen, and tries to avoid doing so whenever possible. "But it's all painful because I don't like the way I look and what I do," he confessed.
He sold one of his kidney stones for a hefty price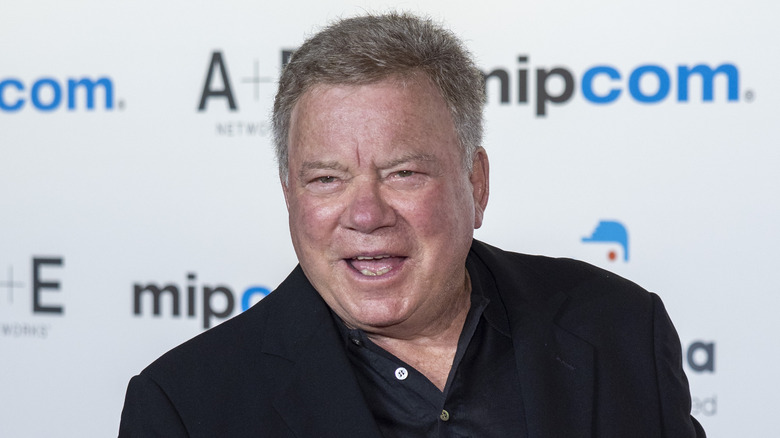 A case can be made that kidney stones have loomed large in William Shatner's life. While Shatner served as an understudy to Christopher Plummer at Canada's Stratford Festival back in the 1950s, Plummer's hospitalization for kidney stones resulted in Shatner landing his big break onstage. That, however, wasn't the only time that a kidney stone has made an appearance in the Shatner story: in 2006, he sold one of his own kidney stones to online casino GoldenPalace.com for the ridiculous sum of $25,000 — albeit for a good cause.
According to a report from CBS News, the money Shatner earned from the sale was donated to the home-building charity, Habitat for Humanity. "This takes organ donors to a new height, to a new low, maybe. How much is a piece of me worth?" Shatner quipped about the sale.
CBS News noted that Shatner had passed the stone the previous fall — which, given its size, was probably no picnic. In fact, Shatner joked that his kidney stone was so big "you'd want to wear it on your finger. If you subjected it to extreme heat, it might turn out to be a diamond."
William Shatner starred in a movie entirely in Esperanto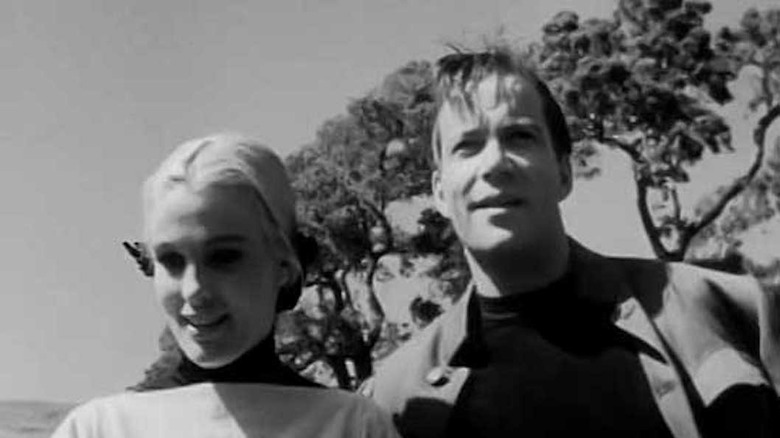 In the 1880s, Polish oculist L.L. Zamenhof invented a new language dubbed Esperanto, envisioned as a single worldwide language that would bridge cultural, ethnic, and religious divides. Esperanto faded into obscurity, but experienced a resurgence in the 1960s that led to the production of the low-budget horror film, "Incubus," featuring dialogue entirely in Esperanto.
The star of "Incubus" was William Shatner; neither he nor the other actors spoke Esperanto, noted a Quartz history of the film, and learned their dialogue phonetically. The movie flopped, and did nothing to bring Esperanto into the public consciousness (but it can be viewed on YouTube). 
In an excerpt from his 2012 book, "Shatner Rules," excerpted on his website, Shatner recalled receiving an angry note from Esperanists, attached to a rock thrown through his window, who were irked that they weren't consulted for "Incubus." Shatner wrote that he has never seen the film ("Remember? I don't watch myself, and I sure as heck wasn't going to start by watching [myself] try and speak in Esperanto"), but clearly recognized it wasn't a career high point. "I took it upon myself to destroy every copy of 'Incubus' I could find," he wrote.
His feud with Star Trek co-star George Takei has spanned decades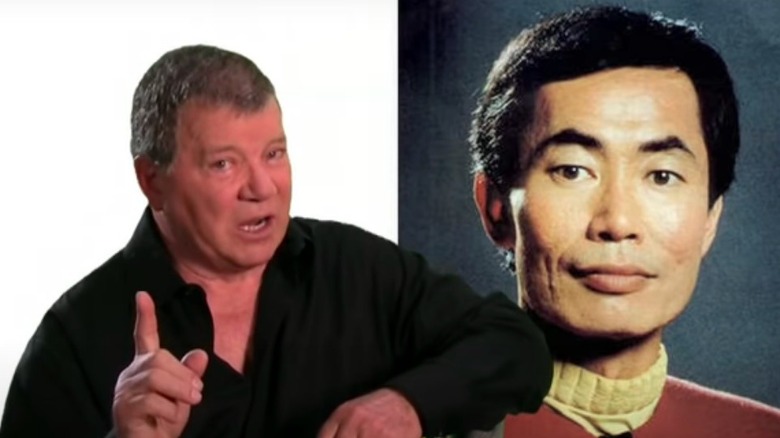 William Shatner's legendary feud with "Star Trek" co-star George Takei (a.k.a. Mr. Sulu) has been well-documented over the decades. The bad blood between the actors, however, came to a head in 2008, when Takei married longtime partner Brad Altman, and Shatner publicly griped about being the only member of the "Star Trek" cast not invited to the wedding. Shatner aired his grievances in a video he released on YouTube. "The poor man," Shatner mused of Takei and their decades-long beef. "There's such a sickness there. It's so patently obvious there's a psychosis there." Takei responded by remarking he found Shatner's rant "absolutely baffling," because "we did invite Bill and we didn't hear from him."
Shatner addressed the feud in a 2011 interview with ABC News, claiming, "I don't know what is his problem. I keep saying to him, 'Hey, you're getting old. Do you want to die in enmity?' And I'm not getting anywhere, so I've sort of given up."
Takei, however, offered a far different take on their feud. "It's all coming from Bill," Takei told The New York Times Magazine in 2015. "Whenever he needs a little publicity for a project, he pumps up the so-called controversy between us."
He confronted his own mortality when he was misdiagnosed with cancer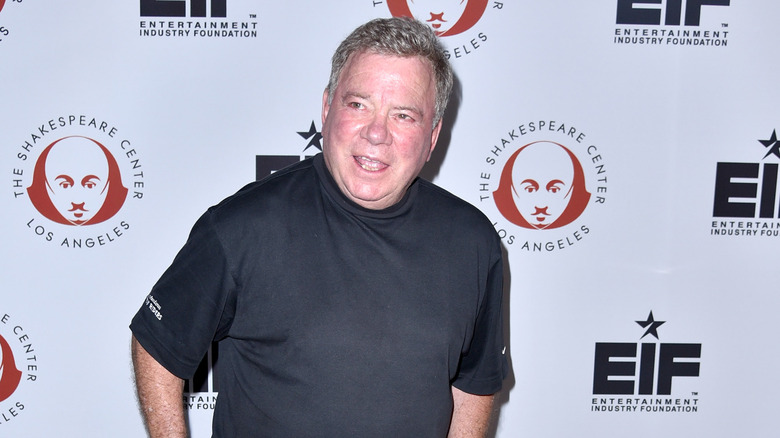 As William Shatner himself admitted in his 2018 book, "Live Long and…," excerpted for NBC News, he has "lived a fortunate life." However, the actor received the wakeup call of all wakeup calls in 2016, when he received some devastating news. "I was told by a doctor I had a terminal disease. That I was going to die," Shatner wrote of being informed that he'd been diagnosed with prostate cancer. "I have lived a long life, but I certainly wasn't ready for it to end," he continued. "I decided I wasn't going gentle into that good night. I was going to fight."
Shatner began doing some research, and discovered that the testosterone supplements he was taking could "have something to do with prostate cancer." He stopped taking the supplements and was tested three months later. "I was thrilled to learn I did not have cancer," Shatner noted. 
As he wrote, "during those three months [he] was living with my death sentence," he came to realize the "secret to [living] a good, long life: Don't die. That's it; that's the secret. Simply keep living and try not to slow down."
There's a website devoted to William Shatner's toupee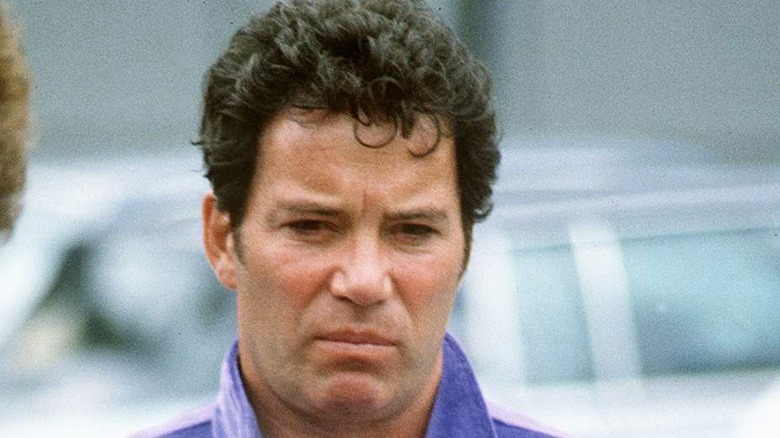 For decades, William Shatner has fascinated fans not just for his acting, but for his ever-evolving array of hairstyles. Those coiffures have led many to wonder whether Shatner's luxurious locks are perhaps not grown on his scalp, but purchased. The man himself is well aware of the speculation: He concluded his 2008 autobiography, "Up Till Now," by noting, "After all this time I admit that I am thrilled that there are some things that will forever remain a mystery. For example, do I wear a toupee?"
According to the folks behind the Shatner's Toupee website, that mystery has long since been solved. In fact, the site's experts — dubbing themselves the William Shatner School of Toupological Studies — offer a vast and compelling compendium of photographic evidence to bolster the theory that whatever is sitting atop Shatner's head, it is decidedly not his hair. 
While the site officially stopped posting new content in 2016, it continues to exist in cyberspace, offering such posts as one featuring a closeup of Shatner's head, supposedly indicating a network of woven netting beneath the hair, and even a "toupographical analysis" of Shatner's alleged rug in "Star Trek II: Wrath of Khan."
The actor's philosophy melds 'preparation and humility'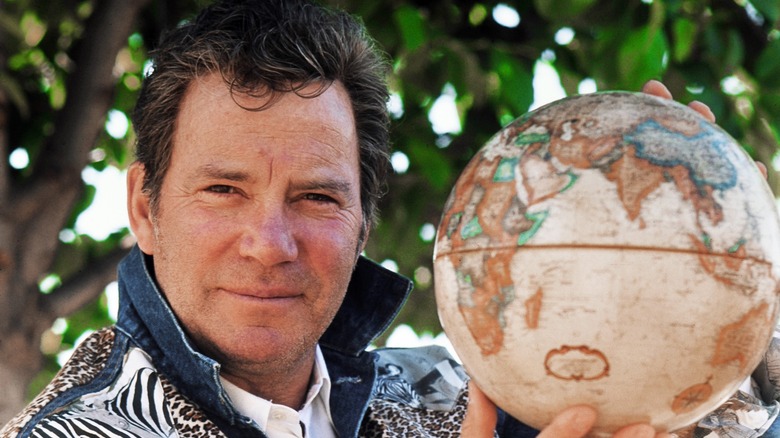 William Shatner's interview with Inc. is a masterclass in how an interview subject can throw an interviewer off-guard and venture into unexpected areas. As Shatner explained, his goal is to place both interviewer and interviewee "in a realm where we don't know where we're going." He added, "Now we can explore. Now we can wander down a path, arm in arm, wondering what the next question is, wondering what the next answer will be."
Shatner then answered the interviewer's original question, revealing how he prepares for a project. "I get as much information as I can. I learn as much as I can. And then I admit to myself that, in this case, I really can't know what will happen until we start to talk. Until we start to ask each other questions," he said. "That combination of preparation and humility gives me the confidence to say, 'I don't know.' Or, 'I don't understand.' Or to even look foolish at times."
That philosophy, Shatner explained, extends to how to live one's life. "Prepare, be humble, and see any one starting point as just a beginning from which all sorts of possibilities can emanate," he pontificated.
William Shatner's relationship with Leonard Nimoy was complicated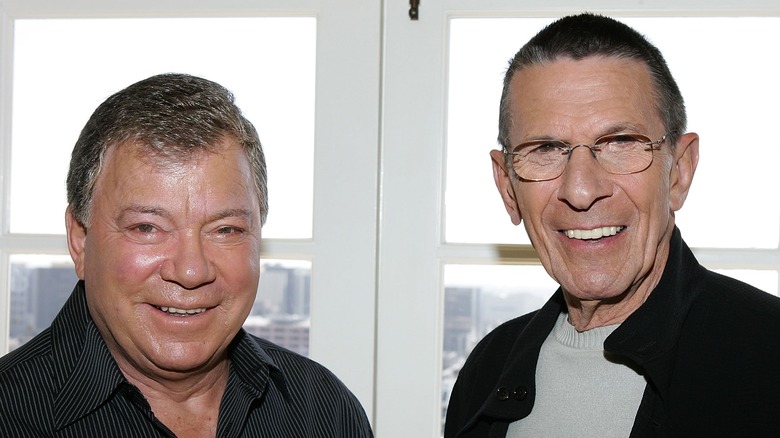 As "Star Trek" science officer Spock, Leonard Nimoy co-starred with William Shatner in the original series and the movies the followed, a period that spanned from the 1960s until their final "Trek" film together in 1991, and beyond. While the friendship between Kirk and Spock is arguably the most potent of the "Star Trek" franchise, the real-life relationship between the actors was far more complex.
Following Nimoy's death in 2015, Shatner wrote the book, "Leonard: My Fifty-Year Friendship with a Remarkable Man." Promoting the book, Shatner told The Hollywood Reporter that while they briefly clashed in the early days of "Star Trek," he came to greatly respect Nimoy. "I was filled with admiration for Leonard on many levels," said Shatner. "His intelligence and his creativity and his passions and his focus as an actor." When the show's enduring popularity forced them back together for movies and conventions, their friendship grew and deepened. 
However, toward the end of his life, Nimoy was no longer speaking with Shatner. "I just don't know, and it is sad and it is permanent," Shatner said of Nimoy's late-in-life enmity toward him. "I don't know why he stopped talking to me."
His entrepreneurial bent is evident in his staggering net worth
After the cancellation of "Star Trek," William Shatner went from famous TV star to homeless, divorced, unemployed actor living in his truck. His money problems, however, are in the distant past. According to Celebrity Net Worth, Shatner's wealth is estimated at $100 million. While Shatner has remained an in-demand actor (his film, "Senior Moment," was released days after his 90th birthday), he's managed to uncork several other revenue streams that have built his fortune. 
Among these many ventures have been: numerous books (among many items for sale on his online store), with his "TekWar" novels adapted for a TV series; his personal appearances; his one-man show, "Shatner's World"; the numerous TV series and documentaries he's produced; selling NFTs of memorabilia in cyberspace; his decades-long role as spokesman for Priceline; and even charging fans $1,500 a ticket to attend a party celebrating his 90th birthday.
Speaking with Marketplace, Shatner envisions himself as an "artistic entrepreneur," which he described as "true creativity and then seeing it through to exposition." He added, "But being an entrepreneur really means dedicating yourself to the thing that you think is important. The thing that you think is really good."
William Shatner will live on via AI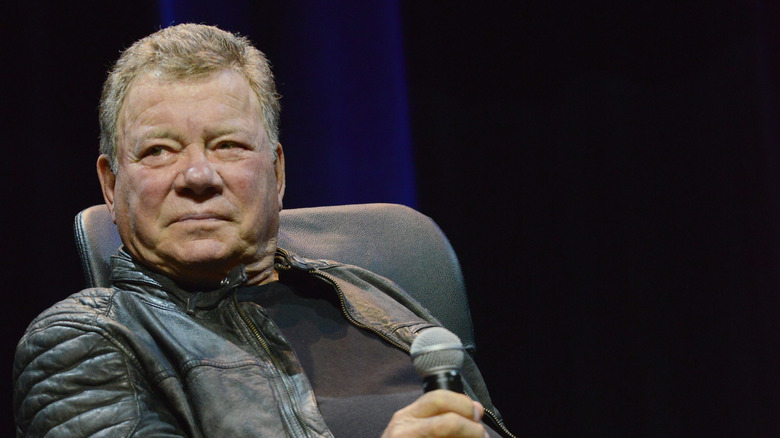 At age 90, William Shatner partnered with StoryFile for a unique project: to create "an AI-powered interactive conversational video" that will allow his friends and family to continue to interact with him long after he's gone. "This is for all my children and all my children's children and all my children's loved ones and all the loved ones of the loved ones," Shatner said in a press release of the innovative new technology powered by artificial intelligence. "That's my gift to you down through time."
In the same press release announcing the venture, StoryFile CEO Heather Maio-Smith explained that the virtual Shatner is neither a digital avatar nor a deep fake, but "the real William Shatner answering their questions about his life and work."
Describing the process to Forbes in 2021, Shatner recalled being interviewed for days on end "in front of something like 100 cameras" to create 3D imagery. He explained that when someone asks the AI Shatner a question, "The computer would then select the answer based on the words you spoke … Imagine if we could have done that with Einstein and ask him how he figured it all out." Shatner added, "So, my biography is there. This five-day, 1,000-question interview is my biography. There are 30 hours of me talking."
Source: Read Full Article