Like many other Hollywood films, "The Hitman's Wife's Bodyguard" features a slew of beautiful people we have known and loved for a very long time. The flick, which happens to be a sequel to 2017's "The Hitman's Bodyguard," follows bodyguard Michael Bryce (Ryan Reynolds) as he gets entangled into the dangerous and — no doubt — illegal affairs of hitman Darius Kincaid (Samuel L. Jackson) and his unpredictable wife (Salma Hayek). The trio eventually has to work together to literally save the world. 
While the cast will surely have us at the edge of our seats throughout the action-packed buddy comedy, we can't help but wonder who these beautiful people are going back home to after all is said and done. From marriages that are nearing half a century to those spanning a few decades and long-term partnerships that have thrived without all the legalities, the cast of "The Hitman's Wife's Bodyguard" shows that this love thing only works when you tailor make it into what you want. 
FYI, Salma Hayek did not marry for money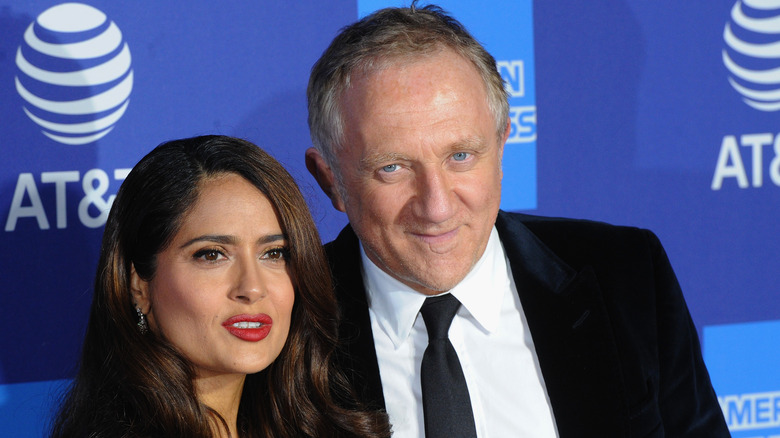 We all know and fell in love with "The Hitman's Wife's Bodyguard" lead Salma Hayek thanks to her roles in "From Dusk Till Dawn," "Desperado," and "Frida." But when she's not dazzling us on the big screen, she's being a wife to business mogul Francois-Henri Pinault. According to Oprah Daily, he is the CEO of Kering — the parent company to luxe brands such as Gucci, Yves Saint Laurent, Bottega Veneta and more — which he took over from his father back in 2005. In addition, he is also the president of Groupe Artémis which, as Oprah Daily explained, "owns the luxury auction house Christie's, French winery Château Latour, Stade Rennais F.C., and Paris's Théâtre Marigny, amongst others."
Hayek won't share much about how she and Pinault got together in 2006. "It's such a romantic, amazing story, but it is mine," she told Town & Country. "I don't want to vulgarize it by making it into a story to make myself interesting." In 2007, they got engaged and welcomed their first child. Their wedding took place two years later.
Rumors began swirling that Hayek linked up with the multi-billionaire for financial reasons — an assumption that she doesn't care for. "When I married him, everybody said, 'It's [an] arranged marriage, she married him for the money'," Hayek said while on the "Armchair Expert" podcast. "I'm like, 'Yeah, whatever b**ch, think what you want'. Fifteen years together and we are strong in love and I don't even get offended."
Samuel L. Jackson and LaTanya Richardson are living happily ever after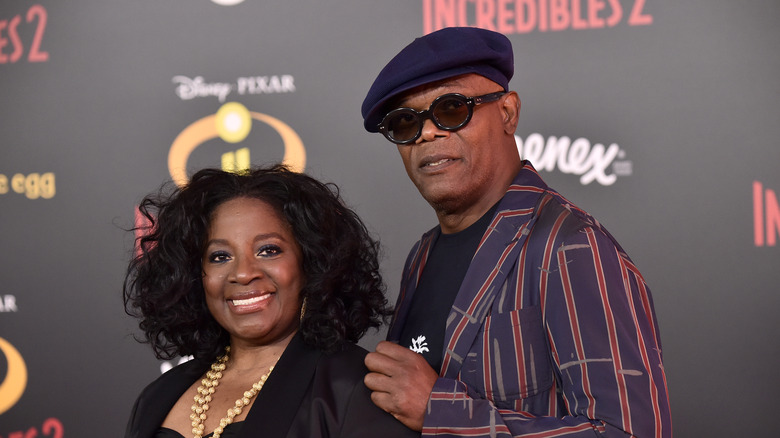 Any Hollywood marriage that makes it past the five-year mark is a huge feat, so the fact that Samuel L. Jackson and LaTanya Richardson have been married for multiple decades is something of a miracle. As Essence recounted in a story about their relationship, the pair first met when she was at Spelman College and he was at Morehouse back in the '70s, and they were married long before Jackson stole the scene during his appearance in "Pulp Fiction." So, how do these two artists keep their long-standing union intact? With a little bit of amnesia and a lotta bit of patience. "You have to have a big heart and the Lord. You can't do this without the Lord," Richardson shared with the publication. "You're going to have to turn to somebody, something…Let God fix it. But you gon' have to forget a lot."
Though "The Hitman's Wife's Bodyguard" star has established himself as Hollywood royalty, Richardson is a star in her own right. She acted in "The Fighting Temptations" alongside Beyoncé and Cuba Gooding Jr. in 2003, snagged a Tony Award for her performance in the "A Raisin in the Sun" on Broadway in 2014, broke all our hearts with her riveting performance as Diane Pierce in "Grey's Anatomy", and portrayed Calpurnia in the 2019 Broadway version of "To Kill a Mockingbird" in 2019 (via The Sun). 
"Keep working," Richardson advised in Essence. "Don't [stop working] even if you have a baby. You let your baby see you working." 
Richard E. Grant and Joan Washington are several decades in and counting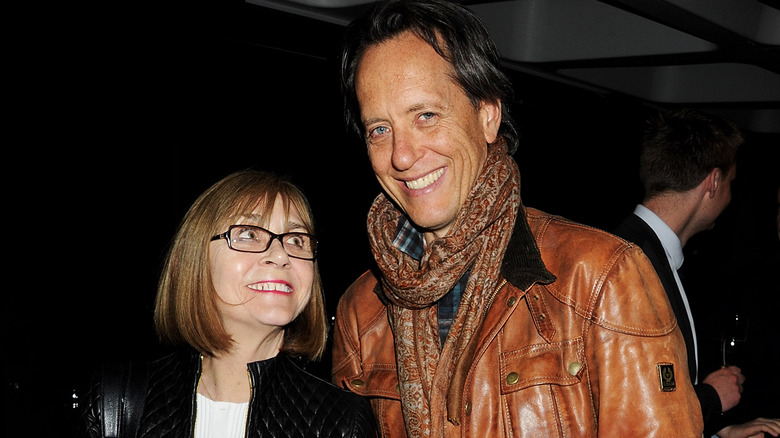 Another one of Hollywood's long-lasting pairs, Richard E. Grant and Joan Washington met when she was a dialect coach at the Royal National Theatre in London in 1982, the couple told The Independent. However, it wasn't all heart eyes and fireworks right away. 
For one, she was already married. Secondly, he was quite the restless student. "I used to take a class of about 20 people and I actually used to find him quite annoying because he'd get the giggles at quite the wrong moment and I was a strict teacher," Washington revealed to The Independent (via Hello). "He was hyper-energetic, very enthusiastic, incredibly open." Of course that initial annoyance didn't last long, as Washington found herself attracted to the actor soon after. "He came to me for private lessons to learn a Belfast accent…I think the second time I taught him—it sounds ridiculous to say this—I looked at him and thought: 'I'm madly in love.'" She would later get divorced and marry Grant in 1986. 
As if their love story wasn't seemingly straight out of a Nicholas Sparks novel already, for their 37th wedding anniversary, "The Hitman's Wife's Bodyguard" ensemble member posted a heartfelt picture that had the internet swooning. The picture of Grant hugging his longtime love was simple enough, but it was the ear-to-ear grin that had Instagram users leaving comments like, "sooooo happy for you both! in this time of insanity you can't hug tighter." In the caption, Grant wrote, "37 years together." And that was it. That was the post.
Ryan Reynolds and Blake Lively's big wedding faux pas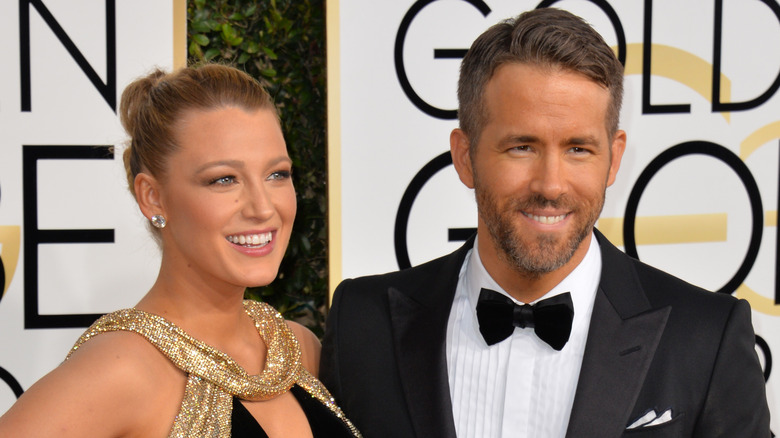 We can all agree that internet trolls are the absolute worst. However, married A-listers Ryan Reynolds and Blake Lively are the exception because, well, they mostly just troll each other. Anyone who owns a social media account knows that the key to this pair's magic lies in their sense of humor. From cropping each other out of birthday tributes to leaving silly comments underneath each other's posts, these two always have us LOL-ing. Uninhibited as they may be now, the duo's beginning was relatively chill. Reynolds, who plays Michael Bryce in "The Hitman's Wife's Bodyguard," first met the "Gossip Girl" alum on the set of "Green Lantern" back in 2010. Though the film flopped, it fostered a tight friendship between the two. Their romance didn't bloom until much later since they were both spoken for at the time. 
While they flew under the radar for a while, the jig was finally up when in 2011, they were snapped leaving his apartment following his 35th birthday. They would continue to date low key, eventually tying the knot in 2012. Pieces of the wedding were nothing short of fabulous — the bride wore Marchesa and Florence Welch was the singer on deck — but it was the venue that had many fans cringing: The two got married at the Boone Hall Plantation in South Carolina, a decision Reynolds has since denounced. "It's something we'll always be deeply and unreservedly sorry for," Reynolds told Fast Company. "It's impossible to reconcile."
Antonio Banderas' girlfriend literally saved his life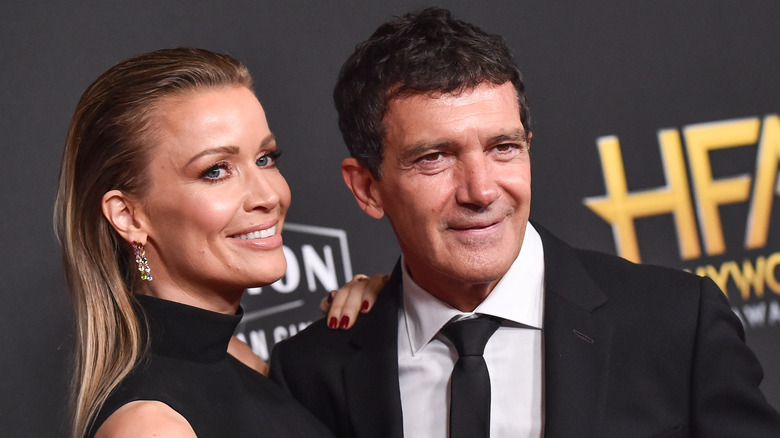 Soon after he and actor Melanie Griffith split after 18 years of marriage, "The Hitman's Wife's Bodyguard" actor Antonio Banderas found love with Nicole Kimpel. Per the Daily Mail, Kimpel works not in showbiz, but as an investment banker. Oh, and she speaks five languages. On top of being a multilingual powerhouse and heavy hitter in the finance world, she can add lifesaver to her long resume. 
While promoting "Pain and Glory" on "Jimmy Kimmel Live!" in 2019, Banderas shared that it was his lady love's quick spring to action that prevented dire consequences from the heart attack he suffered early that year. "The night before, my girlfriend got a headache. We didn't have anything in the house so she went out to buy painkillers," he explained. "Pharmacies were closed so she went to the department store and bought aspirin, which was the only thing she found … The next morning, when I started having the symptoms and we clearly knew what was going on, she put one of those aspirins underneath my tongue and that saved my life."
Since the eye-opening event, the two have seemingly gotten back into the swing of things. As People reported, the pair attended the 2020 Golden Globes together, and, as Daily Mail noted, "look[ed] loved-up" while out on a walk in Spain in March 2021.
Fifth time's the charm for Gary Oldman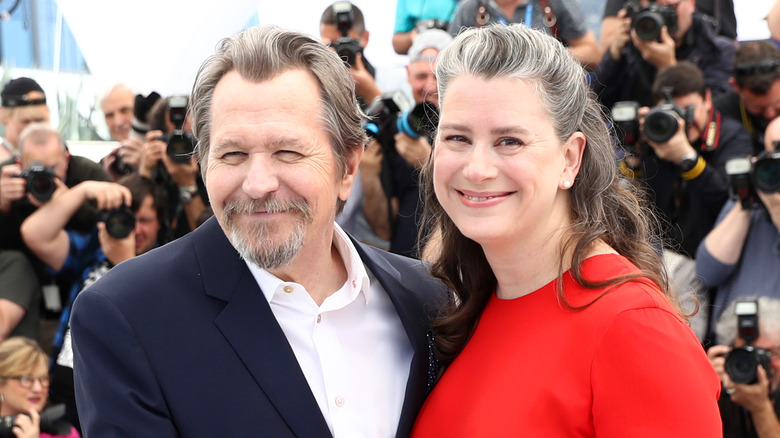 Gary Oldman, who plays bad dude Vladislav Dukhovich in "The Hitman's Wife's Bodyguard," is no stranger to walking down the aisle. In 2017, the AP reported the veteran actor tied the knot for a fifth time when he wed Gisele Schmidt, an art curator. He was previously married to actor Uma Thurman, model Donya Fiorentino, singer Alexandra Edenborough, and actor Leslie Manville. 
Evidently, a very creative proposal won Schmidt's hand. As Oldman shared on "Jimmy Kimmel Live!," the question was popped while he was in the middle of filming "Darkest Hour," the WWII drama where he played Winston Churchill. Naturally, he asked Schmidt to marry him while he was in costume. "We had talked about it and I just felt the urge," Oldman said. "We were down in the war rooms, and I took her into the map room. And as Winston Churchill, I said 'Will you marry me? … My wife has often said she went to bed with Winston Churchill but woke up with Gary Oldman."
With more marriages than the average person under his belt, Oldman was asked why he thought this fifth one to Schmidt would go the long haul when others didn't. His response: You live and you learn. He told the NY Daily News, "You know, sometimes you have to go through the others. Her ex, they were together 20 years and they have a 9-year-old son, is a great guy…and we're all very friendly."
Frank Grillo and Wendy Moniz ended their long marriage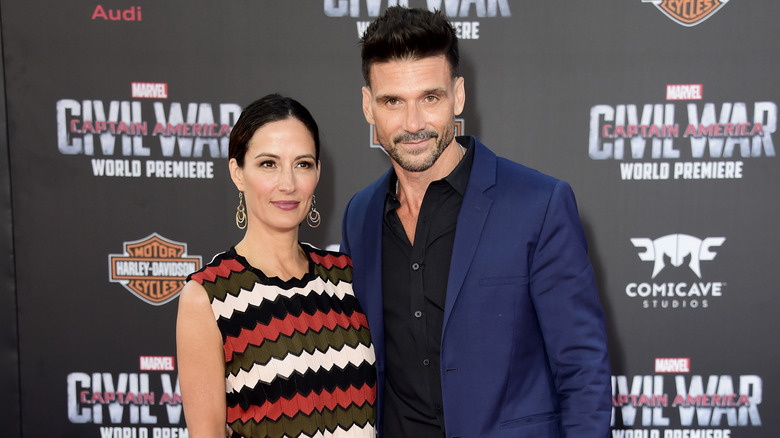 As SoapHub remembered, "The Hitman's Wife's Bodyguard" actor Frank Grillo and Wendy Moniz met back in the late '90s when they were both starring in the CBS soap opera series "Guiding Light." The pair married in 2000. Moniz has gone on to have a successful career in television, with roles on shows like "The Guardian' and "Nash Bridges," as well as supporting gigs on series such as "One Life to Live" and "House of Cards." The pair's marriage remained relatively under the radar — so much so that no one saw their 2020 divorce coming. 
In March 2020, People reported that the couple had called it quits after nearly 20 years together. Court documents indicated that they had split just a month before, As with their marriage, their divorce proceedings did not really make any other headlines. According to People, Grillo asked for joint legal and physical custody of their two young children
Tom Hopper and wife Laura Hopper are a solid foundation for their kids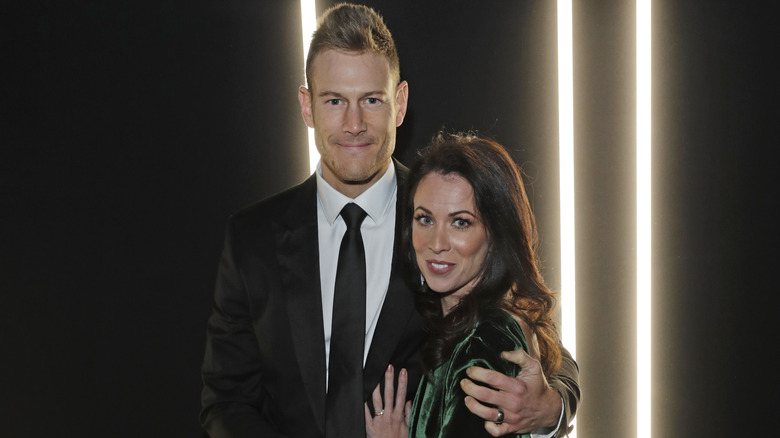 "The Hitman's Wife's Bodyguard" cast member Tom Hopper is married to fellow actor Laura Hopper (née Higgins). According to Laura's Instagram, the couple met at a party back in 2009 and dated for a spell before making it official in 2014. Like Tom, Laura is a working actor, and her credits include "Hollyoaks," "Doctors," and "Bulletproof."
Tom and Laura have a daughter named Truly Rose and a son named Freddie. As they shared with People, Freddie was diagnosed with autism after they recognized some developmental delays when he was still a baby. "The first thing we noticed was Freddie wouldn't turn around for his name," Laura said. "From there, the older he got, the more of a gap there was between him and other children his age, in terms of his progress." As the outlet noted, the Hoppers "threw themselves into autism research and educational courses" and have tried "to figure out what works for him and what doesn't."
"You have to trust each other and the journey," Tom told People. "The right things will happen eventually, but it doesn't happen overnight. My son has autism, and he amazes me every day. His brain just works in a different way," 
Caroline Goodall is married to Terry Gilliam's loyal cinematographer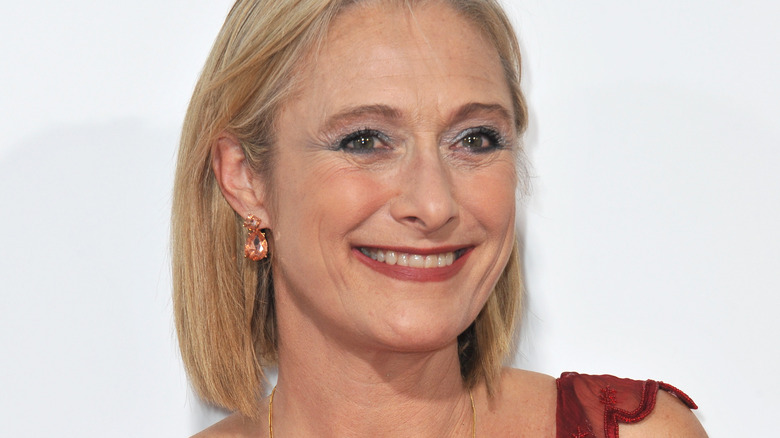 "The Hitman's Wife's Bodyguard" actor Caroline Goodall married cinematographer Nicola Pecorini back in 1994, and the parents of two are still going strong. While Goodall has appeared in big films such as "Schindler's List," "The Princess Diaries," and "The Dressmaker," her hubby has put in a lot of work behind the scenes serving as cinematographer on a number of movies, including "The Man Who Killed Don Quixote" and "Fear and Loathing in Las Vegas." Filming the former project was no easy feat, as Pecorini revealed on Studio Daily's "Podcasts from the Front Lines." He shared that he was originally supposed to be made in 2000 but as fate would have it, extenuating circumstances would see a whopping 19-year gap before the project was revived again. 
Pecorini stuck with director Terry Gilliam, who was so passionate about the project that he didn't want to let it go until it was executed. "My official credit on the film is Nicola 'Sancho' Pecorini [after Don Quixote's faithful squire, Sancho Panza, from Cervantes' original novel]," Pecorini explained on the aforementioned podcast. "That was the way I felt. Terry was crazed for this adventure and wanted someone to go along with him. I felt it was somehow my duty as a friend to catch him if he was falling off the horse, and that happened regularly, actually!" After much pulling and tugging, the film finally came to fruition in 2017 and starred Adam Driver, Jonathan Pryce, and Stellan Skarsgård. 
Blake Ritson and Hattie Morahan will walk down the aisle when they feel like it
We're not sure what the record is for the longest engagement in Hollywood, but whoever holds the title better watch out because actors Blake Ritson and Hattie Morahan are coming for the top spot. As the Daily Mail noted, they connected at Cambridge, hit it off, became affianced, and stayed affianced. According to the 2015 article, they'd "been engaged for nearly a decade" at the time of writing. When asked why they had yet to get hitched, Morahan replied, "I'm not sure why. It's probably just that neither of us is religious and I've never had that childhood fantasy of wanting to wear a wedding dress." Even when the couple welcomed their daughter, Amity, in 2016, it seems they didn't succumb to the societal pressures urging them to get married. "We're so happy as we are," the "Enola Holmes" actor told the Express in 2015. 
Though she and "The Hitman's Wife's Bodyguard" cast member have found a formula that works for them, Morahan admits things can get sticky when both partners are creatives. "There are always going to be times when one of you is busy and one of you isn't, and that can be hard to weather," she said in the Daily Mail. "There are also the pressures when you're both crazy busy or you're away from each other for extended periods. But then at other times, it's like, 'Hey, we're both unemployed right now. Let's hang out together.'" Not a bad way to go about love in the business of show.
Source: Read Full Article