Audiences in 1984 loved The Karate Kid. One of the year's biggest hits, the film — which is somewhat inspired by true events — hooked viewers with its charming underdog story. But what's an inspirational sports movie without a catchy pop hit? Thankfully, The Karate Kid had its own chart-topper. However, the movie almost lost its biggest song to Rocky III instead.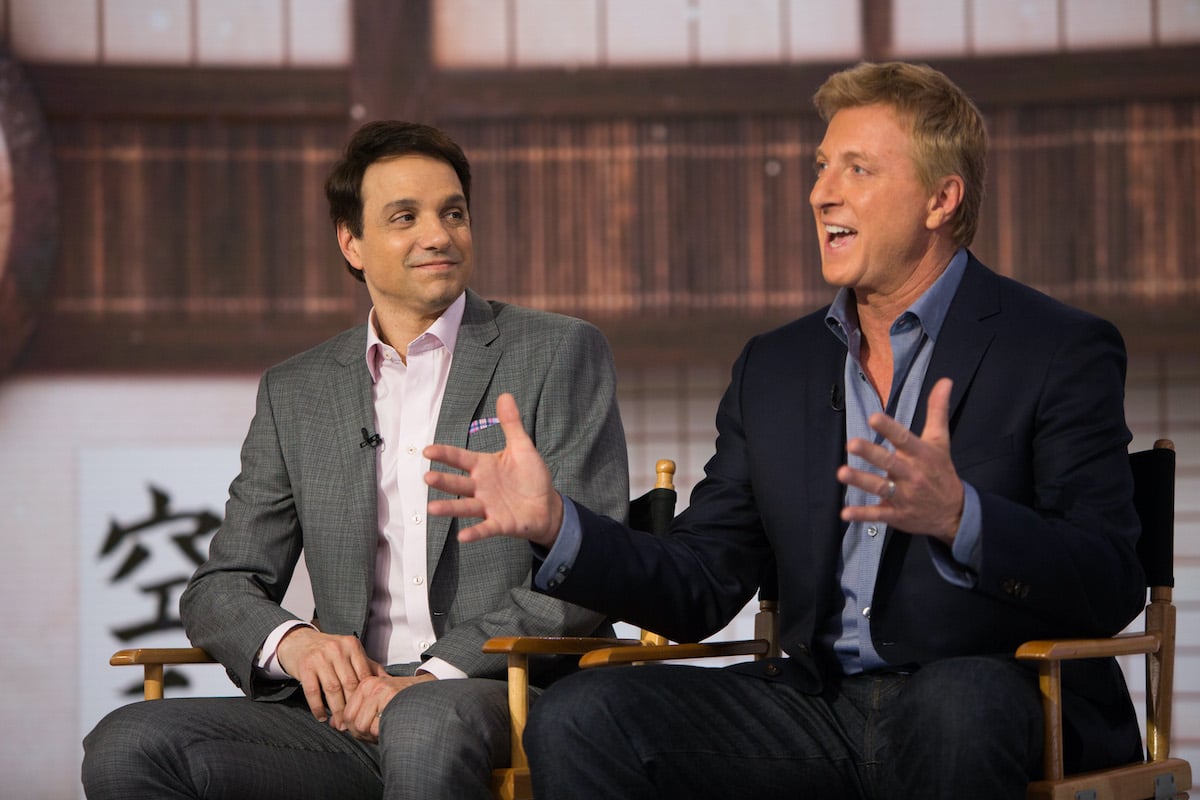 'The Karate Kid' cast responded to the movie's underdog story
Coming from the director of the original Rocky, The Karate Kid seemed like a smash hit on paper. However, the movie could have just as easily fallen flat at the box office. After all, stars Ralph Macchio and William Zabka didn't even know any martial arts before filming began. So it's not hard to imagine director John G. Avildsen's movie getting lost amid other movies with bigger stars.
Yet, The Karate Kid not only became a success, but it also launched a franchise that still thrives today. Macchio and the late Pat Morita — who played Mr. Miyagi — reunited for two more movies in the 1980s. And then Morita starred with a young Hillary Swank in 1994's The Next Karate Kid. Now, of course, Macchio, Zabka, and many actors from the movies star on Netflix series Cobra Kai.
But a good 1980s sports movie needs a catchy theme song for its montage
Cobra Kai references much of the series' iconography, including the vintage car Macchio's car owned. But another element it borrows from the original movie is its use of montage. Perhaps best epitomized by Avildsen's Rocky, The Karate Kid features its own training montage. But ironically, the song in that 1984 classic almost wound up as the theme to a Rocky sequel.
According to Mental Floss, "You're the Best" by Joe Esposito was supposed to be the main single for Rocky III. Avildsen, of course, had directed the first movie before star and writer Sylvester Stallone took over directing duties in many of its sequels. Rocky composer Bill Conti even cowrote "You're the Best" for the third film. But both Rocky III — and later Flashdance — passed on it.
'Rocky III' ended up going with 'Eye of the Tiger' instead as its big hit
Of course, it all worked out in the end for Rocky III. Instead of "You're the Best," the 1982 movie went with Survivor's "Eye of the Tiger." That song went on to earn an Academy Award nomination for Best Original Song. And with the exception of Conti's Rocky theme "Gonna Fly Now," "Eye of the Tiger" is easily the most recognizable song from the entire Rocky series.
"Eye of the Tiger" became an anthem. And while "You're the Best" works well in The Karate Kid, it certainly lacks the same punch or cultural impact. However, both the Rocky and The Karate Kid series are alive and well in 2021, with Creed III and Cobra Kai Season 4 on the way.
Source: Read Full Article