Sony sequel estimated to earn $50 million opening
A look at top-grossing holiday shock-fests that have inspired ho-ho-horror — before this month's "Black Christmas" remake
8. "Silent Night" (2012) 
Opening: $9,779
Cumulative: $14,567
Malcolm McDowell, Jaime King and Donal Logue star in the film about a murderous Santa who picks off people one by one.
Anchor Bay
7. "Better Watch Out" (2016) 
Opening: $12,569 
Cumulative: $20,369
Olivia DeJonge plays a babysitter who must protect a 12-year-old boy after a home invasion while his parents are out at a holiday party.
6. "Rare Exports: A Christmas Tale" (2010) 
Opening: $9,281
Cumulative: $236,347
The film follows a group of people living near the Korvatunturi mountain who discover the secret behind Santa Claus.
Oscilloscope Pictures
5. "Anna and the Apocalypse" (2018)
Opening: $52,588 
Cumulative: $545,597
In this comedic musical with grossout touches, a teenager and her friends ward off the zombie apocalypse when it comes at Christmas-time.
4. "Silent Night, Deadly Night" (1984) 
Opening: $1.4 million 
Cumulative: $2.5 million
In the slasher film, a young boy loses his parents and years later becomes a spree killer in a Santa costume.
TriStar
3. "Black Christmas" (2006) 
Opening: $3.7 million 
Cumulative: $16.3 million
Michelle Trachtenberg, Lacey Chabert and Katie Cassidy star in the slasher film about sorority girls getting murdered one by one.
MGM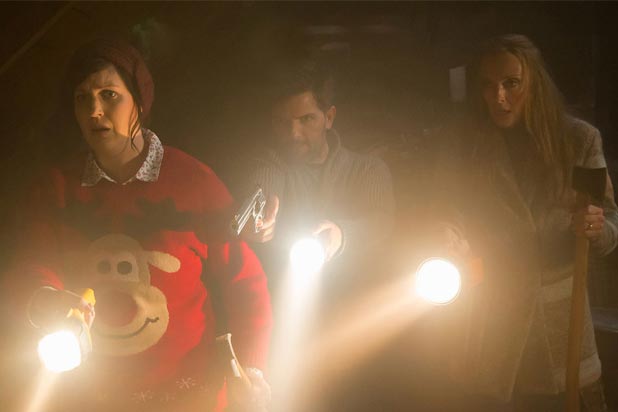 2. "Krampus" (2015) 
Opening: $16.3 million 
Cumulative: $42.7 million
A boy in a dysfunctional family turns his back on Christmas — and accidentally unleashes a demon force as a result.
1. "Gremlins" (1984) 

Opening: $12.5 million 
Cumulative: $148.2 million
The movie follows a young boy who breaks rules and unleashes a horde of mischievous monsters.
Warner Bros.
Top-grossing holiday shock-fests that have inspired ho-ho-horror — before this month's "Black Christmas" remake
A look at top-grossing holiday shock-fests that have inspired ho-ho-horror — before this month's "Black Christmas" remake
Source: Read Full Article