The actor turned artist's latest piece looks back at an old Trump quote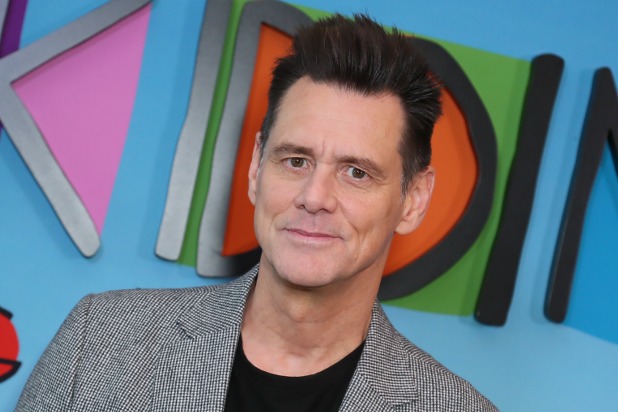 Getty
Jim Carrey has once again picked up the brush to criticize Donald Trump, this time painting a creepy picture of the President's relationship with Jeffrey Epstein, the billionaire financier arrested on sex trafficking charges earlier this week.
The author turned artist's latest work depicts Trump in the foreground, obscuring Epstein, who himself is obscuring a crying young girl.
The caption for the painting is a quote Trump made about Epstein in a New York Magazine profile back in 2002.
"I've known Jeff (Epstein) for 15 years. Terrific guy. He's a lot of fun to be with," Trump said at the time. "It is even said that he likes beautiful women as much as I do, and many of them are on the younger side."
Since Epstein's arrest, multiple photos of Trump and Epstein together at various events have surfaced.
On Tuesday, Trump spoke about Epstein, saying the two were no longer friends.
"I had a falling out with him a long time ago, I don't think I've spoken to him for 15 years," the President said during a press conference. "I wasn't a fan…I was not a fan of his…I feel very badly actually for Secretary Acosta."
Labor Secretary Alex Acosta has come under fire for the plea deal he struck with Epstein as a federal prosecutor. Epstein pled guilty to felony solicitation of underage girls in state court in 2008, but during his 13-month sentence, Epstein was able to work in an office 12 hours a day, six days a week. The short sentence and work-release privileges granted to Epstein were concealed from the victims, and have since been criticized as excessively lenient.
As calls for Acosta's resignation have mounted, Trump said that his administration will be looking at the 2008 plea deal "very closely."
According to the Daily Beast, which first reported his arrest, Epstein has been accused of paying cash to dozens of underage girls as young as 14 for "massages" and then molesting or sexually abusing them between 1999 and 2005. Authorities have said that many of the underage girls were runaways and foster children and that Epstein asked some to recruit others.
Source: Read Full Article