Scarlett Johansson is one of the most famous — and well-paid — actors of all time, but she has a certain comedian to thank for her success.
Despite roles in 1997's "Home Alone 3" and 1998's "The Horse Whisperer," her career didn't exactly get off to the best start. "Since a very young age, I've been rejected constantly," she told Parade in March 2020. She's come a long way since then, starring as the Black Widow in seven Marvel blockbusters and a slew of films like "Marriage Story," "Jojo Rabbit," "Her," "Lucy," and "Lost In Translation," among others, via IMDb. She realized the significance of playing the Black Widow during a scene in 2012's "The Avengers" when she stood in a circle with Iron Man, Thor, Captain America, Hawkeye and the Hulk. "It's the iconic hero shot," she told Parade. "We were all thinking, 'This is crazy!' because these worlds were coming together. We're still processing how much of an impact these movies have had."
Johansson remained coy on what's next career-wise, but revealed she enjoys bingeing "90 Day Fiance" in her spare time. So let's instead look back at her humble beginnings in Hollywood. Keep reading for more details on how Conan O'Brien played a role in shaping her career.
Scarlett Johansson appeared on a 1994 episode of 'Late Night with Conan O'Brien'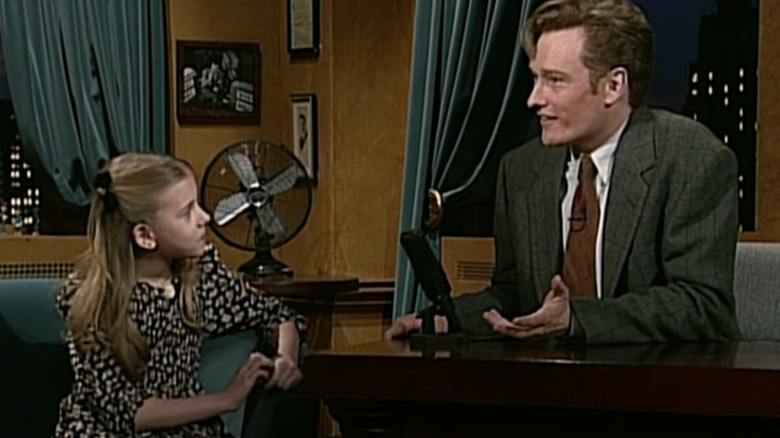 Scarlett Johansson was featured in a 1994 episode of "Late Night with Conan O'Brien" when she was just 9 years old, performing in a spelling bee sketch. And it kick-started her career as an actor.
She was introduced as spelling bee champion Sarah Hughes, and the talk show host congratulated her on her win, she cheekily replied with, "Thanks, Mr. O'Brien. Congratulations on having a show." She was asked to spell the word "sesquicentennial" and almost had it right, but she missed the letter "n." Andy Richter pointed out that she misspelled the word, but she kept on going. Johansson continued to misspell other words throughout the show and eventually took on the role of O'Brien's sidekick, much to the delight of the audience.
She returned in 2003 to talk about her film "Lost in Translation," and she also reminisced about her 1994 appearance with the late-night host. O'Brien revealed her sketch was actually her first paid acting gig. "Your first real paying acting job was on this show. You came on as a little girl and did a sketch, he said." Johansson didn't seem as thrilled with the walk down memory lane when she replied, "It was [a] very embarrassing piece of acting to look back on [it] now."
Source: Read Full Article