In February, Ashley Judd revealed she had a freak accident while hiking in a rainforest in Congo, shattering her leg. Judd recounted her experience in an Instagram Live with Nick Kristof of The New York Times. "There was a fallen tree on the path which I didn't see, and I had a very powerful stride going and I just fell over this tree," she said. "As I was breaking my leg, I knew it was being broken."
She told Kristof she was left on the ground for five hours, her leg "badly misshapen," while she "howl[ed] like a wild animal." It took more than two days before Judd was able to get treatment in a South African hospital.
Now, six months later, Judd is giving fans an update on her condition. Is her leg getting better, or have things taken a turn for the worse? Keep reading to find out.
Ashley Judd can walk again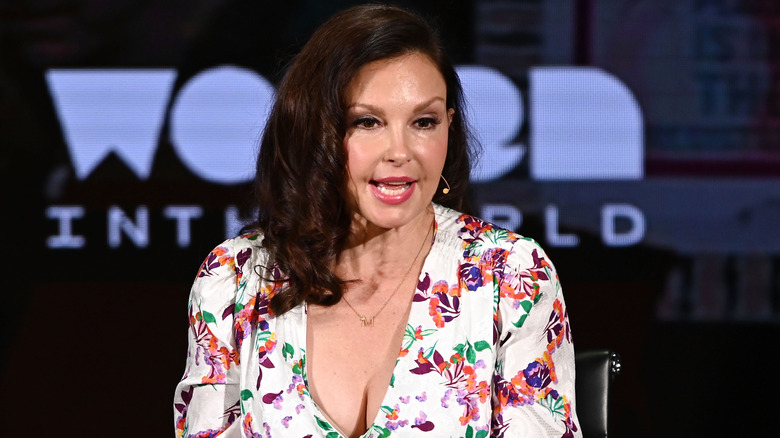 On August 1, Ashley Judd revealed that she is now able to walk again. Judd posted a series of videos and photos to her Instagram along with a lengthy caption celebrating her milestone. "Today, five months and three weeks after the accident in the Congolese rainforest, I walked again, and in what fashion!" She added, "Many of you have been praying for me, and sending me notes. Thank you. I have felt you."
Judd wrote that she went hiking in the Swiss National Park and "walked up hill on uneven surfaces for an hour confidently and came down carefully and easily." She attached two videos of her walking, one with crutches and one without. She also attached a video of herself wiggling her foot, which she called "unheard of," writing, "We expected my foot — if ever — to *begin* to move in one year. In four months to the day, she blew us all away."
Despite the grave extent of her initial injuries, Judd continues to maintain a positive outlook. "My leg will never be the same," she wrote. "She is a new leg. And I love her. We are buddies. We have come a long way and we have a fabulous life ahead."
Source: Read Full Article