Joel Osteen is a well-known televangelist, pastor, radio host, and best-selling author. Osteen leads the largest Protestant church in America — he is the pastor of the Lakewood Church in Houston, Texas, according to VelvetRopes. The outlet reports that Osteen's live sermons are streamed to 20 million people a month in over 100 countries. According to VelvetRopes, before he became the senior pastor of Lakewood Church, Osteen worked behind the scenes, starting the church's TV show. He produced the show, while his father John Osteen preached. When the elder Osteen died in 1999 from a heart attack, his son took his place.
Celebrity Net Worth reported that 50,000 parishioners visit Lakewood Church every week. According to the outlet, Osteen has not taken a salary from the church since 2005. Osteen's income is generated from his book royalties, book advances, speaking fees, and other merchandise. According to IndyStar, Osteen has written 14 books; the sales of his books are in the millions of copies and have been New York Times Best Sellers.
Houston Culture Map reports that the pastor and his wife, Victoria Osteen, are wealthy, and the couple is vocal that their lifestyle isn't anything to be ashamed of. According to the Houston outlet, Osteen says, "It's God's will for you to live in prosperity instead of poverty." Some fans wonder where Osteen lives and want to know just how big his house is. Keep reading, and you'll find out!
Joel Osteen lives in a River Oaks mansion in Houston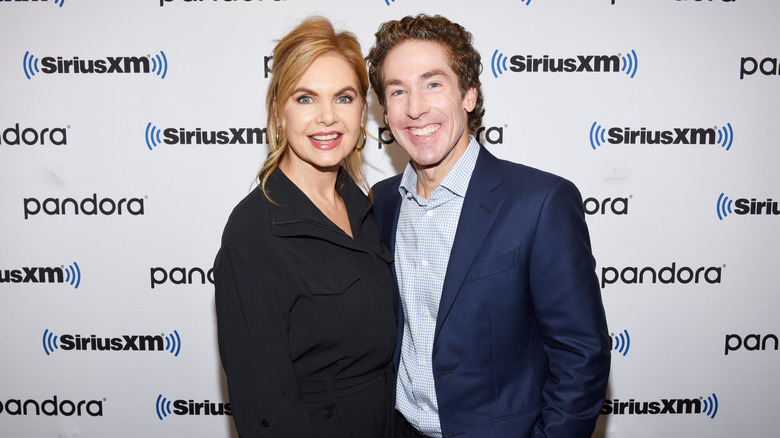 Joel Osteen lives in a River Oaks mansion in Houston, Texas. Celebrity Net Worth reports the pastor paid $10.5 million for his Houston home in 2010, and now it is worth between $14-$16 million. River Oaks is one of the wealthiest areas in the United States — former President George H.W. Bush lived in the area, per Realtor.com, and Senator Ted Cruz lives there now, per the New York Post. According to VelvetRopes, Osteen lives in his huge home with his wife, Victoria Osteen, and their two children, Jonathan and Alexandra Osteen. Osteen's wife and his adult kids work at Lakewood Church.
Houston Culture Map reports that Osteen's mansion is 17,000 square feet and sits on 1.86 acres. The home has six bedrooms, six bathrooms, three elevators, and five wood-burning fireplaces. The Osteen family home also has a one-bedroom guest house and pool house. VelvetRopes reported that the Osteen home stone pillars are on the front, and it has a huge front door.
Even though the Osteens' home is enormous, the Lakewood pastor can afford it. Celebrity Net Worth reported that Osteen is worth $100 million.
Source: Read Full Article