Hustlers star and overall icon Jennifer Lopez is having quite the year, and she's nominated for Best Supporting Actress for her role in the buzzed-about movie. I mean, have you witnessed her opening scene in that silver fringe bodysuit?! (That deserves its own award tbh, but back to the 2020 Golden Globes!) She appeared on the red carpet in a green, gold, and white Valentino gown, and it's a look you could NOT miss.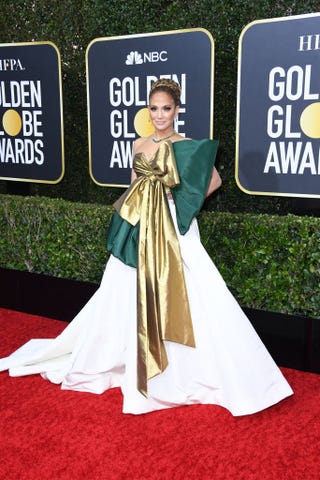 Just look at that BOW. And between the oversized gift wrapping and festive color scheme, Twitter was comin' in hot with all the Christmas present jokes.
Who wore it better, jlo or my Christmas present?! #GoldenGlobes pic.twitter.com/4fDYHgHKKr
OMG JLo is wearing @VancityReynolds Christmas sweater. #goldenglobes2020 #GoldenGlobes pic.twitter.com/HDRuSvvkmz
Who wore it best at the #GoldenGlobes , JLo or the gift? pic.twitter.com/fqgMDDE59p
Jennifer Lopez looks like she tripped and fell backwards through a Michael's pic.twitter.com/gVLJLQxVdC
And then there's this Tweet with arguably the best "who wore it better?" comparison.
Who wore it better? Jennifer Lopez or San Juditas Tadeo? #GoldenGlobes pic.twitter.com/NsR6qJ509w
She walked the carpet with her fiancé Alex Rodriguez, naturally, and she opted for emerald Harry Winston jewels to match her wrapping paper dress. Her hair was also in a gorgeous braided bun that showed off her drop earrings. Well, whether you're a fan of her look or not, no one can deny that J. Lo is, and has always been, a gift to the world. Why not dress like one?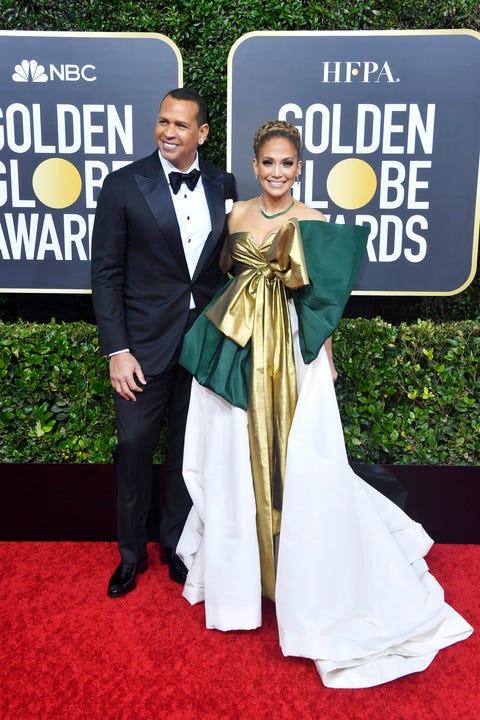 Source: Read Full Article