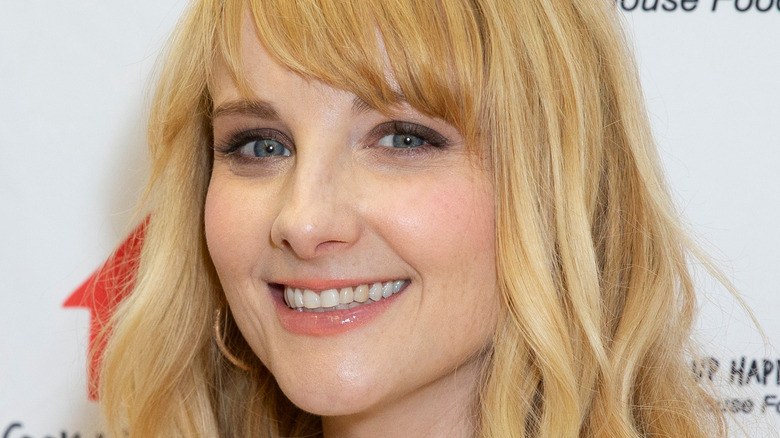 Chances are that you know Melissa Rauch for her performance as the unforgettable Bernadette Rostenkowski-Wolowitz on "The Big Bang Theory." Ever since her first appearance in Season 3 of the show, Rauch has been a fan favorite. In 2016, Glamour praised the character for being powerful, mature, and always fun to watch.
Of course, Rauch has appeared in other projects over the years. You may remember her as Tina in "Kath & Kim" or as Summer in "True Blood." She also had small roles in "I Love You, Man" and "The Office." In 2015, she and her husband released their film "The Bronze," in which Rauch played Hope, a former Olympian gymnast. Since "The Big Bang Theory," Rauch has lent her voice to the series "The Chicken Squad," and she signed on to play Abby in "Night Court," a reboot of the legal comedy series from the '80s (via Deadline). It seems like Rauch is only just getting started. Curious to find out more about this super talented actress? Here is the untold truth of Melissa Rauch.
Melissa Rauch based Bernadette's voice on her mother's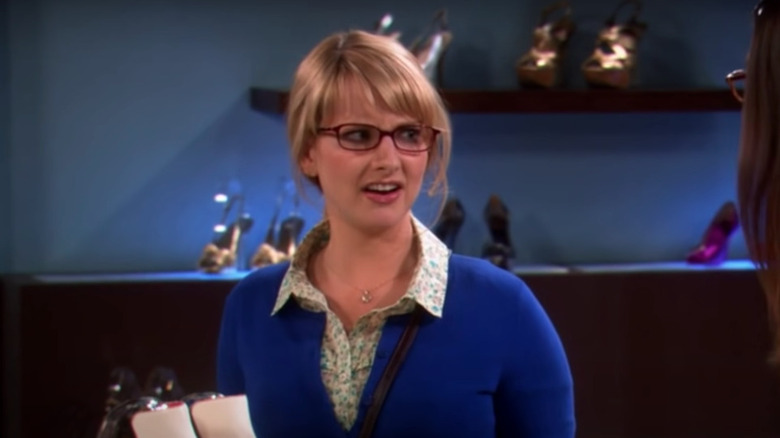 Playing Bernadette on "The Big Bang Theory" was a huge turning point in Melissa Rauch's career. And, it turns out, she has her mother to thank! As the star told TV Insider, she based the character's voice on her own mother. "My mother sounds very similar to Bernadette," she confessed. "She's got a very high-pitched voice except with a New Jersey accent, and I grew up imitating her." Wow, it sounds kind of like Rauch was destined to play Bernadette.
In another interview with The Rubin Report, Rauch went into more detail. "It's not quite that high, but it's in that … range," she said of her mother's voice. She went on to explain that fans tend to assume that she must speak like Bernadette in real life. "I think like sometimes I'll get recognized and then they'll hear my voice and be like, 'Oh, that's not you,'" she said. Once you've heard it, it is pretty hard to imagine that Bernadette's voice isn't Rauch's ownl!
Melissa Rauch had the most fun filming this Big Bang Theory episode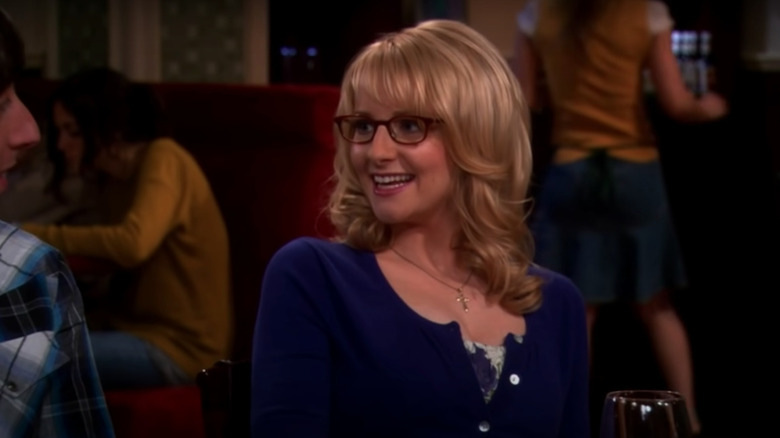 Anyone who has seen "The Big Bang Theory" can probably imagine that the show would be incredibly fun to make. With larger-than life-characters, hilarious plotlines, and a live studio audience, it's safe to say that the cast had a blast. For Melissa Rauch, there was one episode in particular that stood out.
The actress explained to Today, "The scavenger hunt episode, where all of us paired off, was one of the most fun to shoot. We laughed the entire way through it, to the point we were in tears, we were laughing so hard." Thinking back to that episode, it's easy to see why the cast had such a great time — in fact, we can even see some of the hilarity in the Season 7 bloopers.
Another favorite was the episode with the beauty pageant. She noted, "Especially since I'm from Jersey, so having any excuse to pouf my hair out to those extreme heights was just a joy."
Melissa Rauch once waited on tables like her Big Bang Theory character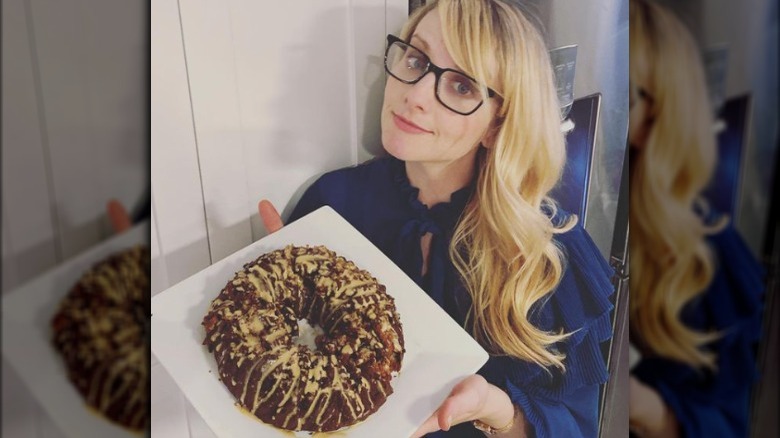 Like many other actors, Melissa Rauch didn't find immediate success when she entered the industry. As she explained to USA Today, she was actually a struggling actor for a few years. Like her "Big Bang Theory" character Bernadette, she had to work in hospitality to make ends meet. "I worked at a sports bar in New York City during college," she recalled. Apparently, people would come to the bar with notebooks to make predictions. "It was before fantasy football was online," she explained. Of course, waitressing wasn't always easy. Once, she even spilled beer "all over someone's fantasy notebook." Yikes.
In another interview for Vulture, Rauch recalled a waitressing job from her past. Apparently, the job eventually became too difficult to sustain. In fact, regular customers would come in and tease her about her height — as Rauch put it, she "started to crack," she said. After her years of working in hospitality, Rauch came to realize, "It does push you to the edge when you're not given an opportunity to do what you want to do." It's really no wonder Rauch got sick of waitressing. Getting her first acting job must have been a huge relief.
Melissa Rauch did stand-up comedy in college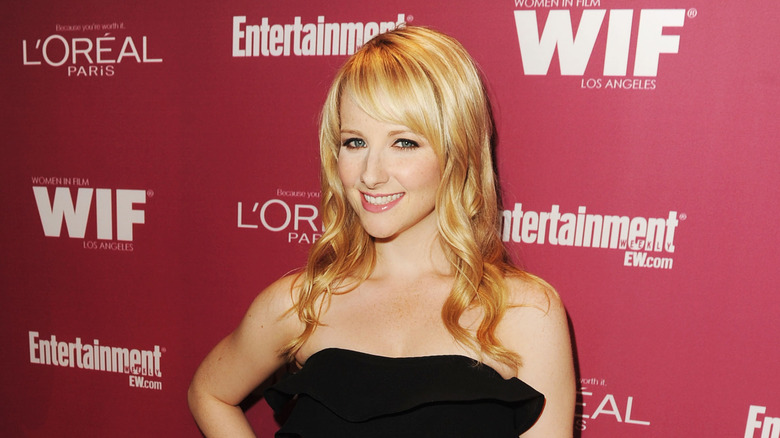 Melissa Rauch is undeniably hilarious in "The Big Bang Theory." It turns out, she wasn't new to comedy when she landed the part of Bernadette. Her love of comedy began early. "I was kind of obsessed with comedy at a super young age," she said on CONAN. Her passion for comedy continued as she got older. She had even dabbled in stand-up comedy when she was at college and in the years that followed, as she told NJ.com.
Not only did stand-up help Rauch develop her comedy skills, it also introduced her to her future husband, Winston Rauch. "He came to watch my set," she told RogerEbert.com. "We decided that we should write some sketches together because we have a very similar sensibility and our favorite thing to do is make each other laugh." What an adorable story — it really sounds like they were meant to be.
Melissa Rauch had a difficult journey starting a family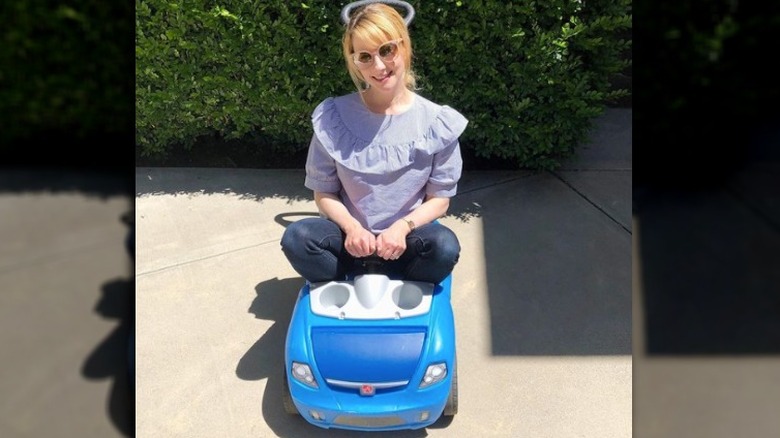 Although Melissa Rauch is best-known as a comedian, she also doesn't mind getting serious from time to time. In 2017, she opened up about her difficult experience with miscarriage in an essay for Glamour. "The miscarriage I experienced was one of the most profound sorrows I have ever felt in my life," she wrote. "It kick-started a primal depression that lingered in me."
As Rauch explained in her essay, she was heartbroken and blindsided by the miscarriage. It left her struggling to read pregnancy announcements and feeling guilty and jealous. She was grateful when she became pregnant again in 2017. She shared, "I hope it will make me a better mother in some capacity when I can finally hold the child that has been in my heart in my arms."
Rauch ended up having a daughter in 2017 and a son in 2020.
If you or someone you know is struggling with mental health, please contact the Crisis Text Line by texting HOME to 741741, call the National Alliance on Mental Illness helpline at 1-800-950-NAMI (6264), or visit the National Institute of Mental Health website.
This is what Melissa Rauch likes to cook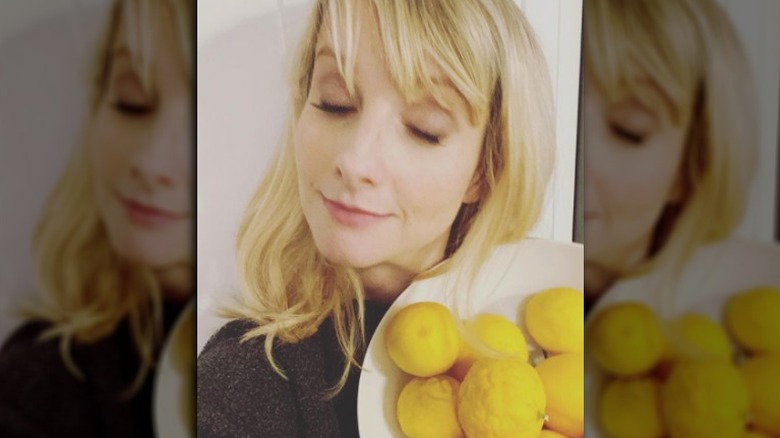 In addition to acting, Melissa Rauch is an avid cook. Apparently there are a few dishes and ingredients that she simply cannot do without. "I do my best to just avoid processed foods as much as possible," she said, as reported by FoodSided. "If you don't have them in the house — your kids can't make them a part of their daily routine." Instead, Rauch prefers to fill her fridge with fresh fruits and vegetables. Her secret to getting her kids to eat healthy snacks? Cutting fruits and veggies into fun shapes is her go-to strategy. 
It turns out, Rauch is so passionate about healthy eating that she even made a free ebook for kids called "The Tales of Tofu." As she told Green Matters, "I've always been super passionate about healthy cooking and advocating for kids to get the best possible nutrition that they can." We have to say — we are impressed with this multi-talented woman!
This is how Melissa Rauch dealt with tough times when she was out of work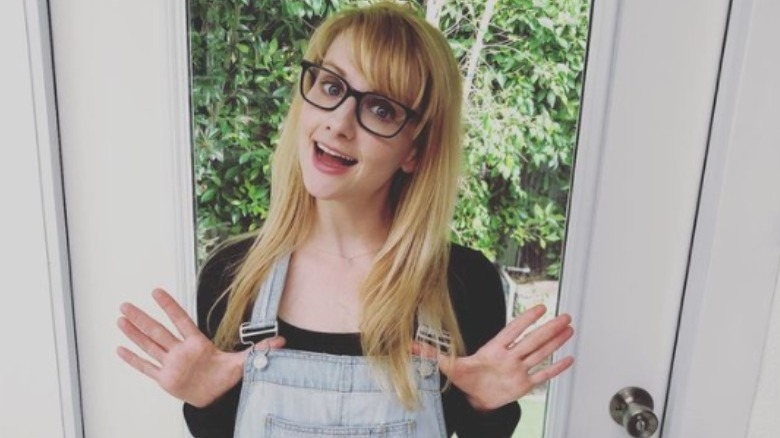 Before Melissa Rauch became famous for her work on "The Big Bang Theory," she was just another struggling actress. Sometimes, she'd have to wait months in between acting gigs. As she told Esquire, she found a pretty unique way to deal with the accompanying anxiety and stress — riding a rollercoaster. "When I was out of work when I first moved to L.A., one of the first things my husband and I did was buy season's passes to Disney," she said, "and whenever I was bummed out about work, we would go to Space Mountain, and it was like a physical injection of anti-depressants." 
It's safe to say that heading to Disneyland to ride the famous Space Mountain ride isn't exactly a typical tactic that out-of-work actors take to give themselves a boost — but for Rauch, it seems to have worked!
Melissa Rauch and her husband were inspired to write a film together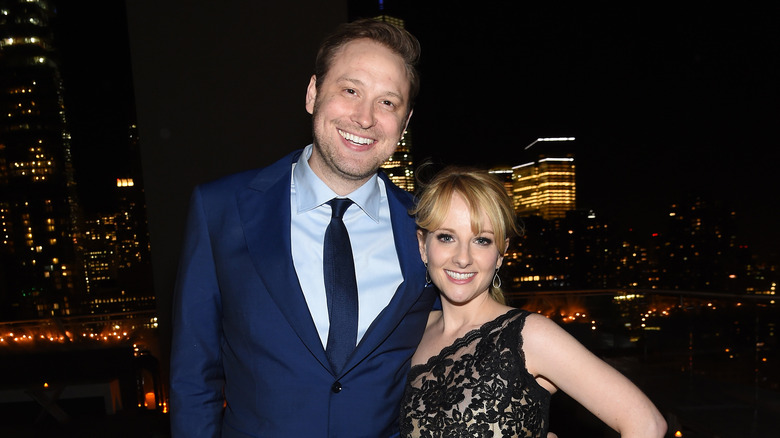 While Melissa Rauch is best-known for "The Big Bang Theory," she is also an accomplished screenwriter. She and her husband, Winston Rauch, wrote and made the 2015 film "The Bronze," which follows a one-time Olympic gymnast with a dying career and a foul vocabulary. As Rauch told We Are Movie Geeks, "I'm super unathletic and very uncoordinated, but I've always [loved] gymnastics. My husband and I love watching the Olympics together." 
The pair got the idea when Rauch was out of work. Apparently, a guy at her local mall gave her a free pretzel because he recognized her from a show. After the show was canceled, Rauch had to visit the unemployment office. She also returned to the pretzel stall and the same guy ignored her. "That got us talking about how fickle fame is and celebrity in a small town especially and then the idea just grew from there," she said.
Even though Rauch didn't have a gymnastics background, she certainly did her research. As she told RogerEbert.com, the pair were given passes to a gymnastics competition at UCLA. There, she and her husband would watch meets and pay attention to the gymnasts.
Melissa Rauch was a big fan of The Big Bang Theory before landing her role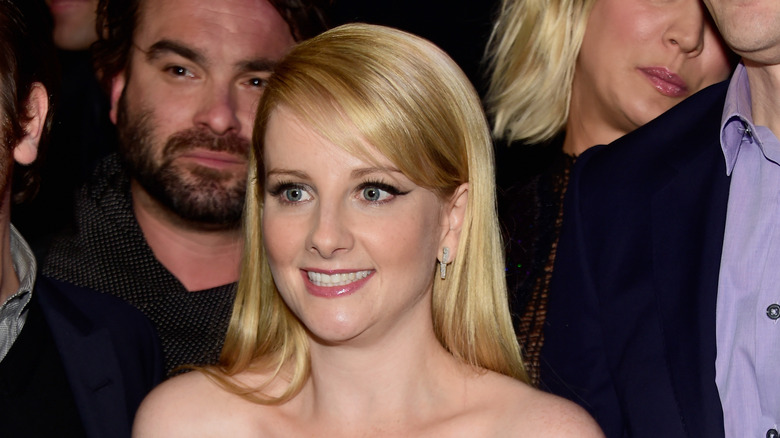 Nabbing a recurring role on "The Big Bang Theory" would be a dream come true for any actor — but for Melissa Rauch, it was especially exciting, as she was actually a huge fan of the show. When RogerEbert.com said that the show was the first to put "geeks" center stage, Rauch replied, "Before I joined the cast, I was a fan of 'The Big Bang Theory' for the same reason." She added that the show appealed to her so much because she considered herself to be a "nerd." "We can all relate to feeling like an underdog at some point in our lives," she said.
Rauch also complimented the writers on their funny, heartwarming work. "I really don't know how they do it," she gushed. It's no wonder Rauch fit so smoothly into the cast and quickly turned her one-off guest role into a regular role (via Backstage) — she already knew the show inside and out!
Melissa Rauch is a self-proclaimed 'Jersey girl'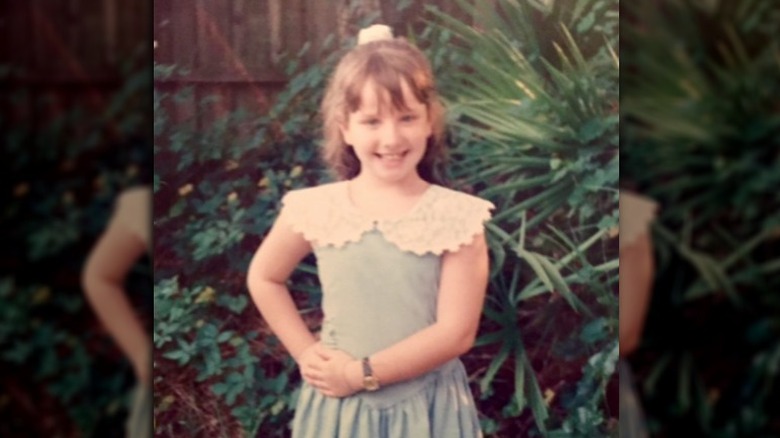 Melissa Rauch was born in Marlboro, New Jersey, and as she told New Jersey Monthly, she's remained loyal to her home state despite her stunning transformation. "I am still very much a Jersey girl," she said. "I had a very thick New Jersey accent when I first went to study theater, which did not impress my Shakespeare professors." Eventually, Rauch learned to speak with a more neutral New York accent — but, she clarified, the old accent has a tendency to come back when she's "tired or upset."
As Rauch told NJ.com, losing the new Jersey accent was a big deal. "I was awwwful," she said. "I mean, 'Can we tawk about the cawfee they got ovuh heah, or what?'" she went on, demonstrating her old voice. Apparently, her voice and movement teacher had to train it out of her. Sounds like Rauch will always remember her Jersey roots — even if she suppresses the accent.
Melissa Rauch is a classically trained actress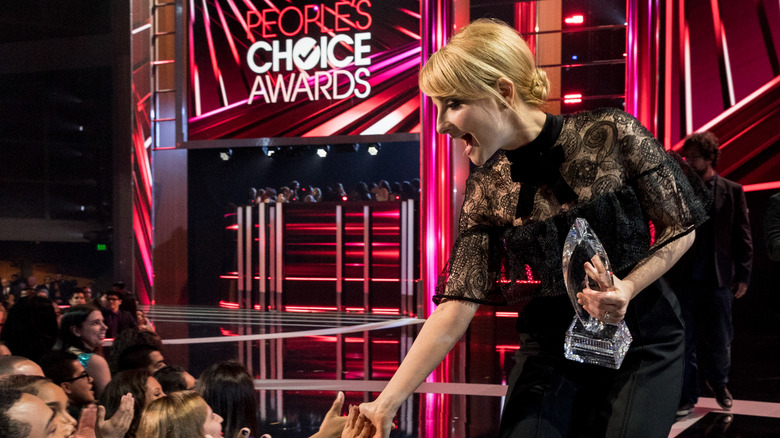 Even though Melissa Rauch eventually made a career in comedy, she has a much more serious acting background. As she told New Jersey Monthly, she actually did a BFA in classical acting when she was younger. Of course, she never gave up her love of comedy. As she put it, "I would be doing Ibsen and Chekhov during the day and then doing stand-up all night." Wow, talk about commitment! 
When it came to doing "The Big Bang Theory," Rauch actually felt quite at home thanks to her theater training. As she told Parade, the show's multi-cam format means the show is "essentially a filmed play, which I absolutely love." It sounds like her exhausting schedule of theater by day and comedy by night was actually the perfect mixture to get her ready for the popular show that would essentially define her career.
Melissa Rauch was getting desperate before nabbing her part on The Big Bang Theory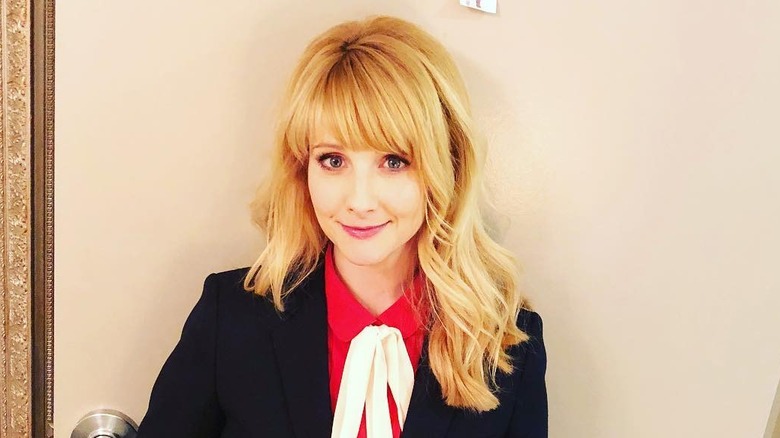 It's no secret that the acting industry can be difficult. For Melissa Rauch, there were times when it was particular tough. In fact, she was seriously struggling to find a job before landing the role of Bernadette on "The Big Bang Theory." As she told Parade, she was literally in the unemployment office the day before her audition. She recalled, "I thought this was going to be a one-time guest star and I got the audition praying that I would get this job and be there for a week."
Of course, things turned out a little differently. Not only was she on set for a week, she was there for ten whole years. "There's not a day that goes by that I haven't been eternally grateful for that and it's amazing," she said. "They always say that you're one job away and it's so true." For Rauch, Bernadette ended up being exactly what she needed to get her career going again. Thank goodness she kept persevering through difficult times.
Melissa Rauch is still writing with her husband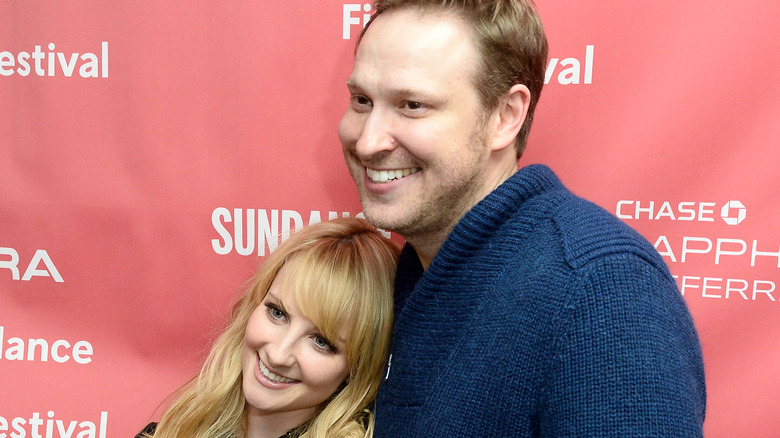 Melissa Rauch told RogerEbert.com that she basically started writing with her husband practically from the moment they met. And by the sounds of things, this writing relationship is still going strong. In 2016, Rauch told We Are Movie Geeks that they were working on a film called "The Meter Maid." They also wrote a pilot for HBO about the Girl Scouts. "They were the best Girl Scout troop ever at age 12 but then they all reunite when they're in their 30s and realize they have really screwed up lives," she explained.
As of 2021, it's unclear whether these projects will ever get made, but it's pretty clear that the pair love working together. In fact, it looks like the pair have turned their attention to another project, this time as co-producers. In 2020, Deadline announced that the two were co-producing a reboot of the '80s sitcom "Night Court." In addition to co-producing, Rauch is also set to star in the show. Rauch told Hollywood Life, "We definitely want to honor the original while bringing a fresh take to it, but we are just hashing that all out right now."
Melissa Rauch grew up obsessed with this comedian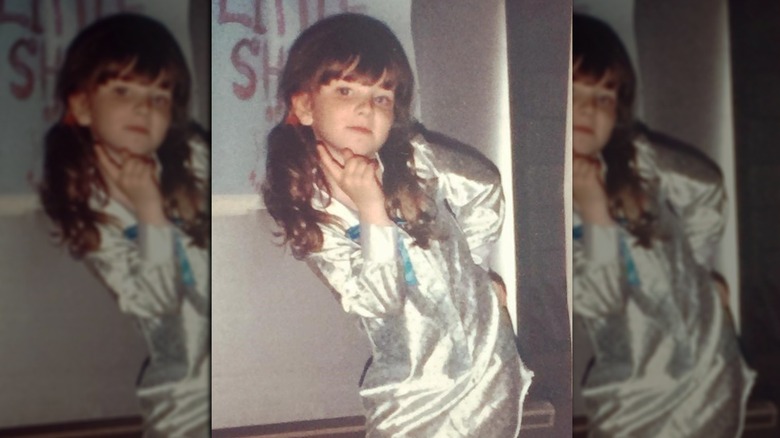 So, how did Melissa Rauch get so into comedy at such a young age? Well, as the actress confessed on The Ellen DeGeneres Show, she was so obsessed with comedy shows, that she refused to play outside. Instead, her parents would tape late-night comedy shows for her to watch when she was just 7 years old. "I had your 'Carson' tape and I wore it out," Rauch gushed to Ellen DeGeneres. She went on, "Your 'Phone Call to God' bit is one of my — it's the best stand-up routine of all time. It is."
Apparently, Rauch was so obsessed with DeGeneres' routine that she performed it for her class during show and tell. "I did your bit, but I was taking those great comedic pauses that you had while you're waiting on the line and I just had this room full of second-graders staring at me," she recalled. What an adorable story! We can safely say that Rauch really was born to be a comedian.
Source: Read Full Article