No matter what side of the aisle you sit on, there's no denying that Gavin Newsom knows a thing or two about creating change. The California state governor, who was born and raised in San Francisco, has been instrumental in implementing several liberal policies during his time in politics. After he was appointed to the San Francisco Parking and Traffic Commission, it didn't take long for him to be elected mayor of his hometown in 2003, per Democratic Governors Association, which eventually led him to his role as California's lieutenant governor in 2010.
With his prior experience, Newsom was a sure pick for governor and was sworn in as the 40th governor of California in January 2019. "The country is watching us, the world is watching us. The future depends on us, and we will seize this moment," he said at the time as he denounced the Trump administration, per ABC 7. However, if you've kept up with the news, you'll know his time in office has been far from a California dream, especially with the 2021 recall election. Keep scrolling for more details about Gavin Newsom.
Gavin Newsom didn't always work in politics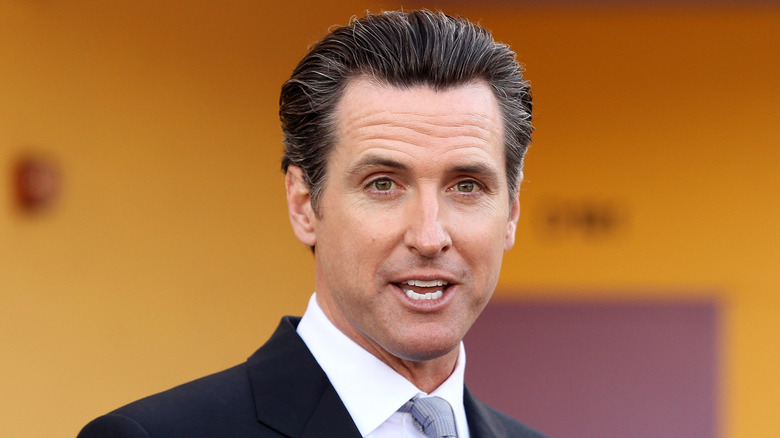 It's hard to imagine now, but Gavin Newsom didn't always live for politics. Despite studying political science at Santa Clara University, he went on to become a businessman — but not without a little help. After receiving a substantial loan from the Gettys — as SFWeekly noted, "Gavin was a close friend of the family as his father Bill managed the family's trust" — he opened his first business, the PlumpJack Wine Shop, in 1992. It turned out to be a great investment as the business grew over the next decade into a multimillion-dollar company, per the Los Angeles Times. Under Newsom's watch, the brand expanded into restaurants, theaters, a wine label, and a hotel/ski resort, and according to their website, it appears he still plays an integral role at the company today, despite sitting in the governor's office.
After starting the business when he was only 22 years old, he was thrilled to reveal it had grown into 17 additional businesses since during a 2016 interview back when he was lieutenant governor. He was proud to reveal he also opened the first mead certified winery in California.
Gavin Newsom has a hefty net worth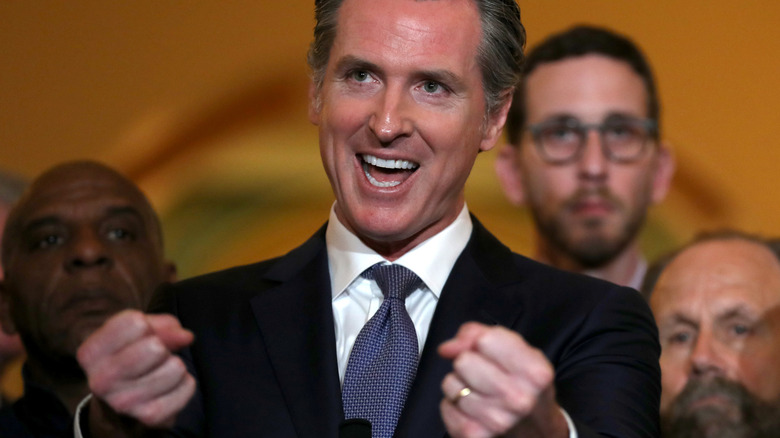 Thanks to Gavin Newsom's successful business dealings, the Californian was worth a pretty penny long before his days in office. In fact, his business holdings in PlumpJack were estimated to be $6.9 million prior to selling his shares in the early '00s, according to Celebrity Net Worth. But despite being wildly successful as a businessman, he didn't seem too bothered when his political career didn't pay as well. That's not to say he started hurting for cash after he pivoted: The governor was paid $175,000 during his first year in office, and he earned a $151,000 salary throughout his eight years as lieutenant governor, according to the AP. But aside from his salary, he and his wife, Jennifer Siebel Newsom, reportedly brought in a total of $1.7 million in 2019.
Of course, Newsom and his wife have other side hustles that help keep the checks coming, like the $39,000 he raked in for his children's book, per the AP. In sum, his net worth is estimated to be $20 million, according to Celebrity Net Worth.
Age is just a number to Gavin Newsom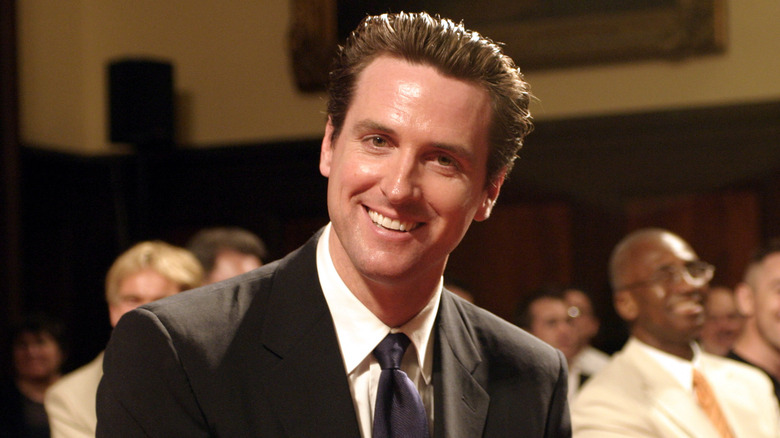 Following Gavin Newsom's success as a businessman and his quick transition into politics, he continued to break barriers when he became the 42nd mayor of San Francisco at age 36, making him the youngest mayor the county had seen in over 100 years, per the Office of the Mayor.
As the hot young change-maker in town, Newsom got right to business bringing his fresh ideas to the city of San Francisco. One of which included his Care Not Cash program which provides housing and services for the homeless, instead of a monthly check, SF Gate explained, and although people were wary of the initiative at first, a 2008 audit proved it was successful. "I couldn't be more proud of this audit in terms of substantiating all of the claims and assertions and relating a story of success beyond our imagination," he said at the time, noting that the idea had so much push-back originally he was receiving death threats at his inauguration. Luckily, the program was able to house thousands of people and put funding towards mental health and substance abuse services.
Gavin Newsom played a big part in legalizing same-sex marriage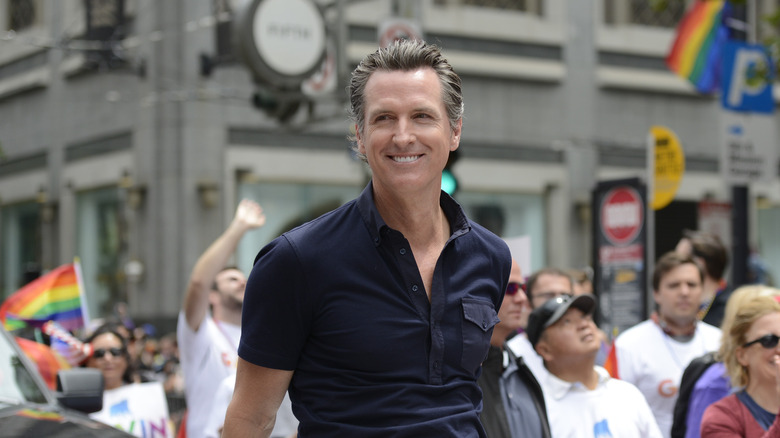 In Gavin Newsom's early days as mayor, he made waves when he directed San Francisco's county clerk to issue marriage licenses to same-sex couples years before the state's Supreme Court shut down the gay marriage ban (via Democratic Governors). His bold move for the time was highly criticized by conservatives and the licenses were deemed invalid by the state's higher court since Newsom went around the system, per the Los Angeles Times. 
Despite the setback, Newsom continued to petition for gay rights and spoke out against Proposition 8, legislation that would have eliminated same-sex marriage. Although the legislation passed in the state, it was later deemed unconstitutional in 2010, according to the Georgetown Law Library. But Newsom seemed to know that change was around the corner and often said gay marriage is "going to happen, whether you like it or not," while on the campaign trail, per ABC News 7.
Gavin Newsom has a bittersweet relationship with the marijuana industry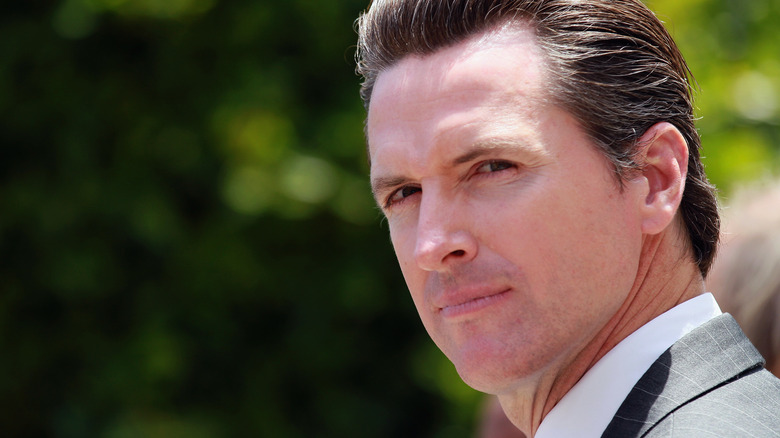 In addition to promoting marriage equality, Gavin Newsom has been fundamental in the legalization of marijuana in California. While he was lieutenant governor in 2013, he helped spearhead the Blue Ribbon Commission on Marijuana Policy, which investigated various questions, including regulation and taxation, in anticipation for its legalization. Newsom continued to advocate for cannabis reform in an op-ed for The Modesto Bee in 2016, explaining that "we need a smarter approach" to "the war on drugs," which he called an "abject — and expensive — failure."
Once the state legalized marijuana in 2016, in addition to Newsom's rise to governor in 2019, people had high hopes for the California cannabis industry. However, some felt Newsom didn't deliver when issues concerning taxation and stabilizing the legal market were still up for debate a year into his role. "This is not the administration that we necessarily expected," Josh Drayton, communications director for the California Cannabis Industry Association told MJ Biz Daily in August 2019.
But since then, Newsom signed the Cannabis Trailer Bill in July 2021, creating the Department of Cannabis Control to streamline all related programs. "We've taken another significant step forward to fulfill the opportunities of legalization and better serve all Californians," Newsom said, according to a press release. "We will continue building upon our efforts to foster a diverse and inclusive industry, protect consumer and public safety, safeguard our environment and advance economic opportunity for small businesses."
Marijuana came between Gavin Newsom and Donald Trump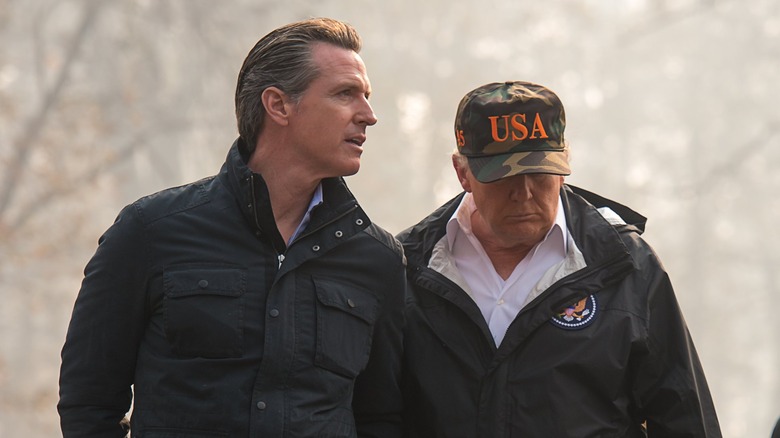 With Gavin Newsom and Donald Trump at opposite ends of the political spectrum, it's no surprise these two aren't close. In fact, Trump threatened to "launch a federal enforcement effort against recreational marijuana firms" soon after he won the presidency in 2016, according to the Los Angeles Times. However, Newsom wouldn't allow his work towards legalization to go to waste, so he tweeted out a letter to the then-president advocating for a regulated and legal marijuana market.
"The government must not strip the legal and publicly supported industry of its business and hand it back to drug cartels and criminals," the letter read. "Dealers don't card kids. I urge you and your administration to work in partnership with California and the other eight states that have legalized recreational marijuana for adult use in a way that will let us enforce our state laws that protect the public and our children, while targeting the bad actors."
In addition to not seeing eye-to-eye on the topic of marijuana, the pair continued to spar throughout Trump's presidency, especially when Trump slammed Newsom for the homelessness crisis in California, claiming his liberal policies were to blame, per Politico. However, although Newsom disagrees with Trump "about almost everything under the sun," as one person put it to Cal Matters, the two came together in 2020 following a slew of natural disasters that required federal aid. Despite their contentious relationship, Newsom thanked Trump for his response at the time.
Donald Trump Jr. and Gavin Newsom have one thing in common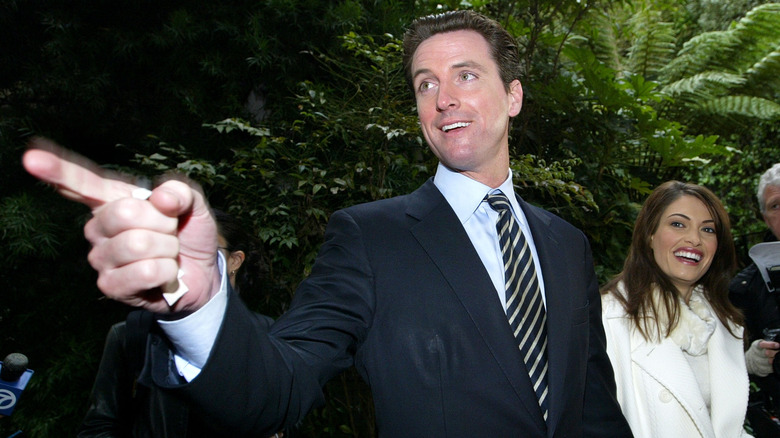 While Gavin Newsom and Donald Trump may not have much in common, Gavin Newsom and Donald Trump Jr. actually have a surprising mutual friend. In fact, Newsom was previously married to Don Jr.'s longtime girlfriend Kimberly Guilfoyle — *gasp* — and before she was a diehard MAGA supporter, she was all-in with Newsom and his Democratic agenda.
Ex-spouses Newsom and Guilfoyle first connected when she worked as a prosecutor at the San Francisco district attorney's office, while he sat on the city's board of supervisors, according to Slate. The pair got married in 2001, and together they made waves as a liberal power couple, even being dubbed the "New Kennedys" by Harper's Bazaar in 2004 (via SFGate). Although Guilfoyle had campaigned for his mayoral race, Newsom admitted their political views differed, telling Charlie Rose in 2004 his wife at the time was "a little more conservative" than him.
They announced their split in 2006 after over 10 years together, per SFGate. Guilfoyle, who began dating Don Jr. in 2018, claimed she was still on good terms with Newsom to The Washington Post, despite calling California a "socialist wasteland" to Trump supporters, per Slate. With Newsom and Trump's mutual connection, we'd imagine Guilfoyle would come up in small talk. Newsom hinted to BuzzFeed News (via Page Six) that something of the sort had gone down, stating, "We may have had a private moment on that conversation, which in and of itself, makes life just interesting."
Gavin Newsom is a happily married family man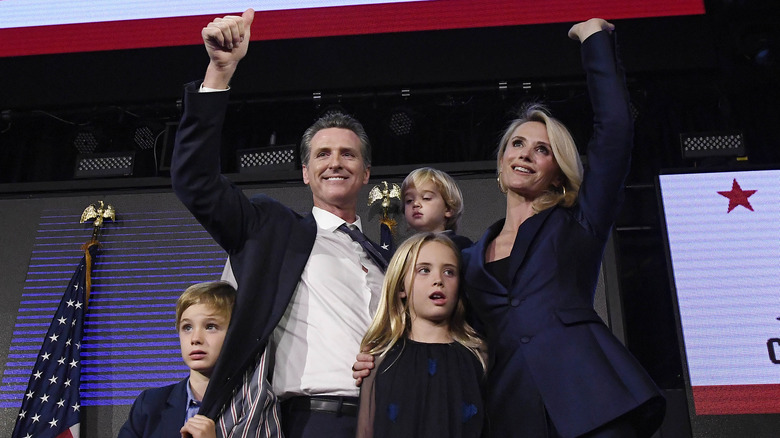 Following Gavin Newsom's split from Kimberly Guilfoyle, it didn't take long for him to find love again. After his 2006 divorce, Newsom linked up with actor and filmmaker Jennifer Siebel in October of that year, per The Sun. They went on to get married in 2008, and they've since welcomed four children into the world: Montana Tessa, Hunter, Brooklynn Stacia, and Dutch William. 
The two were set up on a blind date, and evidently, it was a success. When Newsom and Siebel got engaged, friend Stanlee Gatti told SFGate that "they were made for one another" and are "pretty in sync with the way they feel about some things."
From the looks of his social media, Newsom and his wife appear to be one big happy family, and he seems like an attentive husband, too. "A loving mom. A fearless leader. A passionate advocate. A caring friend. And my forever partner," the politician wrote to the missus in honor of their anniversary, via Instagram. "There's no one else I'd rather be on this wild ride with. Love you."
Gavin Newsom's wife is a star in her own right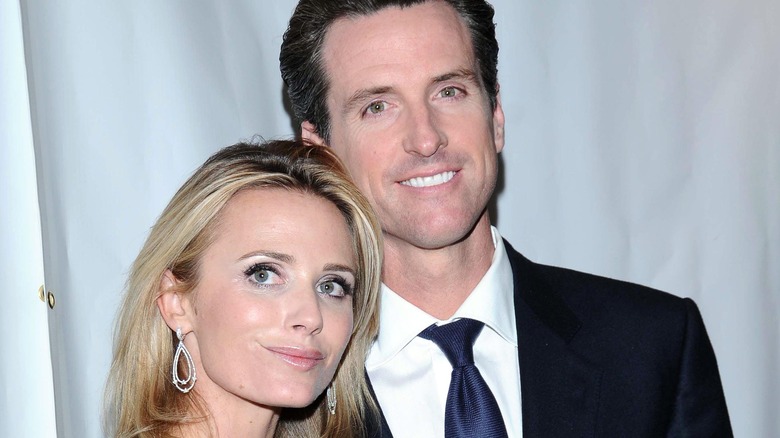 Before Jennifer Siebel Newsom was a first partner, she kept busy as an actor and had a variety of small roles on TV, including an appearance on "Mad Men," per IMDb. Despite graduating from Stanford University, and then Stanford's Graduate School of Business, she went on to pursue her career in front of and behind the camera. She proved herself as a director, writer, and producer with "Miss Representation," a documentary that looked at how women in power were underrepresented by the media and was released in 2011 at the Sundance Film Festival. Investigating the intersection between media and culture became a common theme in her work, like in her 2015 documentary "The Mask You Live In," about how societal pressures of masculinity affect boys and men, and in her 2020 film "The Great American Lie" which called out the toxic traits in our value system.
As for Siebel's work as first partner, she created the California Partners Project in 2020 to focus on gender equality throughout California, plus she combined her love for film and activism by founding The Representation Project, a nonprofit organization that is "fighting sexism through films, education, research and activism," as their website reads. With a career like that and four kids at home, Siebel is one impressive wonder woman.
Gavin Newsom's first year as governor was far from easy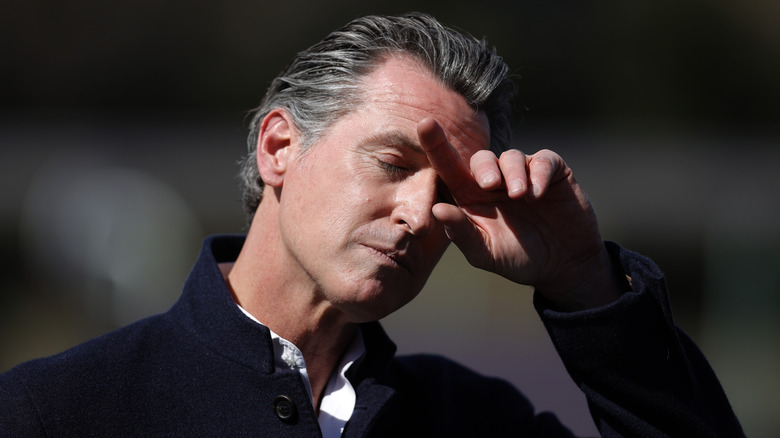 The praise for Gavin Newsom and his family came to an abrupt halt following a slew of tragic events that, quite literally, plagued his first year as governor. From the start of his term, he took a very aggressive approach to stop the spread of COVID-19, implementing lockdowns, closures, and mask mandates. He made California the first state to require health care workers to be fully vaccinated, and was the first to encourage teachers and school faculty to do the same, according to the Office of the Governor.
However, despite his efforts, he's been highly scrutinized by conservatives who disagree with his restrictive approach, especially after he was spotted ignoring his own advice when he attended a birthday party in November 2020, per CNN. He later went on to apologize for his actions, calling it a "bad mistake."
Apart from dealing with the unprecedented pandemic, California was hit with devastating wildfires and drought, in addition to their worsening homelessness crisis. As upset and tensions rose, Newsom became the target of aggression, giving traction to a circulating petition demanding a recall to get the governor out of office. After the deadline for recall support was extended by four months, the petition gained enough signatures to go ahead with the recall and registered voters will have the chance to recast their ballots during a special election on September 14, 2021.
Opponents challenged Gavin Newsom's job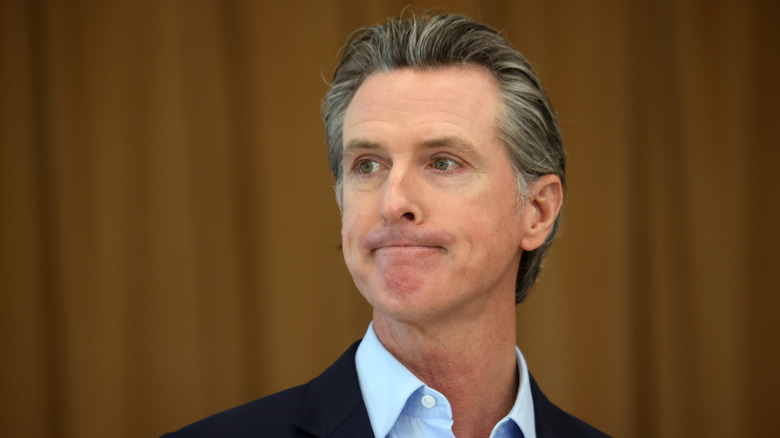 Although the 2021 recall has been criticized as a Republican-funded effort to flip the state following a series of loopholes in the country's democracy, per The Atlantic, Governor Newsom ended up with no choice but to fight for his job and the right to stay in office. Despite being an overwhelmingly Democratic state, it's possible Newsom could lose to one of the many Republicans campaigning for his job if enough people vote yes to the recall, and then his competition with the most votes will fill his shoes. As one of the biggest blue states in America, this recall not only determines Newsom's livelihood, but the whole future of the Democratic party.
"I'm now feeling the weight of this decision, and a weight of responsibility to defeat this, and also the responsibility that if we fall short, I'm going to own that," he told The Atlantic in August 2021 while discussing the looming recall election. As he pushes forward with his agenda, including adding billions of federal relief funds to the state budget and expanding health care to undocumented workers, he hopes all his hard work isn't for nothing. "If I do fall short, I'll regret every damn one of those decisions," he told the outlet. "And I don't want to have any regrets for putting everything out there and doing … what I think is right and what I think is in the best interest of California."
Caitlyn Jenner is coming for his job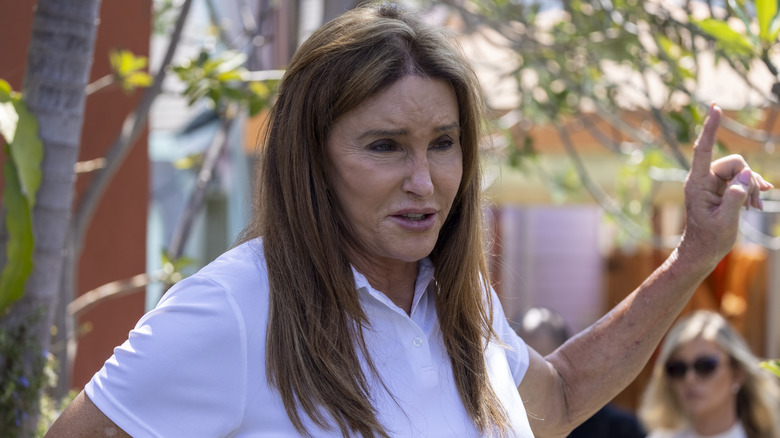 One of the many Republicans vying for Governor Gavin Newsom's desk is Caitlyn Jenner, who has been notably outspoken about the Democrat's handling of the state. "This isn't the California we know," the "Keeping Up with the Kardashians" alum wrote in a press release announcing her campaign against him in April 2021. "This is Gavin Newsom's California, where he orders us to stay home but goes out to dinner with his lobbyist friends," she added, denouncing his actions in the throes of the COVID-19 pandemic.
Since then, Jenner has hit the campaign trail, and bashing Newsom's work ethic seems to be a part of her strategy for victory. "Right now we have an epidemic of crime in this state. It's legal right now to steal in San Francisco, you see it all the time," Jenner said while speaking on Fox News. "This is about leadership. Governor Newsom is not a leader."
She continued to accuse Newsom of not doing all that is within his power to help the state, and said he is "downplaying" the severity of the crime crisis. "We just can't have that in a leader," she added. "The state is totally out of control when it comes to Gavin Newsom. He's the leader, and he's 100% responsible for protecting the citizens of this state. He's just not doing it."
But Caitlyn Jenner's run for Gavin Newsom's gig could help his case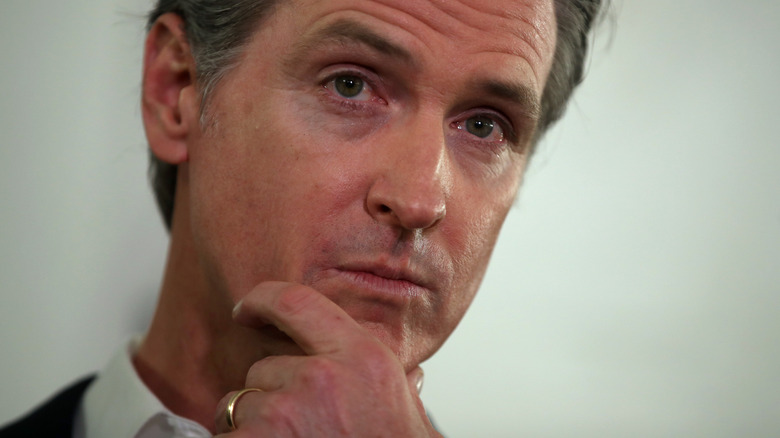 Despite Caitlyn Jenner's efforts to dethrone Gavin Newsom, her participation in the recall election may actually make Newsom look better, especially to Democrats who steer clear of a Trump agenda. "For months Newsom has been calling the recall a Republican power grab and trying to brand it as very Trumpy," California Democratic political strategist Michael Trujilo told Vanity Fair shortly after the former reality star announced her run for office. "Which was smart," he continued. "Now you have Caitlyn basically highlighting all their talking points by hiring a bunch of Trump aides. If you're Team Newsom, it's the gift that keeps on giving."
In fact, Jenner's entrance to the race prompted a $300,000 funding spurt to Newsom's campaign, to which she sarcastically tweeted, "You're welcome, Gavin! I am glad I am such a fundraising asset to your team." Plus, polls predicting a close election have energized his supporters. "Those polls have been a gift to Team Newsom because it creates a mechanism for them to raise money and raise awareness," Trujillo told the outlet in a separate piece. "The greatest risk is that Democrats think this is a lazy September election, Newsom has it in the bag, and voters don't turn out. Complacency is the problem right now."
Gavin Newsom has Kamala Harris's support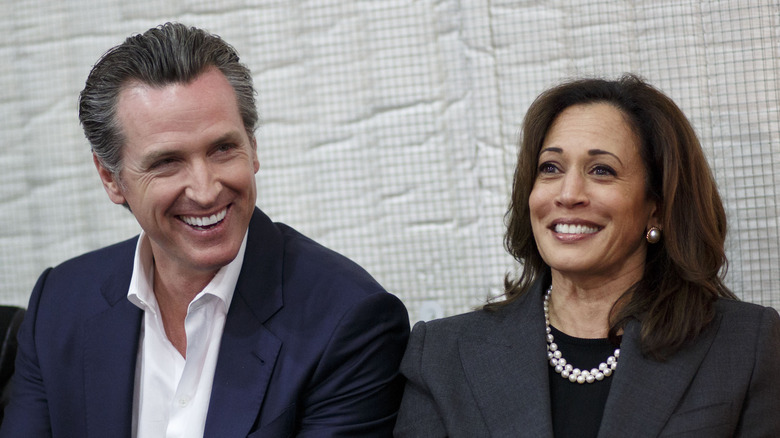 In addition to the support Gavin Newsom has received following the chaos of the election recall, he also has the White House on his side. "Gavin and I go back to being elected at the same time in San Francisco, many, many years ago, and I'll tell you, I've seen firsthand what a leader he is and how he really does put his heart into his work on behalf of the people of California," Vice President Kamala Harris told the Los Angeles Times in May of 2021. 
In fact, Harris was scheduled to speak on Newsom's behalf at a rally ahead of the election, however, her appearance was canceled after her attention was pulled towards the terrorist attacks in Afghanistan, per CNN. The outlet also noted that the White House press secretary confirmed on September 7, 2021, that President Joe Biden was also slated to head to California to speak in favor of Governor Newsom before the recall election.
Source: Read Full Article