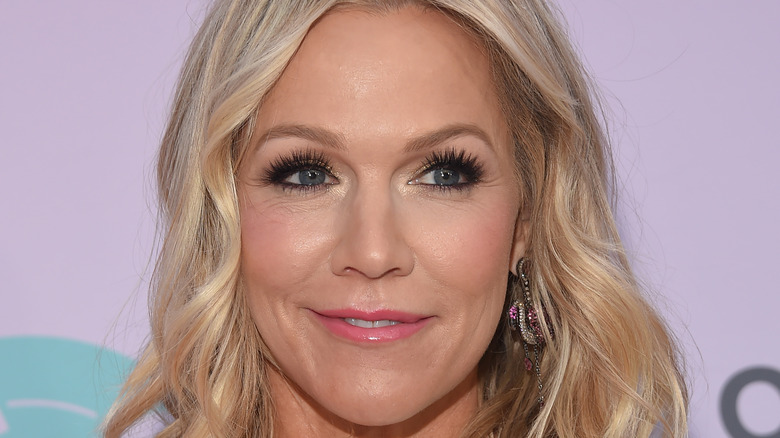 With a net worth of $8 million, it's not as if Jennie Garth can't afford a pricey prom dress for her daughter (via Celebrity Net Worth). But it turns out her 18-year-old, Lola, had a special request for her famous mom this prom season (via Hello!). As the "Beverly Hills, 90210" star shared via her Instagram, the high schooler was hoping for a homemade creation to wear to her prom (via Page Six).
"Ok, so tbh when my daughter said 'I wanna make my prom dress' she really meant 'Mom I want you to make my prom dress,'" Garth wrote as a caption to a photo that proved her next statement: "Guys, sewing isn't my thing!! But somehow I pulled it off!"
Indeed, Lola looked radiant in a strapless black gown that featured a slit on one side. The teen stood in a grassy area with her date, donning simple hair and makeup that proved a no-fuss look can win the day, even on prom night!
Meanwhile, judging from the rest of Garth's post, it seems the entire night was fuss-free.
Jennie Garth hosted a prom night for her daughter and their friends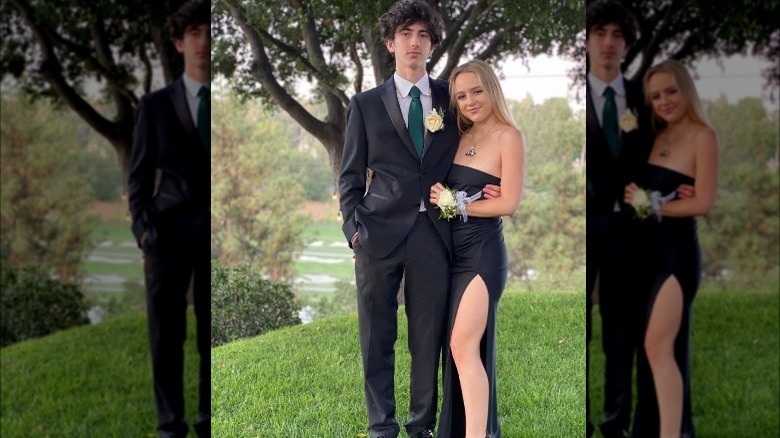 In her Instagram post, Garth went on to share more about why Lola wanted her to make her prom gown, writing, "The thing is, she could have asked me to buy her some fancy dress but she wanted it to be homemade. She wanted that. I dunno, it just makes me proud. And it made her so proud to be able to say 'my Mom made my dress.'"
The beaming mama finished her post by writing, "She looked beautiful, she felt beautiful…mission accomplished!"
In a second photo, fans can see Lola and her date sitting at a table in what looks like a backyard, surrounded by their friends. As Garth noted in her post, "We had so much fun hosting this special night for you and your friends."
Garth definitely seems to be winning at parenting Lola and her sisters, Luca, age 23, and Fiona, age 14, whom she shares with her ex-husband Peter Facinelli, telling People recently, "My job now is to just sort of keep them in the right lane, because they're doing their thing and they're becoming who they are and who they want to be. And I'm just there to support that and kind of nudge them left and right to just keep them going in the right direction. Because I kind of feel like my work here is done, but it's never done."
Source: Read Full Article