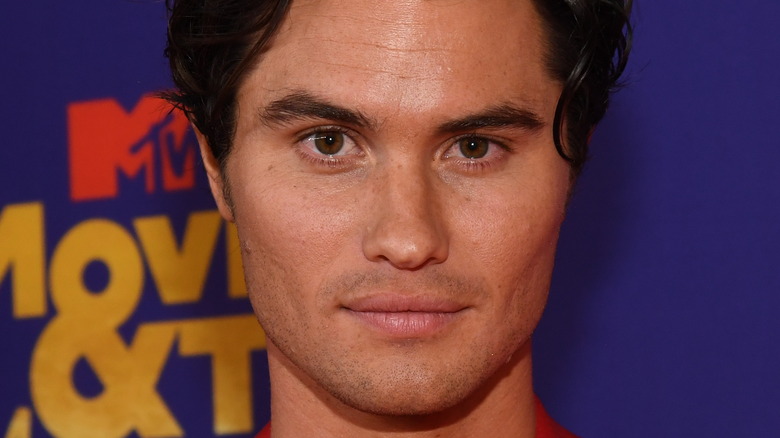 Kevin Mazur/2021 Mtv Movie And Tv Awards/Getty Images
By Louisa Marshall/Sept. 3, 2021 2:08 pm EDT
If your quarantine looked anything like ours, it was full of bread baking, neighborhood walks, and "Outer Banks." We will not disguise our love for a good young adult-themed dramatic television show — even "Riverdale" has its entertaining qualities — so discovering "Outer Banks" was like accessing a whole new world to sink our teeth into. Of course, it helped that the leading man is the gorgeous Chase Stokes, a Hollywood heartthrob if we've ever seen one — and a talented actor to boot. His performance as John B. Routledge kept us on the edge of our seat, spanning the two available seasons on Netflix, and, in a transformation that surprised literally no one, Stokes has become Hollywood's new "it" guy.
But the 28-year-old actor (almost 29, as of publication) was not always the successful, red carpet-ready talent that we know him as today. Like his famed character, Stokes grew up by the water's edge, had a tough time in high school, and couch surfed before he made it big in the business — Stokes' life and career has been anything but dull, and since we all want to know more about the man who has captured our hearts and solved OBX's greatest mystery, we did some digging. Here is the stunning transformation of Chase Stokes.
Like his famed character John B, Chase Stokes grew up on the water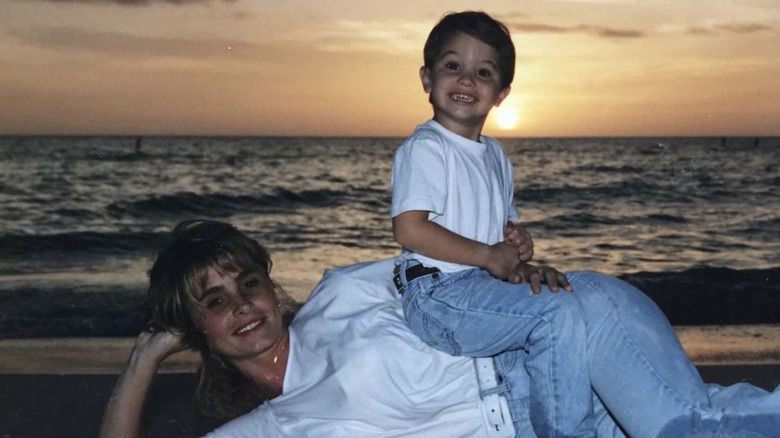 A cornerstone of "Outer Banks" is the location. The OBX is just as much of a character as Chase Stokes' John B. Routledge, and given how comfortable Stokes looks onscreen surrounded by the water, it shouldn't come as a shock to learn that he spent much of his childhood by the ocean. As noted by Refinery29, Stokes grew up "along the eastern shore" and spent a lot of time surfing. 
The actor was born in Maryland, but, as noted by People, he grew up mostly in South Florida, though he spent a good chunk of time in Maryland's boating communities. "I've grown up on boats, I've grown up driving boats. I didn't tell any of the creators [of Outer Banks] this when I was cast: When we were in Charleston [where the show filmed,] I reached in my wallet and pulled out my boating license. They were like 'Great, that makes everything a lot easier,'" Stokes said. Categorizing himself as "a little bit of a wild child," Stokes' natural presence around the water (given his upbringing) now makes a ton of sense.
Chase Stokes isn't the actor's real name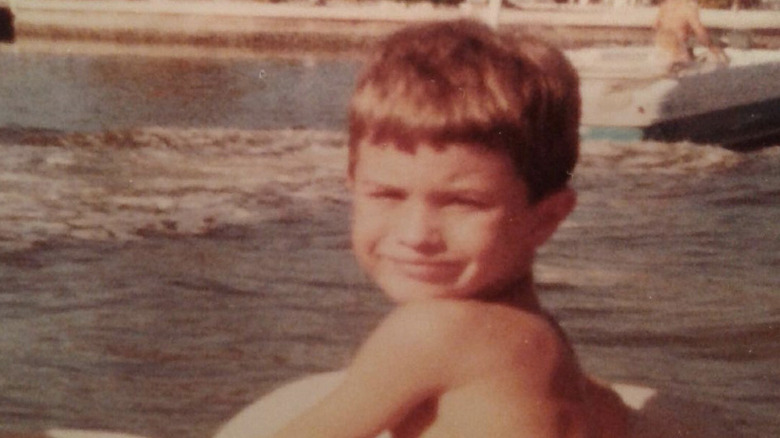 Some within the entertainment industry go by stage names. For example, Oscar winner Brie Larson's real name is Brianne Sidonie Desaulniers. Or what about Nicki Minaj, whose birth name is Onika Tanya Maraj? Celebrities using stage names is nothing new, and you might be surprised to find out that Chase Stokes' real name isn't actually Chase Stokes, but rather James Alexander Chase Stokes, born September 16, 1992 (via IMDb).
In a sit-down with Wired alongside his co-star Madelyn Cline, the actor revealed that going by one of his two middle names wasn't a decision he made once in the industry, but rather a choice he made when he was little. "If you say James in my general direction, I will not answer," the actor shared. "In high school and stuff, it was James Alexander Stokes on all the roll call sheets. So I had a really hard time explaining to my teachers that my name wasn't actually on there," Stokes said about the decision. He must've been clued into something, though, because the name Chase Stokes has a real Hollywood feel to it.
High school wasn't the easiest of times for Chase Stokes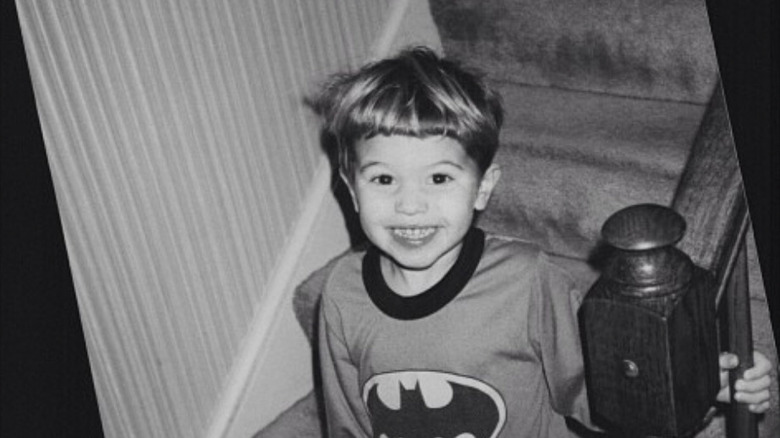 High school isn't the most fun time for everyone, and, for Chase Stokes, his time as a teen was spent balancing some difficult personal life struggles. In an interview with Men's Health, Stokes shared that his days consisted of going to Cocoa Beach (about 35 minutes from where he lived in Orlando, Florida) to surf every weekend. Using a friend's fake ID, Stokes and his buddies would "buy beer or sneak into hotel hot tubs" between catching waves.
Sounds great, right? Well, despite what sounds like your typical fun high school weekends, Stokes was experiencing some serious difficulties at home. He shared with Men's Health that, at the time, his mom and stepfather were getting divorced, and, as the oldest of four kids, the situation was even tougher for the young teen. Describing himself as "angry and frustrated" as the divorce unfolded, Stokes said that the situation allowed him to get away with a lot of shenanigans in high school. But when he related his experiences to that of Pogue life, Stokes called filming "Outer Banks" full circle, because the OBX goes all the way down to where he spent his weekends "wreaking havoc."
Chase Stokes didn't take things 'seriously' during his teenage years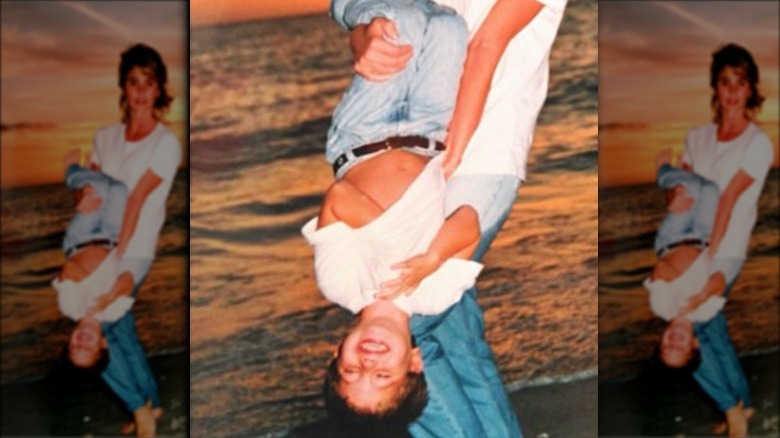 Chase Stokes shared both the highs and lows of high school with Men's Health. One of the highs was making a name for himself in high school as the kid behind the morning announcements. Stokes revealed to the publication that he wanted kids to "enjoy first period," and, while he didn't take the role "serious[ly]," he had fun making the early morning a more "enjoyable time" for his classmates. 
But things weren't all rosy for Stokes in high school. In addition to dealing with divorcing parents (his stepdad and mom at this point), Stokes also experienced "a lot of change, a lot of anxiety," even sharing that he was bullied fairly badly in his first two years of high school. "One kid put laxatives in a drink, and I had to run home because my bowels were exploding. I was battling severe cystic acne, and that was really tough. And then around the end of sophomore year, I started getting in the weight room, getting into fitness, and getting into shape," Stokes shared about his high school experience. He revealed that he "felt a little more confident" after his skin cleared up, and he started playing hockey, not to mention finding a love for his television production class.
The young actor couch surfed while trying to make it in Los Angeles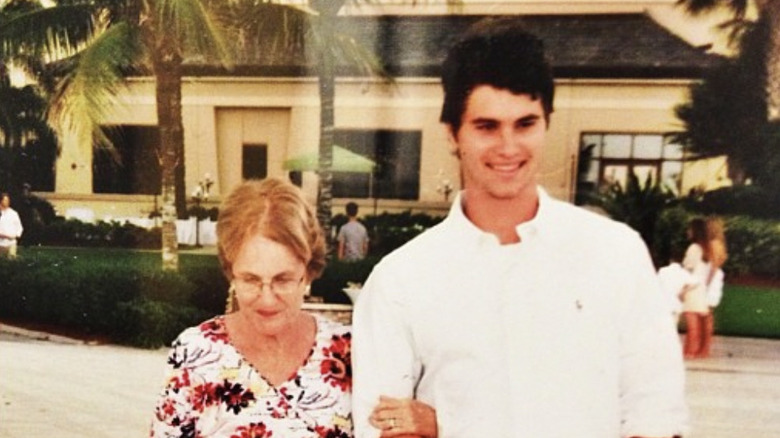 If you consider yourself to be a fan of the film industry, then you know that settling in on some harder times is inevitable for upcoming actors. Before getting his bachelor's degree from Valencia College, Chase Stokes moved out to Los Angeles to try to make it big. In his sit-down with Men's Health, Stokes shared that one of his first agents let him crash on their couch for a period of time, before he ended up sleeping in his car. Another friend he met while in an acting class also let him sleep on their couch, so, needless to say, Stokes clearly was willing to do anything to reach his goal.
The actor shared that, after some time, he went back to school and got his degree, then immediately returned to Los Angeles. This time, he got an apartment, but things still weren't super easy. "LA has a reputation of testing your will and mental strength, and [I] did pretty much every job under the sun to make money," Stokes shared. "But there was a point where I was on unemployment [compensation benefits], there were eviction notices on the door, the power was turned off and on."
Chase Stokes landed small roles and even crossed paths with his future co-star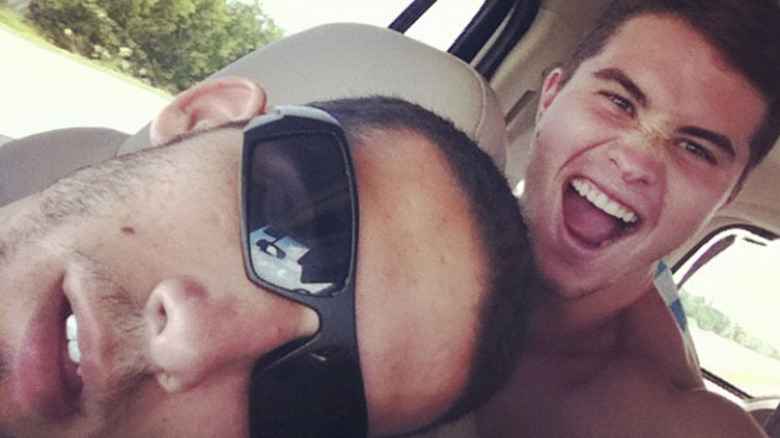 We all love the romance between Chase Stokes and Madelyn Cline (more on that later), but, in his early career, Stokes' path crossed with Cline on another hit show! While still trying to make it big in the industry, Stokes picked up the small role of Reed in the hit show "Stranger Things." Sharing a scene with Natalia Dyer and Charlie Heaton, Stokes was only on screen for a couple seconds during Season 1, Episode 6 (but it counts!). 
What's funny is that his future co-star and girlfriend, Cline, was also on the show, portraying the role of Tina — one of the popular friends of Dyer's Nancy during Season 2. As noted by PopBuzz, Cline's role featured her with dark brown hair (so it's a little tough to recognize her), but she's on screen nevertheless! So, yes, in both their attempts to get name recognition and work under their belt, Cline and Stokes turned to Netflix's sci-fi thriller. While it's unclear if their time on the show ever overlapped (as they were featured on different seasons), it's fair to say that it was in the cards that these two would work together one day.
The actor appeared in these smaller projects while working his way up in Hollywood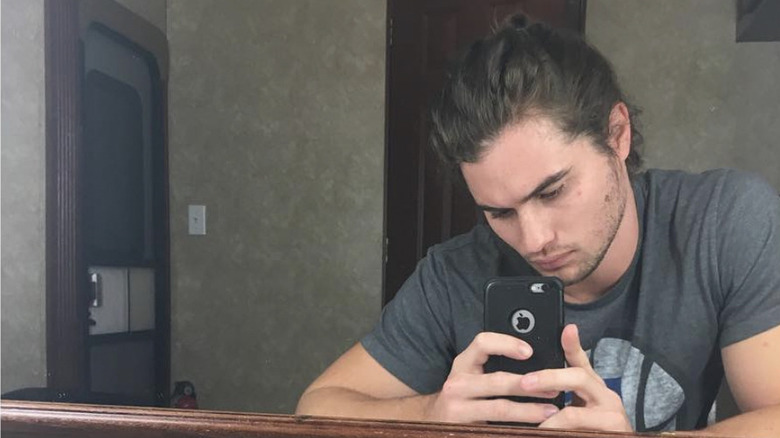 Chase Stokes may play a teenager on "Outer Banks," but, in reality, he is (an almost) 29-year-old actor who has certainly paid his dues in Hollywood. After returning to Los Angeles after getting his bachelor's degree, Stokes took roles in small projects such as the short film "Lost Island" in 2014 and the television series "Base" in 2015. As noted by CelebAnswers, Stokes again returned to school and got his Master of Business Administration from the University of Central Florida in 2015. And then — from what we gather from his IMDb page – he returned to the world of film and television, this time really putting his energy into his showbiz career. 
Stokes had a small run on the television series "Daytime Divas" in 2017 and then played Russell Bennet in the television movie "The Beach House." By the time 2018 rolled around, he played Finn in the television series "The First" before making it out to the audition for "Outer Banks." 2020 ultimately changed Stokes' life and career, turning him into a star seemingly overnight. But there were still a couple of hurdles that stood between him and stardom.
Chase Stokes was skeptical about Outer Banks when he first heard the show's premise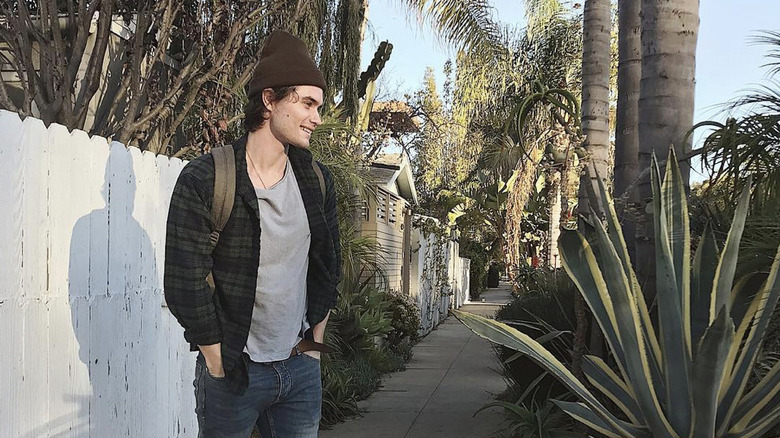 Even though Chase Stokes had been taking roles to solidify his career, he was a bit skeptical when it came to "Outer Banks." He shared with Men's Health that when he first heard about the show, he thought it sounded like a "reboot of 'The Goonies.'" As such, he didn't want to be part of a show that couldn't do the classic film justice. 
Thanks to the show's casting director, Lisa Finncannon, she and Stokes' agent worked to get the actor on board with the project, and Finncannon even got on the phone with Stokes to convince him that "The Goonies" would stay preserved in cinematic history. "[Finncannon] … was like, 'Look, it's not 'The Goonies.' I'll let you read the pilot. Just take a peek. I know the guy who created it and he's a beautiful soul, and I know exactly what he's going to do with it.'" Stokes shared that all it took was for him to read the script of the first episode, and he was hooked. He "immediately responded" to Finncannon and told her that he would read for the show — the rest is history.
The breakout actor was so broke in his early days that he once couldn't afford an Uber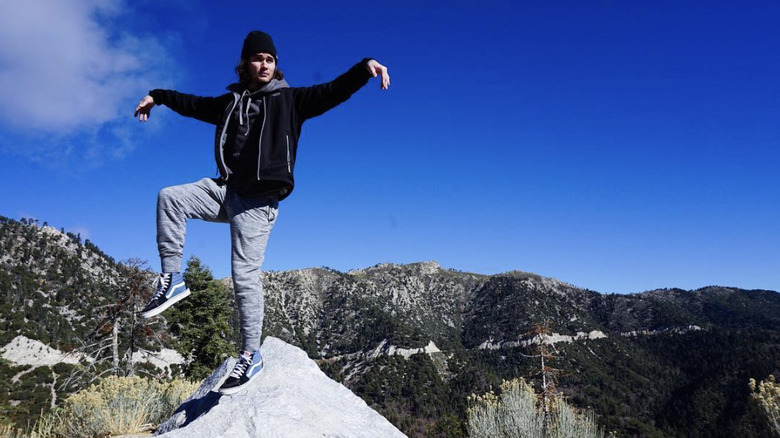 While watching "Outer Banks," you may have thought that Chase Stokes has been in the acting world for years. He's a class act, and just from his red carpet appearances alone, you'd think that he's been rolling in the dough. But what if we told you that Stokes couldn't even afford an Uber from the airport to his audition for the hit Netflix show? That's right. Stokes was so broke before his big break as John B. Routledge that he had to ask someone from the show's production to give him some cash to cover his ride. 
There must've been something in him that knew that "Outer Banks" was for him, because he traveled from Los Angeles to Charleston, South Carolina, for the audition, and, clearly, it went well. "We had the network test, and I got a call 20 minutes afterwards that I got a job. I never went back to L.A. after that, and all I had were the clothes I'd brought," Stokes shared with Men's Health. "I couldn't even buy anything until I got my first paycheck. I had three pairs of underwear, two pairs of shorts, and three t-shirts."
Chase Stokes found success among the young adult genre alongside two close friends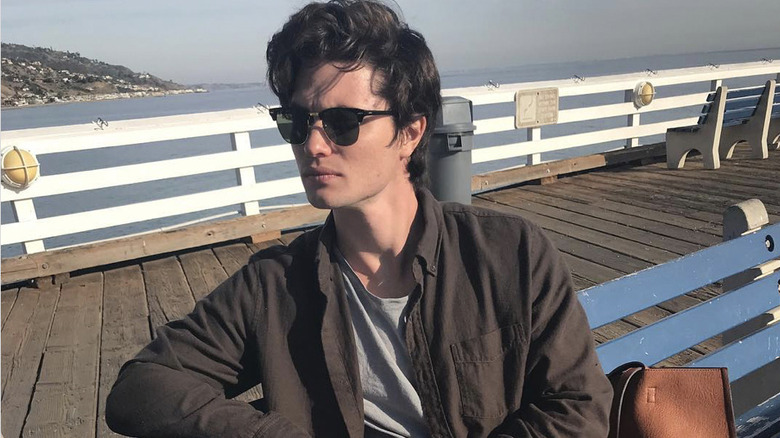 There's nothing better than reaching success alongside your friends, and while Chase Stokes was transforming into a leading man, two of his close buds were also climbing the ladder. In a sit-down with Brief Take, Stokes shared that, about two weeks before his audition for "Outer Banks," he and his good friend, Rich Ellis, were at Ellis' apartment filming self-tapes of their acting chops. Stokes went on to get the lead for the OBX hit show, and Ellis landed a leading role in "I Am Not Okay With This." "Within a month, we were both off on our way in the same family doing the Netflix thing," Stokes shared of the transformative experience. 
He went on to share that another good friend of his, Jeremy Pope, also scored a leading role in Ryan Murphy's hit show, "Hollywood." Calling this time of his life "surreal," Stokes said that the success he stumbled upon was made that much sweeter because he shared it with close friends. "To be doing it not just with friends, but people that I have near and dear to my heart … It's cool, man, it's a really exciting time," he said.
Chase Stokes and his Outer Banks family did this to prepare for their on-screen dynamic
One of the cornerstones of "Outer Banks" is the core friendships. Before Chase Stokes and his co-stars transformed into the stars that they are today, they spent a good chunk of time bonding and solidifying their off-screen relationships. In an interview with People, Stokes shared that he and castmates Jonathan Daviss, Madison Bailey, Madelyn Cline, and others got a place together and that every weekend, the whole gang would come over. "We'd play video games, board games, we'd sing, dance, it was a riot," Stokes recalled of the experience. 
Calling it the "adult version" of a YMCA summer camp with "slumber parties" and junk food, Stokes was intent on highlighting the shared time that really made the cast bond. "There's this true honesty to the friendship you see onscreen that is equally present offscreen as well," Stokes said. 
And we certainly see what he means. The friendships on "Outer Banks" truly set the show apart from other mystery dramas — after all, everyone needs friends that will find buried treasure with you, go to creepy graveyards at night, and bust you out of prison in an ambulance (that plot of JJ's sort of worked).
Though COVID-19 impacted Chase Stokes' public exposure, he became a star seemingly overnight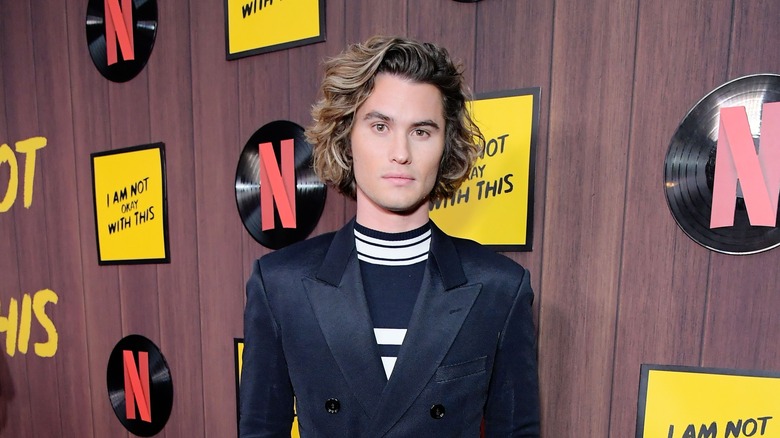 One of the unique aspects of "Outer Banks" and, thus, of Chase Stokes' transformation is that the show came out right as COVID-19 set in. The first season dropped on Netflix on April 15, 2020, so we were about three-ish weeks into lockdown at that point. Remember the days of Clorox wiping literally everything and making your own sourdough starter and trying to figure out if walking would burn all the calories you consumed via Cheez-Its? That's when "Outer Banks" Season 1 came out, and, with being locked away from the rest of the world, it was difficult for Stokes to realize just how much his star had risen in this time.
In his interview with Men's Health, Stokes explained that the only way he could really gauge just how successful the show was becoming was through social media, as access to the outside world was fairly limited. "We just kept seeing numbers climb. Then we would watch the numbers on Netflix," Stokes shared. "They would let us know where else in the world we were trending, and at one point we were [No. 1] in something like 20 countries in one week. That was a really cool moment."
Chase Stokes transformed into a supportive boyfriend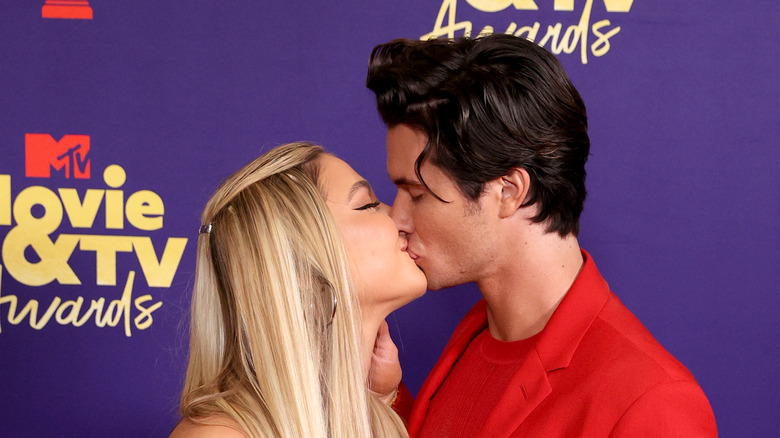 A fantastic dynamic seen onscreen during "Outer Banks" is that of John B. Routledge and Sarah Cameron. Played by Chase Stokes and Madelyn Cline, the two characters seem to instantly fall in love, get "married," and embark on a crazy adventure together, all while providing viewers with some jealousy-inducing and swoon-worthy scenes. But what makes things even better is that Stokes and Cline are a couple in real life, thanks to meeting on the set of the show (a point of Stokes' transformation that we absolutely love to see). 
While speaking to Entertainment Tonight about their relationship, the couple shared their thoughts on their characters' marriage, especially given that their on-screen personas are only 16 years old. "Everybody has their own experience, right? It works for some people," Stokes said of the plot line. "We've seen couples who got married at 16 who are now in their 80s and early 90s who are still together and wildly in love. So I don't think that the age should specifically define it. I think love is something that should move that needle." Want to know what makes Stokes' remark even better? Cline chimed in and said, "When you know, you know." Oh, our hearts.
Outer Banks helped solidify Chase Stokes as a leading man in Hollywood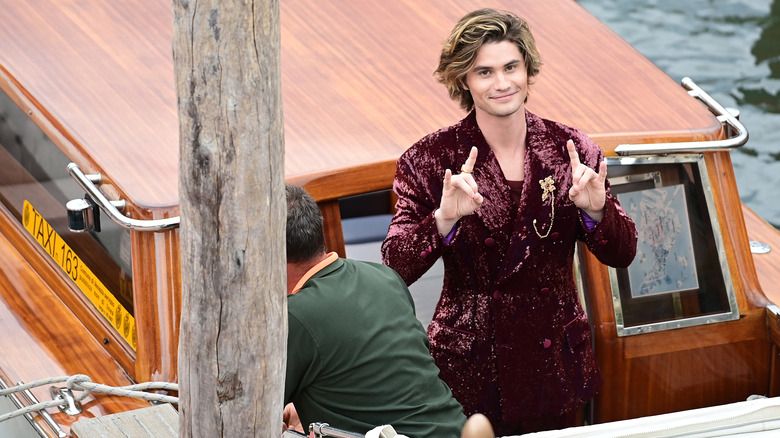 The wild child-turned-actor-turned-MBA recipient-turned Hollywood heartthrob only has a bright future ahead of him. As Today noted, Chase Stokes is now in the same arena as the likes of "Netflix boyfriends" — think Noah Centineo or Jacob Elordi — and we think that his star power will only continue to rise. "To be in that category [of Netflix boyfriends] is awesome," Stokes said. When asked where he wants to take his acting chops in the future, Stokes shared that he hopes to "expand" his range into more emotionally-deep roles. "For me, it's about continuing to push the bar and do work that is ever-changing," he said. 
Stokes has some actors that he looks to for inspiration. He listed Johnny Depp, Heath Ledger, and Jake Gyllenhaal as actors he appreciates, saying that he'd also like to be the kind of actor who "branche[s] out into more drastic roles." As his talent only continues to impress, Stokes can revel in the awards he's already been nominated for — a People's Choice Award — and taken home — an MTV Movie & TV Award. We, personally, can't wait to see where his career takes him!
Source: Read Full Article