By now, pretty much everybody knows masks are a thing and that they need to be worn to stop the spread of COVID-19. But it seems the royal family DGAF about the pandemic or setting a good example for the millions of people that they represent or those who are avid royal watchers.
During Queen Elizabeth's first public outing since March, she was joined by Prince William and an executive from Defence Science and Technology Laboratory (Dstl) to "view displays of weaponry and tactics used in counter intelligence" and meet 48 staff members at the lab. Understandably, people are talking about how nobody was wearing a mask. Seriously, not one person in this picture had a mask on!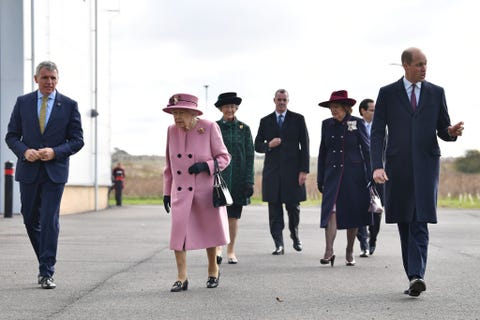 According to a Buckingham palace spokesperson, "Specific advice has been sought from the medical household and relevant parties, and all necessary precautions taken, working closely with Dstl." And according to the U.K. government, masks should be worn indoors and when "social distancing may be difficult and where you will come into contact with people you do not normally meet."
Britain's Queen Elizabeth attended her first in-person public engagement since the pandemic began in March. The 94 year old visited a military research facility with her grandson, Prince William, on Thursday (10/15). Neither royal was seen wearing a mask. pic.twitter.com/Fd33pzbiCy
All that said, it's probably safe to assume the royals don't interact with these people on a regular basis. And for an institution that's supposed to be all about leading by example, this is a really sh*tty way of doing that. As fashion critics Tom and Lorenzo put it, "It doesn't fucking matter, you do it out of respect for others and to set an example." A concerned citizen tweeted, "Why shouldn't our Queen wear a #facemask . It would have shown a little glimmer of care and empathy for us her citizens when the stark truth is they are so far removed from us!!" Another invoked Donald Trump's refusal to wear a mask and said,"Her taking all the precautions is not the point here. Her not wearing a mask is setting unspoken precedent. 'Not that big a deal.' Period. Didn't she learn 'something' from Trumps antics?"
Hopefully the royals choose to be a better example next time and encourage people to wear masks as much as possible for the duration of the pandemic.
Source: Read Full Article