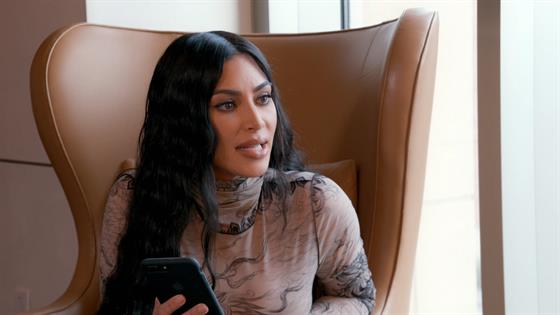 Milestone birthdays are weird for most of us.
So we weren't surprised to see Kourtney Kardashian feeling stressed about hers during Sunday's new and very emotional episode of Keeping Up With the Kardashians.
With her 40th right around the corner, the Poosh founder and mom of three had come down with a serious case of existential anxiety, made worse by an initially fruitless quest for the perfect outfit to wear at her upcoming b-day bash (shoutout to superhero sis and pro mediator Khloe Kardashian for organizing the event in the face of what easily could have been all-consuming drama) and compounded further by a burgeoning feud that broke out between herself and Kim Kardashian over a tangentially-related fashion issue.
Tension first kicked up during a wardrobe fitting at Kourtney's—think shopping trip, but at home—which Kim was invited to in the hopes she'd provide an "honest opinion" about her sibling's extensive lineup of potential party dresses. Except…
"Nothing is jumping out to me. Nothing is special," the budding law student noted, yawning from a chair nearby while Kourtney modeled a wide array of evening-wear items one by one. "What's the vibe here?"
"I do like this," said Kourt of a shimmery off-the-shoulder LBD she'd just changed into, whose top hem was lined with feathery trim.
"Absolutely not," Kim snapped. "You're not a f–king peacock."
Kim is a tough critic, but Kourtney reminded us she can dish it out with the best of them during a FaceTime call soon after, which found her sister in the midst of a Met Gala fitting with Thierry Mugler's team. Fashion fans know Kanye West's wife ultimately graced the pink carpet wearing a corseted silicone ensemble covered in crystals (the French designer's first formal creation in two decades), but at this point, she was still exploring her options.
"What do you think?" she asked, turning to face the iPhone camera. After catching a glimpse of Kim sporting a blue body-con dress and beaded wig in matching hues, Kourtney asked if it was Halloween and said some other things she probably would've kept to herself had she known Mugler's professional eyes and ears were right there listening.
"She doesn't get it," Kim laughed awkwardly.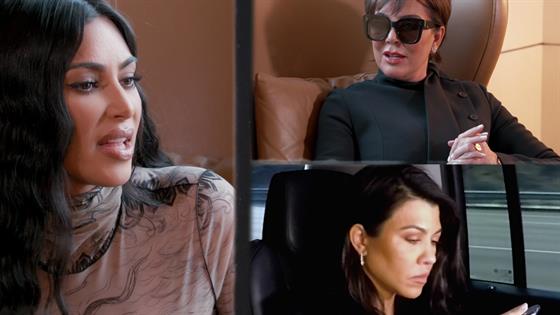 But comments the shapewear maven called "super embarrassing" at first gave way to a full-fledged sibling dispute when she learned that Kourtney's stylist had already reached out to Mugler's associates with ostensible intent to form a partnership.
"Manfred Thierry Mugler's manager let us know like, 'Oh, that's so weird she doesn't get this vibe because she's the one that's hitting us up wanting looks,'" Kim told the camera. "For her to not only try to use the same designer but then to be so rude, it really hit me the wrong way."
Also leaving an unfavorable taste in her mouth was the fact that Kourtney seemed to have her eye on the white two-piece Rick Owens designed specifically for Kim to wear to the 2018 CFDA Awards and later reproduced in stores.
"She's copying me!" Kim shrieked only half playfully, explaining during a subsequent sit-down with Kris Jenner(who, with a knowing grin, asked her daughter if she thought all this fighting had anything to do with the 40th birthday thing) that her frustration mostly stemmed from Kourtney "infiltrating" her professional relationships after she'd done the work to build them.
And much as Kourt insisted that wasn't the case, her increasingly volatile spat with Kim escalated to such an extent that it had her in tears days later, while she and Khloe were en route to a special ribbon-cutting ceremony at UCLA's newly-launched Kardashian Center for Esophageal Health, conceived in honor of the women's late father Robert Kardashian.
"I just feel overwhelmed with my birthday and everything," Kourtney cried, adding that she doesn't "feel like [herself]" right now and doesn't feel like celebrating either. "I just want to go away somewhere and just be alone."
But after accusing Kourtney of plagiarizing her style, calling her a "fake humanitarian hoe" and acting pretty aloof for the duration of the ceremony, Kim took Khloe's advice and extended an olive branch that took shape in vintage couture packaging.
Watch a brand new episode of Keeping Up With the Kardashians Sunday at 9 p.m., only on E!
Source: Read Full Article