Please be advised that Marvel Cinematic Universe spoilers are in this article. Turn back now if that's not your thing!
Florence Pugh is calling out Marvel for "blocking" her from talking about her surprise role in Hawkeye. Despite her character Yelena Belova appearing in episode 4, which already aired, the actress is dealing with fans complaining that she "spoiled" the moment for them by posting about it on Instagram.
https://www.instagram.com/p/CXO1QJOONOZ/?utm_source=ig_embed&utm_campaign=loading
A post shared by Florence Pugh (@florencepugh)
Shortly after sharing this pic (the comments of which are filled with Marvel fans calling her out for spoilers), Florence revealed she'd been blocked from posting further content about her role on Hawkeye.
"I never thought me posting love about a show in which I appear on would get taken down… but here we are," she wrote in a lengthy Instagram statement. "Someone on here complained so I've been blocked from posting my own appearance on a show that I'm very much in."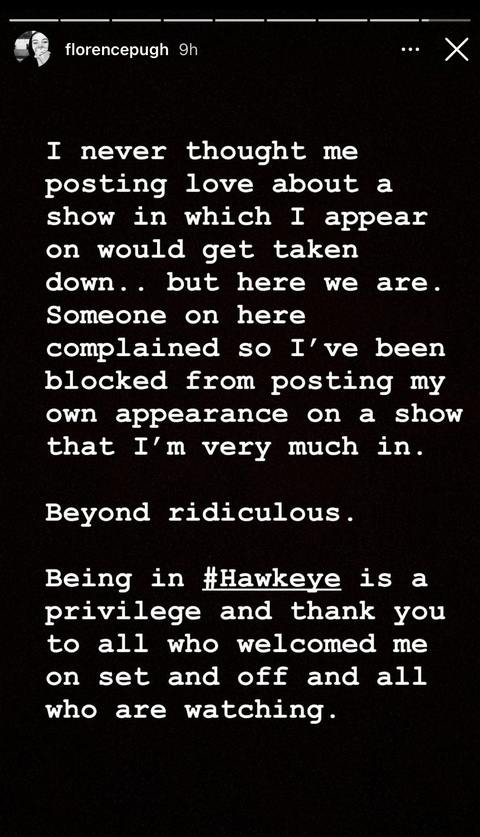 "Beyond ridiculous," she continued. "Being in #Hawkeye was a privilege and thank you to all who welcomed me on set and off and all who are watching."
Marvel is pretty intense about keeping spoilers from the MCU under-wraps (understandable, since unexpected cameos are definitely part of the fun), but considering Florence's episode aired already, you'd think she'd be able to post what she wants. But apparently not so much!
Anyway, the first few episode of Hawkeye are airing on Disney Plus right now, so go check them out.
STREAM NOW
Source: Read Full Article