One of Eminem's adopted children, Stevie Mathers, broke some big news on social media. Stevie is the 19-year-old biological child of Eminem's ex, Kim Scott, and a man named Eric Hartter, who died in 2019, according to RadarOnline. Stevie apparently didn't even know that Eminem wasn't their biological dad until someone sent them an article about Hartter's death, according to their TikTok.
Eminem adopted Stevie in 2005, which helped provide some stability in the child's life. He and Kim had reconciled in 2004, and they tied the knot for the second time in January 2006, per CBS News. However, they divorced just three months later. Despite having a wealthy rapper for a father, Stevie's upbringing wasn't the most stable — Kim was charged with cocaine possession in 2003 when Stevie was just a toddler. She spent time in jail and rehab for the offense.
Stevie has shied away from the spotlight for the most part, but much like their older sister Hailie Mathers, they maintain a presence on social media. Hailie, 25, has become a social media influencer by sharing fashion-oriented posts on Instagram, while TikTok is Stevie's platform of choice. Since 2019, the teen has used the video-sharing app to participate in popular trends like lip-syncing to various songs and performing bite-sized dance routines. In one video, they danced to the Britney Spears song "Toxic." The teen also shared an important life update on the app.
Stevie Mathers comes out as gender fluid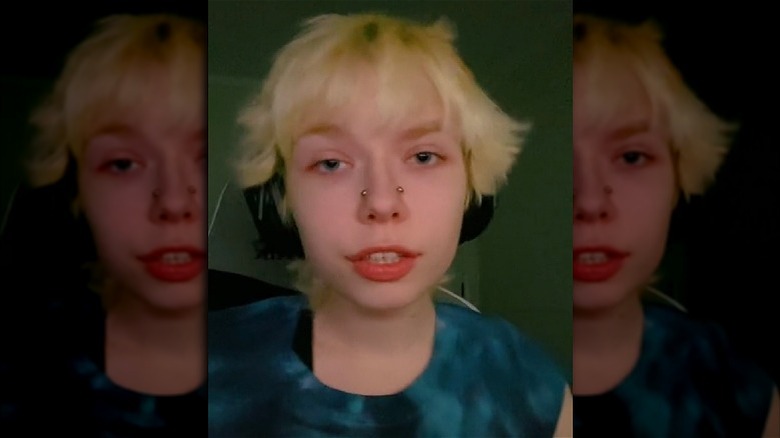 Stevie Mathers came out as gender fluid in a TikTok video documenting their journey to discovering their true self. According to the Daily Mail, Stevie came out as bisexual in 2017 in a now-deleted Instagram post. A tag on their video revealed that they still identify as bi, and another let their followers know that they're gender fluid. "Forever growing and changing," their caption read. The video began with the words, "Watch me become more comfortable with myself." As dozens of photos flashed on the screen, viewers saw Stevie's transformation from having long hair to rocking a blonde pixie cut and a Nasallang nose piercing. The snapshots included descriptions of how they identified at the time, beginning with the name Whitney and the pronouns she/her and ending with the name Stevie and "all pronouns."
A number of celebrities have come out as non-binary, including Demi Lovato, Amandla Stenberg, and Sam Smith. One of Stevie's TikTok followers asked how they figured out their gender identity, and they revealed how other people's journeys affected their own. "I think seeing others accept themselves and then trying out different pronouns for myself or dressing to make myself feel how I felt and to be happy," they wrote. "Also talking about it if you have someone you are close to and trust," they added. "Talk about it and maybe have them try other pronouns on you if that's what you want."
Source: Read Full Article