Charli XCX is no one's victim!
The Boom Clap singer has been at the center of an odd controversy recently thanks to her meet and greet pics with fans, ranging from the adorable, like this surprise same-sex wedding proposal…
…to the inspirational, having her shout "GAY RIGHTS" a lot.
Video: Charli XCX Drops Fantastic 'White Mercedes' Music Vid
Then there are those who ask for quite odd things, like this fan who got Charli to sign a douche…
…and most infamously this one who got her to hold up his dead mother's ashes…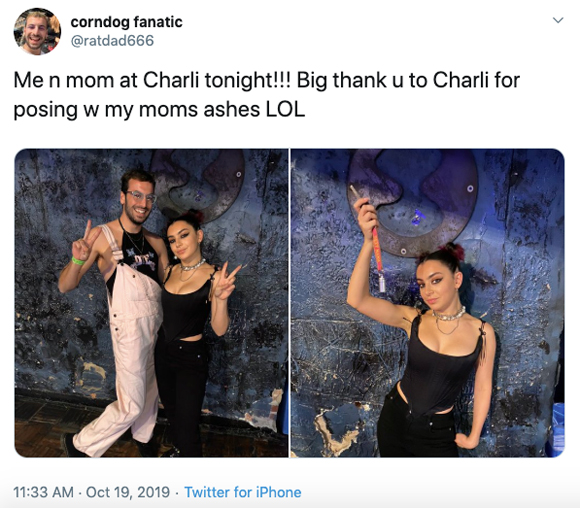 When asked about that last one in a recent i-D interview, Charli broke down the viral moment, saying:
"This is the thing. The conversation was so quick and normal. It just flowed. First, he was like: 'Hey! Release Taxi, I'm so excited for the show — by the way, my mum passed away.' I said 'I'm really sorry,' so he said 'Don't worry about it, can you just take a picture of you holding her ashes?'
It was almost like they were in a poppers bottle. I was like … and then it happened, and now it's online. My face is sort of like…. Well, you can see it in my eyes, I'm afraid."
The interviewer then asked if she feels like she's being held hostage by her gay fans. She denied that wholly, saying:
"No! I sign a lot of poppers, people ask me to say 'gay rights' a lot — but like, great! Gay rights! That's a great thing to say. But yeah, holding the ashes was… new, and hopefully a one time thing. I love Twitter culture though. People were like 'Your mum looks so hot!'. I love the fans, so they can get away with quite a lot."
But the controversy only grew after that interview, and multiple articles popped up with headlines like "Charli XCX's Queer Male Fans Need To Do Better."
That protest on her behalf led Charli to speak up with more clarity about the interactions she was having with fans, tweeting out a long form message to fans and Internet journalists:
"OK I've been telling myself not to say anything about this but I just have to: These articles popping up about my meet and greets suggesting that fans are taking advantage/being abusive/using me for 'online clout' because of certain items that have been signed or brought along to meet and greets are just so ridiculous and pretentious.
People writing these articles are guilty of exactly the same thing they are accusing fans of: these journalists are using the same images they condemn fans for taking as clickbait to push their 'think pieces' on me and my culture as an artist. It's all wrapped up in this brand of '2019 fake wokeness' that I cannot stand: it does more harm than good and just encourages people to attack and harass one another online."
"2019 fake wokeness." Didn't Obama basically just call that out, too?
Charli continued by speaking directly to the fans who feel like they're trying to protect her from something they see as "abusive":
"To fans who have rushed to my defense because of certain things that have happened at recent meet and greets – you are very sweet, but your concern is unwarranted. I haven't commented on the more recent, possibly controversial goings on at meet and greets because these moments are not the ones I take away from spending time with my fans. I take away the fact that people wait outside in the cold for me, tell me that a certain song changed their life or that a particular album got them through a tough time. These things are the things that I dwell on after meet and greets."
She also notes to those thinking she's being forced into an uncomfortable positions that she doesn't actually "feel obliged to do anything" and in fact she does "decline certain things."
Finally she said it as strongly and simply as she could:
"So hear it from me first: I do not think my fans have been abusive towards me at meet and greets: please stop saying they have been."
And this admonition came with an ultimatum:
"I will continue to do meet and greets for now but if this very ridiculous narrative continues around them – I will cancel all of them."
Dayum! For those who don't want to see that happen?
"Just use your common sense, have respect and if you're a journalist – maybe ask me for my opinion before you try and paint me out as some kind of helpless damsel."
Seems fair. Charli finished her message by saying:
"To conclude, I always hope for and try my best to encourage freedom of expression and a safe space, both at my shows and at any community gathering of fans. I really hope to continue this."
What do YOU think about how Charli has been treated by her fans AND by the press??
Related Posts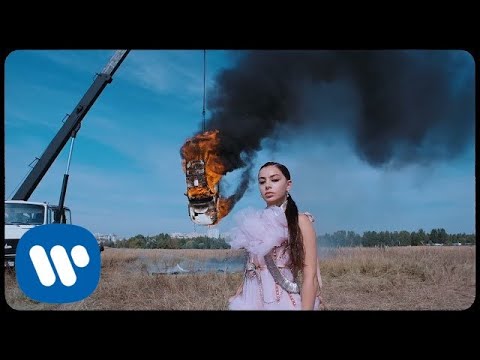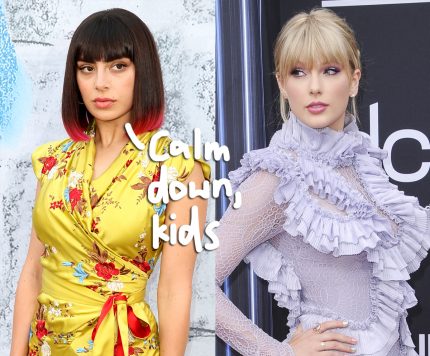 Source: Read Full Article