The following article includes mentions of sexual harassment allegations.
In a New York minute, former Governor Andrew Cuomo rapidly reverted from the country's pandemic press conference Prince Charming, right back to the so-called "Prince of Darkness," a nickname earned for the seemingly merciless manner in which he ran his father, Mario Cuomo's, 1982 gubernatorial campaign. "Andrew has always had these two sides," author Michael Shnayerson, who wrote the younger Cuomo's 2015 biography, "The Contender," told Rolling Stone. "One is charming and comes out in a time of crisis … but this is also a governor known for being brutal with underlings and ruthless with his rivals."
Along with the slew of sexual harassment claims that caused Andrew Cuomo to resign in August 2021, a deeper look at his love life appears to reveal a pattern of problems similar to those in his political life, two worlds for which he is now notorious for allegedly blurring together. As a 60-something-year-old divorced father, Cuomo has had only a couple major relationships to speak of, but his supposedly relentless determination to stay in the spotlight personally and professionally remained consistent throughout. 
Being a governmental figure in the public eye certainly makes life complicated, but since romance can be even more complex, keep reading to learn the rocky relationship history of Andrew Cuomo.
If you or anyone you know has been a victim of sexual assault, help is available. Visit the Rape, Abuse & Incest National Network website or contact RAINN's National Helpline at 1-800-656-HOPE (4673).
Andrew Cuomo's relationships were few and far between until he established his political career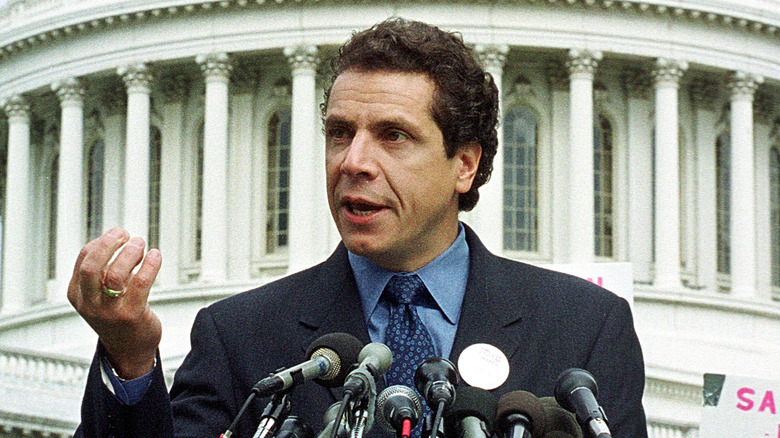 Growing up in Queens, New York, Andrew Cuomo was the second eldest of five siblings. Instead of wasting time dating dozens of girls, a teenage Cuomo served by the side of his rising politician father, who was elected governor of New York in 1982. Due to his dad's demanding schedule, Cuomo completed extra chores and helped his mother with his siblings. "Much responsibility fell to me as the 'man' of the house," he explained in his 2014 memoir, "All Things Possible: Setbacks and Success in Politics and Life."
Participating in his father's dogged pursuits of political success seemingly kept relationships and love on the back burner for some time. Due to this around-the-clock blend of family with work, the Cuomos' personal and professional lives were basically one in the same. Still, without a wife, Andrew Cuomo explained how he focused on gaining experience working for his father, attending college and then law school, starting his own nonprofit organization, and developing a political career of his own. "These bookends to my earliest civics education directed me not to politics per se, but to pursuing a life of public service," he wrote. 
This perspective on his profession as an all-encompassing lifestyle was perhaps why Cuomo held off on pursuing a serious romance throughout his younger years. However, when Kerry Kennedy came along, nothing could stop Cuomo from using this same tenacious approach to solidify his spot in America's royal family, according to Michael Shnayerson's "The Contender" biography (via Vanity Fair).
He floated proposal plans to press contacts before popping the question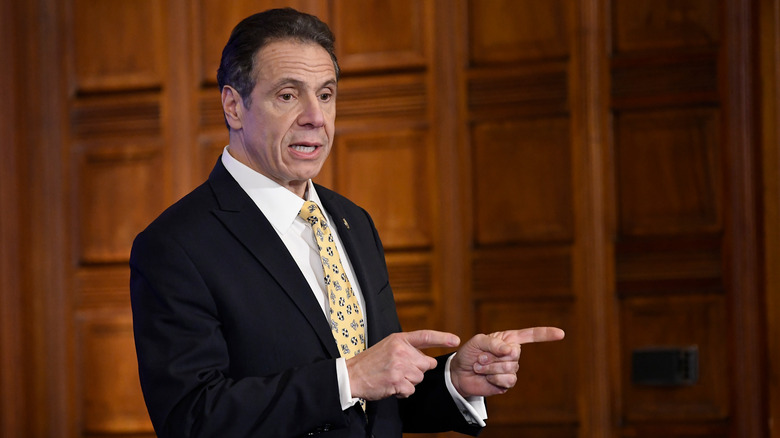 Like a political fairy tale, Andrew Cuomo met Kerry Kennedy due to her involvement with the Robert F. Kennedy Center for Human Rights, an organization that honored her late father and resonated with Cuomo due to his own nonprofit work. According to Vanity Fair's excerpt of Michael Shnayerson's "The Contender," Cuomo proposed on Valentine's Day in 1990 — but first, he reportedly asked a few members of the media how the union would fare in the press.
"[It] struck them as odd," Shnayerson wrote of the discussion. "Why would he share this intimate plan with them before he broached it to Kerry? And why worry about how the media would perceive it?" Calculated as this seemed, the couple was genuinely in love, as told by "The Contender." Kennedy swooned to the press, noting her groom's good looks, humor, and charm. Additionally, Cuomo knew he landed an American legacy, as well as a woman who understood his political ambitions better than anyone else could.
Although most soon-to-be wives tend to take the wheel when it comes to nuptial arrangements, an allegedly controlling Cuomo was the one who became a bridezilla ahead of their wedding that June. "From the moment Kerry accepted his proposal," Shnayerson's book continued, "Andrew took on the planning of the wedding like a political campaign." This was just the first of several seemingly red flags for the eventually doomed couple, the biography noted. But nevertheless, as a Kennedy family insider put it, "You just try to be supportive."
Andrew Cuomo and Kerry Kennedy experienced marital troubles early on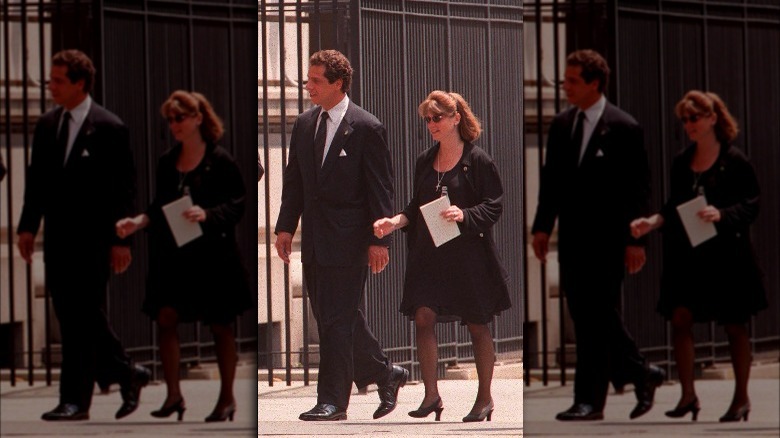 According to Michael Shnayerson's 2015 Cuomo biography, "The Contender" (via Vanity Fair), Kerry Kennedy attempted to get her husband, Andrew Cuomo, to attend couples therapy in year two of their marriage, but his work schedule was too demanding. As Cuomo's career ascended, the pair's relationship remained on this rocky road for years.
"At campaign appearances, you could see the workings of the modern political marriage," a New York magazine article once noted. "Something deeply impersonal. Parallel orbits." Despite the apparent disconnect and discord, the couple weathered on. According to the New York Post, the pair then welcomed twin girls, Cara and Mariah, in 1995, and another daughter named Michaela in 1997. Unfortunately, the pair's problems only grew. Kennedy was reportedly desperate for a divorce, the New York Daily News claimed, and by 2003, they were separated: "The Cuomo camp at first stuck to a terse statement about an 'amicable' split. … That barely lasted a day."
After this, as told in the New York magazine piece, a reportedly bitter Cuomo then allegedly linked rumors of a fling between Kennedy and a wealthy McDonald's franchise heir who played polo. As alleged by the same source, Cuomo dirtily dragged Kennedy through the press, as well as a bitter divorce, which the New York Post noted was final by 2005.
He found love again with Food Network star Sandra Lee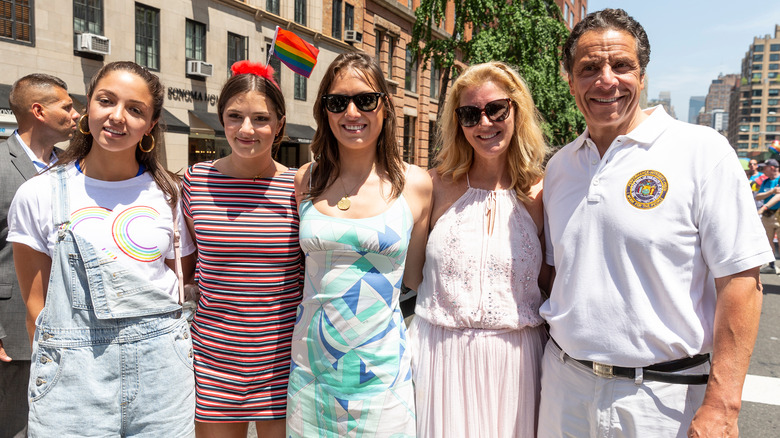 According to Harper's Bazaar, Andrew Cuomo's split from Kerry Kennedy, along with his 2002 failed run for governor, left him "in a period of personal transition" and "political limbo." During this time, at a 2005 party in the Hamptons, Cuomo met chef Sandra Lee, whom People magazine described as a "do-it-yourself tastemaker in cooking, decorating, gardening, crafting and hosting."
Lee — who's published 27 cookbooks and earned two Emmy Awards for her TV shows, as of this writing — seemed like a perfect fit for Cuomo. Not only was she successful in her own career, but she was also active in philanthropy, understanding of his busy schedule, and loving with his children. "I quickly fell in love with her," Cuomo explained in his 2014 memoir, "All Things Possible: Setbacks and Success in Politics and Life." "Why she got involved with me I don't know. I was not much of a catch. But Sandy was. Smart, successful, and gorgeous … more than a catch, Sandy was a godsend."
Over time, Lee helped raise Cuomo's daughters, and as a single father, he was forever grateful. "She was adept at taking care of three young girls as I was not," Cuomo went on to write in his memoir. "My children took to her immediately, and as they've grown older, she has been a significant presence in their lives. We have made a family."
Andrew Cuomo stalled on a marriage proposal to Sandra Lee for over a decade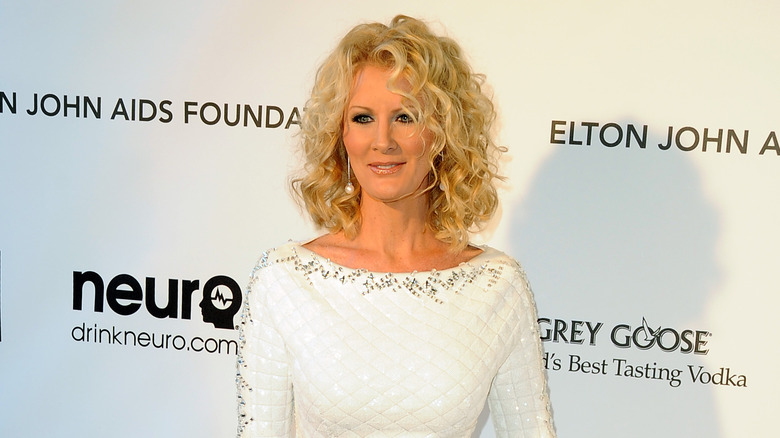 As the romance thrived between Andrew Cuomo and Sandra Lee, the press peppered them with questions about a proposal. Like Cuomo, Lee was once divorced, but she appeared patient about the possibility of remarriage. "When and if the time comes up … we'll do it," Lee told Harper's Bazaar in 2011, "but right now everything is just good." She also cited Cuomo's daughters as a reason the pair wanted to be rational about when to potentially tie the knot. "Kids come first," the chef explained to the New York Post. "Your kids, someone else's kids, they come first."
However, a friend of Cuomo's claimed to the Daily Mail that when asked about walking down the aisle once again, he provided a different response: "The New York Governor told anyone who asked that as a divorced Roman Catholic he did not feel he could marry again." Seemingly not on the same page, a former friend of Lee's gave an exclusive to the outlet, detailing the Food Network star's supposed desperation for a Cuomo proposal. "​​Lee was pressing him," the Daily Mail summarized. "She was so determined to get hitched that she even had a picture of the ring she wanted." According to the publication, Lee denied both of these claims, while Cuomo did not respond for comment.
During their 14-year relationship, Cuomo never asked Lee to marry him.
The former governor stuck by Sandra Lee's side following her breast cancer diagnosis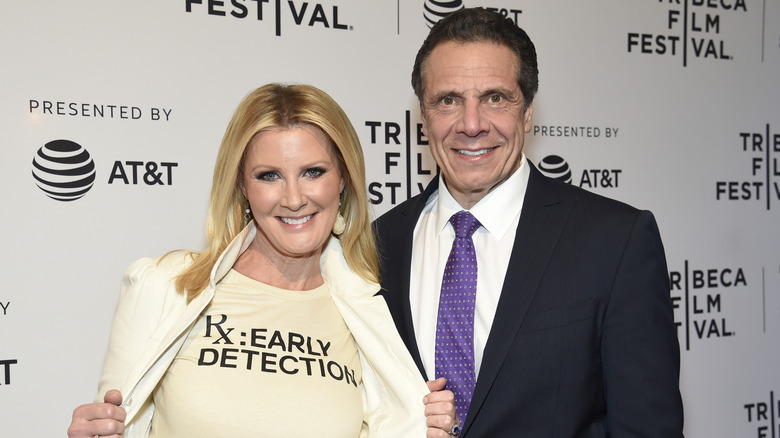 While Andrew Cuomo never pulled the trigger on a proposal to Sandra Lee, he certainly stepped up for matters of health when she was diagnosed with breast cancer in 2015. In an exclusive with People magazine, the then-governor explained how he took the news, and what he did to support his girlfriend during such a difficult time. "I was shocked and concerned," he said. "I wanted to protect and shield her, but the best I could do in that moment was reassure her that everything would be okay."
Normally a workaholic who rarely took time off, Cuomo planned a Turks and Caicos getaway to come up with a treatment plan. "I don't think I've left for more than a couple of nights since becoming governor," he continued to People. "But I knew Sandy needed a break, and we needed to be in a place that allowed us to focus on her."
Lee elected to eliminate the cancer via double mastectomy, and Cuomo stuck by her side the entire time. "This is about her feeling secured and loved," he told the outlet. Following Lee's recovery, she developed a documentary for HBO about her experience in 2018: "Rx: Early Detection, A Cancer Journey with Sandra Lee."
Andrew Cuomo and Sandra Lee officially called it quits after 14 years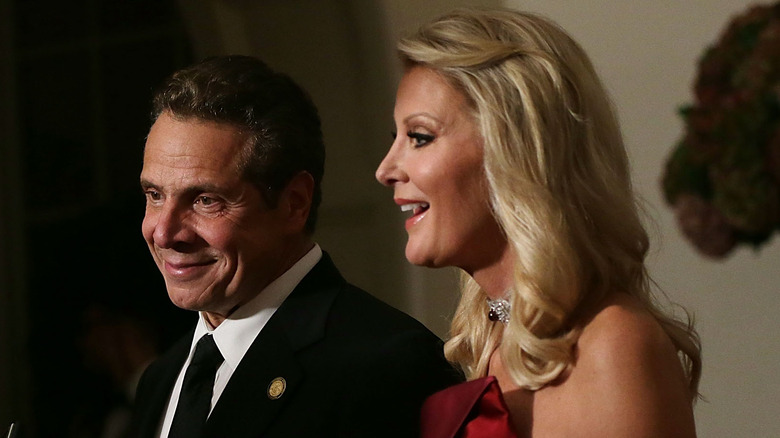 It's often said that there are two sides to every story, but in the demise of Andrew Cuomo and Sandra Lee's relationship, there seems to be three or four. By 2019, the veteran couple had dated for nearly a decade and a half, and there were still no wedding bells. The rumor mill began to churn, and soon their previously whimsical responses to the media's marriage inquiries — and a minutia of other relationship topics — morphed into tense replies.
"We've been together 14 years. Nothing has changed. We're still together," Lee insisted to the New York Post amid Splitsville speculation (via Page Six). "… And to set the record straight we're not getting married or not getting divorced or not pregnant and my blood type is B positive not B negative, selling the house, the world is not falling apart."
About four months later, however, the union did, in fact, fall apart. The pair announced the breakup in a joint statement, as reported by NY1's Zack Fink on Twitter: "Over the recent past, we have realized that our lives have gone in different directions and our romantic relationship has turned into a deep friendship. We will always be family and are fully supportive of each other and dedicated to the girls. Our personal lives remain personal and there will be no further comment."
More than a year later, former Cuomo aide and accuser Ana Liss claimed to the New York Post about the relationship, "My understanding is that Sandra was viewed … as merely an accessory."
COVID-19 press conferences amplified Andrew Cuomo's bachelor status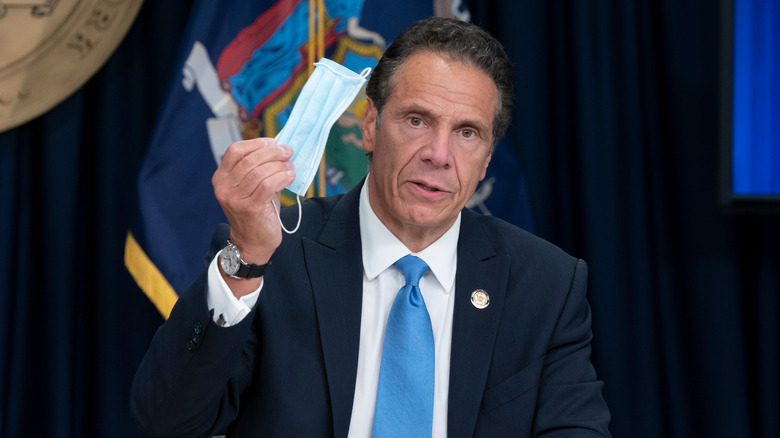 A newly-single Andrew Cuomo kept a low profile in the personal front following his split from Sandra Lee, but once the COVID-19 pandemic crippled society, the then-governor embraced the opportunity to lead New York through the crisis — with charisma. Cuomo's congenial press conferences promoted a celebrity-like presence and placed him on a pedestal, not just to local constituents, but also to the national public. Throughout the spring of 2020, many socially-starved citizens on lockdown began to view Cuomo not just as the courageous governor saving New York City, but as a sexy bachelor hot enough to hit the singles scene.
New York-based matchmaker Maureen Tara Nelson surveyed 2,000 female clients to rate the state's most handsome men, and in March 2020, Andrew Cuomo and his brother, CNN news anchor Chris Cuomo, tied for first place. "I think under these stressful circumstances," the matchmaker explained to the New York Daily News, "women want a strong 'take-charge' kind of guy, like the governor." Housebound housewives and A-list celebrities alike fawned, flirted, and crushed on Andrew, including comedian Chelsea Handler. Famous men, such as "The Daily Show" host Trevor Noah, also gave nods to the politician's hunky gubernatorial gallantry. 
"In those early days of the pandemic," noted Rolling Stone, "we were all little kids gazing up at the adults in the room, waiting for them to put on the capes and play hero, and the Cuomo brothers were all too willing to take up the mantle."
Did the former governor's ego inflate amid the 'Cuomosexual' hype?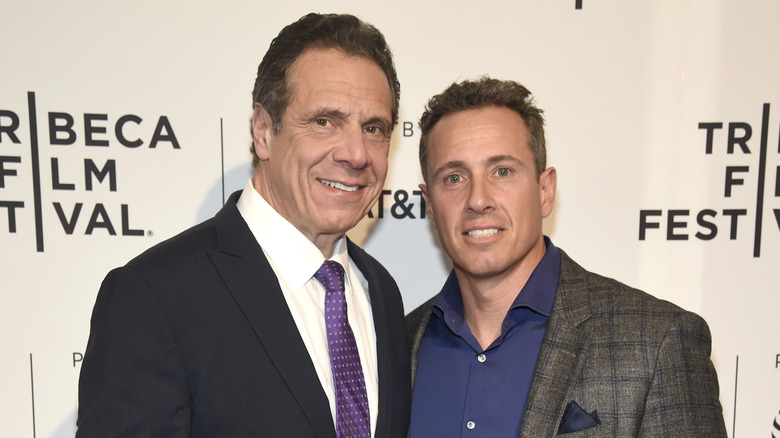 With an 87 percent approval rating at the end of March 2020, according to the Siena College Research Institute, Andrew Cuomo's popularity surged seemingly as quickly as his self-confidence. In the excessive quantity of quarantine's internet entertainment, the viral term "Cuomosexual" was popularized in a Randy Rainbow parody song describing the comedian's love for the governor and his brother, CNN's Chris Cuomo.
"People are in love with you!" Ellen DeGeneres gushed to Andrew on her show (via Entertainment Tonight). When she quipped about the competition between brothers Andrew and Chris, the politician coyly replied, "Yes, but you enjoy me more. Didn't you say that earlier?" The brotherly banter continued whenever Chris interviewed Andrew. "I am the 'Luv Gov," the then-governor cooed, referring to his pet name provided by the New York Post. "I'm a cool dude in a loose mood, you know that. I just say let it go, just go with the flow baby, you know."
This casual comfortability offered a stark contrast to Andrew's "cold heart of the political hatchet man" persona, for which New York magazine once said he was known. Years ago, his most famous failure was dropping out of the 2002 governor race, as he recalled in his 2014 memoir, "All Things Possible: Setbacks and Success in Politics and Life": "My career ascended like a dot-com stock in the early years of the Internet bubble. It crashed just as hard." In addition to ironic, the statement remains relevant, given how the tables turned for Andrew Cuomo by the end of 2020.
Sexual harassment claims quieted 'Cuomosexuals,' and Andrew Cuomo resigned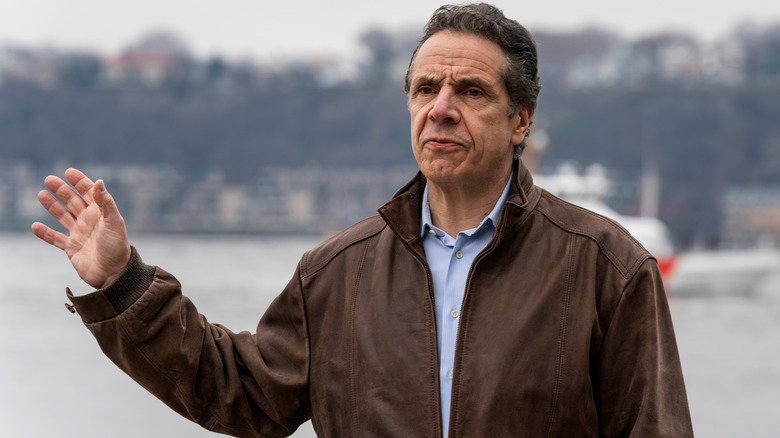 By December 2020, the "Luv Gov" trend took a hard left turn for the "Cuomosexual" fan-base, when multiple sexual harassment allegations came out against the once beloved heartthrob governor, Andrew Cuomo. At the root of the problem? "Cuomo saw no distinction between his personal life and his work," claimed New York magazine, "and he expected the same of his closest aides."
After months of investigation led by New York's State Attorney General Letitia James, per ABC News, Cuomo decided to walk away from his position as governor of New York on August 10, 2021. Per James' findings, Cuomo allegedly "sexually harassed a number of current and former New York State employees by … engaging in unwelcome and nonconsensual touching, as well as making numerous offensive comments of a suggestive and sexual nature that created a hostile work environment for women." In Cuomo's resignation speech, as transcribed by The New York Times, he claimed, "In my mind, I've never crossed the line with anyone, but I didn't realize the extent to which the line has been redrawn." However, he added, "I think that, given the circumstances, the best way I can help now is if I step aside." 
Without a romantic relationship or a job, Cuomo perhaps learned too late that there's no place in politics for the so-called "Prince of Darkness," or Prince Charming, for that matter. After nearly 40 years of ups and downs in the legislature and in love, whether former Governor Andrew Cuomo will retire from both is still yet to be seen.
If you or anyone you know has been a victim of sexual assault, help is available. Visit the Rape, Abuse & Incest National Network website or contact RAINN's National Helpline at 1-800-656-HOPE (4673).
Source: Read Full Article