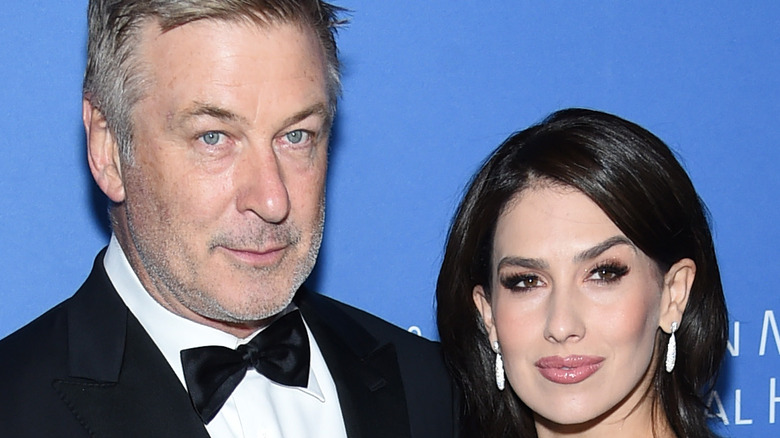 Alec and Hilaria Baldwin have one of the most fascinating marriages in Hollywood today. The two are clearly devoted to each other and their large brood of six kids. It's incredible how their family has grown and their lives have changed over the course of the last decade together.
Alec first introduced himself to Hilaria Thomas after spotting her at a New York City restaurant. "8 years ago, I wandered into Pure Food and Wine on Irving Place, on an unseasonably warm February evening," he shared in an Instagram anniversary post honoring his wife in 2019. "My friend, @bocartist and I sat down (outside!) and as I turned to my left I saw a woman who would change my life. Entirely."
"I was standing near the door with my friends when he walked up and took my hand and said, 'I must know you,'" Hilaria recalled in their New York Times wedding announcement. He handed her his card, and the rest was history.
Alec and Hilaria took things slow in the beginning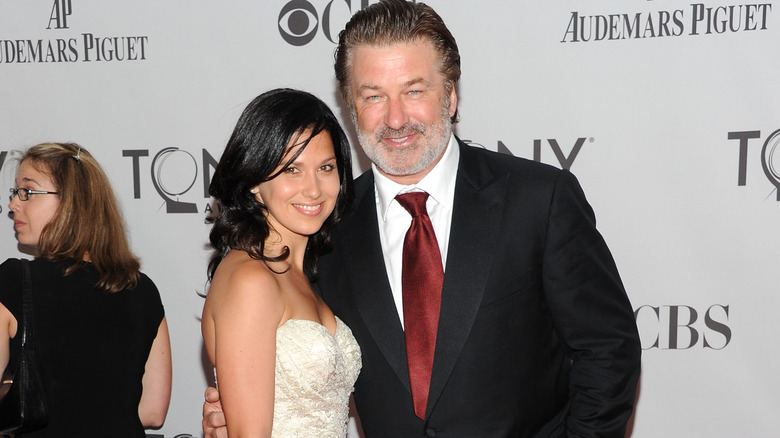 Alec Baldwin took things so slow when he courted Hilaria Thomas that she wasn't quite sure they were even dating! In a conversation with Mariska Hargitay for Beach Magazine, Thomas revealed the two didn't share more than a handshake for weeks. 
"He didn't kiss me for six weeks! He shook my hands for six weeks. We'd have the most romantic dinner date, and afterward he'd drop me off at my house and shake my hand," she shared (per The Daily Mail). "I'd proceed to go upstairs, and my girlfriends would call me and say, 'Anything yet?' and I'd say, 'Nope, nope, nope.' Then they'd say, 'Maybe he just wants to be friends.'"
When it became clear that the relationship was more than friendly, many balked at the 26-year age gap between them. "I didn't really think too much of it because we're so different," she explained. "Everyone has commented on our age difference, and it is big; and I'm not someone who watches TV. So he's somebody completely out of my world — not someone I'd necessarily think of."
Their relationship picked up speed after they moved in together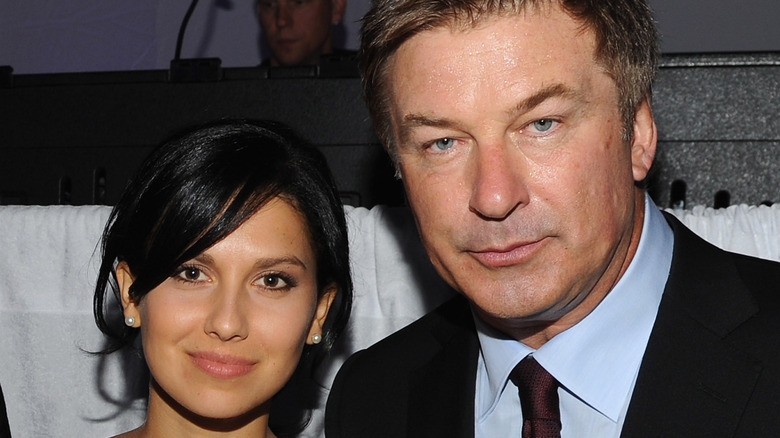 Once they knew, they knew. Things moved pretty fast for the couple once they got comfortable with one another. Alec Baldwin and Hilaria Thomas moved in together five months into their relationship (per Oprah Daily). It was then that the couple started talking about their future together. 
Baldwin proposed to Thomas in April 2012. "He brought me to Montauk, out by the lighthouse. He's not great at keeping secrets from me, which is a very good thing. He told me earlier that he was going to propose. We're very organized," she recalled (per NDTV). "When we got there he said, 'This is the closest I could get you to Spain'… since my family is still there. He got on his knee, and I burst out crying."
The practical, organized, but fun-loving couple didn't take long with wedding planning. It was the first marriage for Thomas and the second for Baldwin, who was married to Kim Basinger from 1993 to 2002.
Alec and Hilaria got married just two months later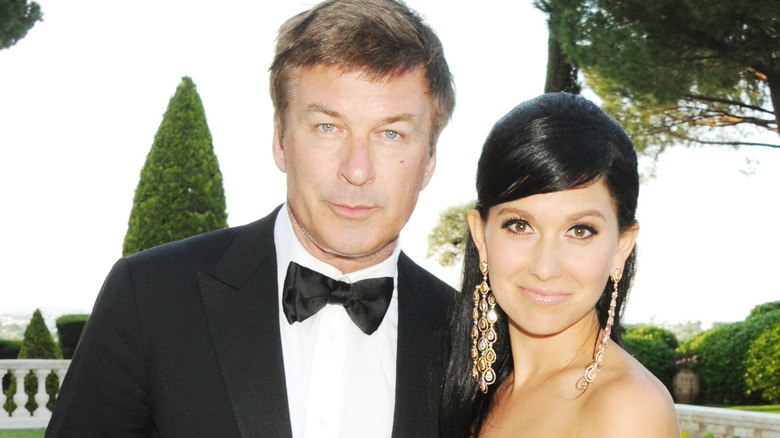 Alec Baldwin and Hilaria Thomas officially became the Baldwins on June 30, 2012 at at the Basilica of St. Patrick's Old Cathedral (per Insider). It wasn't long after those spectacular nuptials that the two got to work on building their big family. Hilaria announced the pregnancy in February 2013. The couple shared the story of how they found out with Extra.
"There's a scream I heard, which is a scream normally reserved if there's a spider in the house, not exaggerating," Alec said (per The Huffington Post). "Normally, I will be reading a book. We're in the country, it's quiet, some time to really relax and unwind and sometimes, once a month, you hear 'Ahhh, Alec, Alec!' I come upstairs, and there's a spider on the wall. So then I hear that scream again, but it was not a spider."
"It was followed by 'I'm pregnant, I'm pregnant!' He runs up the stairs and I'm holding it [the test] and showing it to him," Hilaria added.
"We can joke all about it, but it's honestly the most amazing moment," Alec noted. "We are really sharing something special."
The first of the 'Baldwinitos' was born in August 2013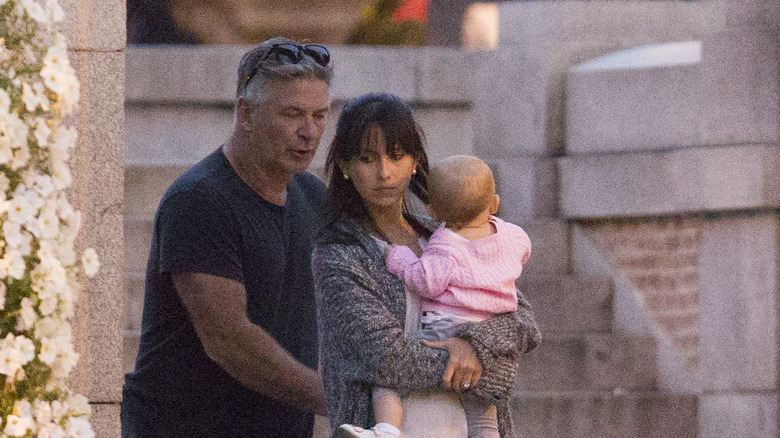 On August 23, 2013, Alec and Hilaria Baldwin welcomed their first child together, Carmen Gabriela Baldwin (per Oprah Daily). Carmen was the second child for Alec, who also has daughter Ireland Baldwin from his marriage to Kim Basinger. Despite Alec and Ireland's well-documented rocky past, Hilaria embraced being a stepmom just as much as she embraced raising her own.
"I love my stepdaughter as much as I love my biological children and I become a mommy lioness when I see comments that insinuate otherwise," Hilaria shared in an Instagram post defending her against those criticizing her relationship with Ireland. 
"Having a stepchild is a delicate matter. Especially one who is grown. I think my relationship with her has been so successful because I never tried to step in as her mommy. She has a good mother, who I have tremendous respect for … and I put myself in Kim's shoes: if my children ever had a stepmother, I'd want her to let me be number one."
Less than two years after Carmen's birth, the family grew again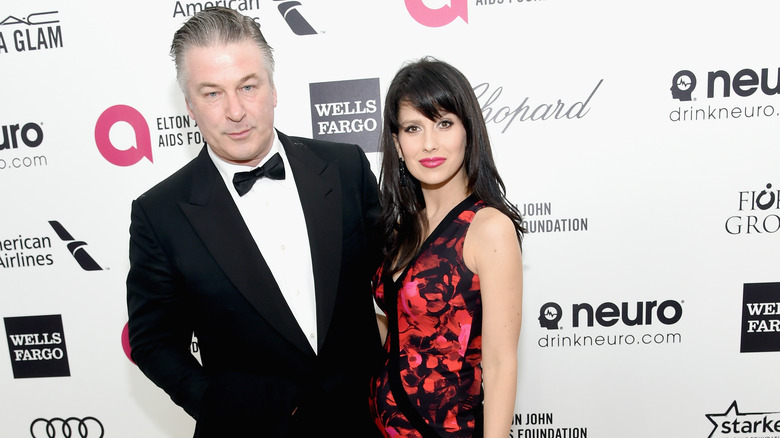 Alec and Hilaria Baldwin took to growing their brood pretty regularly once they got the hang of things with Carmen. Less than two years later, the couple welcomed son Rafael Thomas Baldwin on June 17, 2015 (per Insider). Next up was son Leonardo Ángel Charles Baldwin, born on September 12, 2016.
As their the family got bigger, Alec admitted that he and Hilaria have different parenting styles and that he was learning a lot from her. "It's a generational thing," he admitted to Elle Decor. "I'm a lot older, and when I grew up there was none of this bargaining and negotiating you do with kids now. Making them understand. My father was like 'Oh, I'll make you understand!' My mother used to hit us with a curtain rod, you know, people used to hit their kids with kitchen utensils. But [Hilaria] is the best mommy, she respects them, she honors them"
On May 17, 2018, the Baldwin family grew yet again with the birth of Romeo Alejandro David Baldwin (per Insider). Fans had gotten used to the rhythm of the Baldwin family and thought it was only a matter of time before another "Baldwinito" joined the club.
The couple ran into some issues after having their fourth child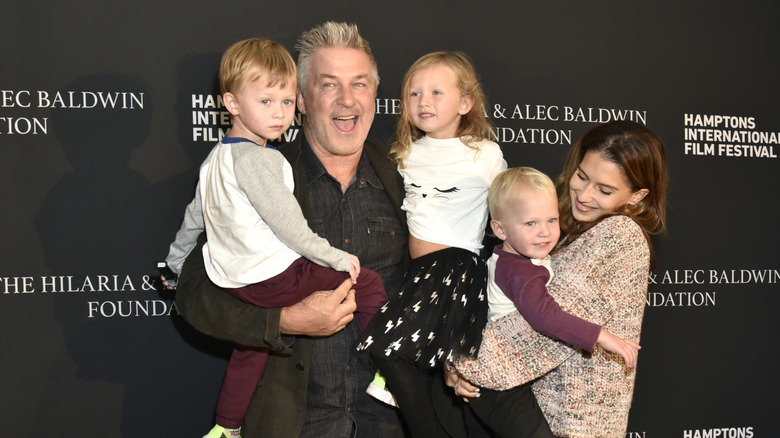 In 2019, around a year after Romeo was born, Hilaria Baldwin shared an Instagram post, but it wasn't a typical pregnancy announcement. "I want to share with you that I am most likely experiencing a miscarriage," she wrote. "I always promised myself that if I were to get pregnant again, I would share the news with you guys pretty early, even if that means suffering a public loss."
"I have always been so open with you all about my family, fitness, pregnancies…and I don't want to keep this from you, just because it isn't as positive and shiny as the rest. I think it's important to show the truth…because my job is to help people by being real and open," the post continued. "Furthermore, I have no shame or embarrassment with this experience. I want to be a part of the effort to normalize miscarriage and remove the stigma from it. There is so much secrecy during the first trimester. This works for some, but I personally find it to be exhausting. I'm nauseous, tired, my body is changing. And I have to pretend that everything is just fine — and it truly isn't. I don't want to have to pretend anymore. I hope you understand."
She explained that there was a slim chance the pregnancy was viable and later confirmed she did miscarry. Later that year, she miscarried again at 4 months (per Brides).
Hilaria welcomed another baby in 2020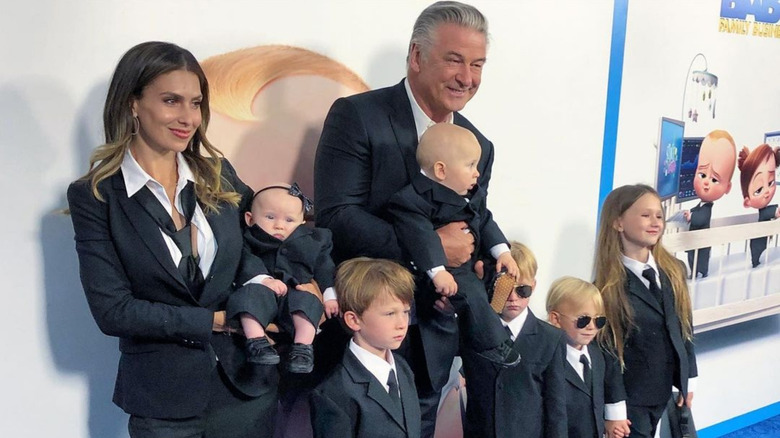 Despite her struggles, Hilaria Baldwin did get pregnant again. The Baldwins welcomed Eduardo Pau Lucas Baldwin was born on September 8, 2020 (per People). Then, she surprised fans with news that she and husband Alec Baldwin welcomed a six child, just six months later.
María Lucía Victoria Baldwin was born on February 25, 2021 via surrogate. Hilaria opened up about the decision on Instagram, writing, "The Baldwinitos craved so much to have a little sister. Many of you may remember the loss of their sister at 4 months in the end of 2019. There isn't a day that goes by where we don't ache for our daughter." 
The post continued, "When I found out our baby had died, I told our children that their sister was going to come, just not at that time. Nothing will ever replace her, but two wonderful souls have come into our lives, and we are humbled to know them. Our children were brave during our time of tremendous grief — braver than us…and they held out hope." 
The proud mom ended the post on a positive note, adding, "Our rainbow baby, Edu, is such a blessing — we are overwhelmed by how fortunate we are to have him. We are living each day, bonding, and grateful for all of the very special angels who helped bring Lucía into the world. María Lucía Victoria and Eduardo Pau Lucas: our babies who bring light into our lives — almost like twins, we love you so much."
Source: Read Full Article